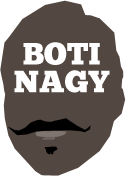 ---
Advertising opportunities available.
Please contact me.
---
Can Lightning break crowd record?
Tweet
INTEREST across South Australia is at a massive high as MAC Adelaide Lightning prepare for the make-or-break Game 2 of their WNBL Grand Final against Canberra on Wednesday. But can they break their own attendance record?
Lightning broke the 1,000-fan barrier in Game 2 of their semi final rout of Melbourne Boomers, prompting coach Chris Lucas to suggest 2,000 should be the target.
Such a conservative.
The Capitals pulled no less than 4,120 at AIS Arena in Canberra for their 88-67 win in Saturday's Game 1 of the best-of-three Chemist Warehouse Grand Final Series, forcing Lucas into a rethink.
"A week ago when we made the Grand Final I had a thought jump into my head of 2,000 (fans) because there hasn't been a huge crowd in Adelaide here for years," Lucas said.
"As of this morning, 1,500 tickets have sold which is awesome, so now I've bumped the figure up! Why can't we get 2,500-3,000 people?
"The crowd support for Canberra the other night was amazing, it was so loud, I couldn't communicate from the sideline.
"There's no reason why we can't get that figure here on Wednesday night. And you know what? It might give us an edge.
"It definitely gave Canberra an edge and hopefully it will help us as well."
Titanium Security Arena actually holds the record attendance for a WNBL Grand Final when 7,100 fans showed up at the venue (then the Clipsal Powerhouse) for Lightning's 1995 championship match with Melbourne Tigers.
In 1994 at the same venue, a crowd about half that size had seen the same two teams battle out a double-overtime thriller, setting the stage for unprecedented interest in their 1995 rematch.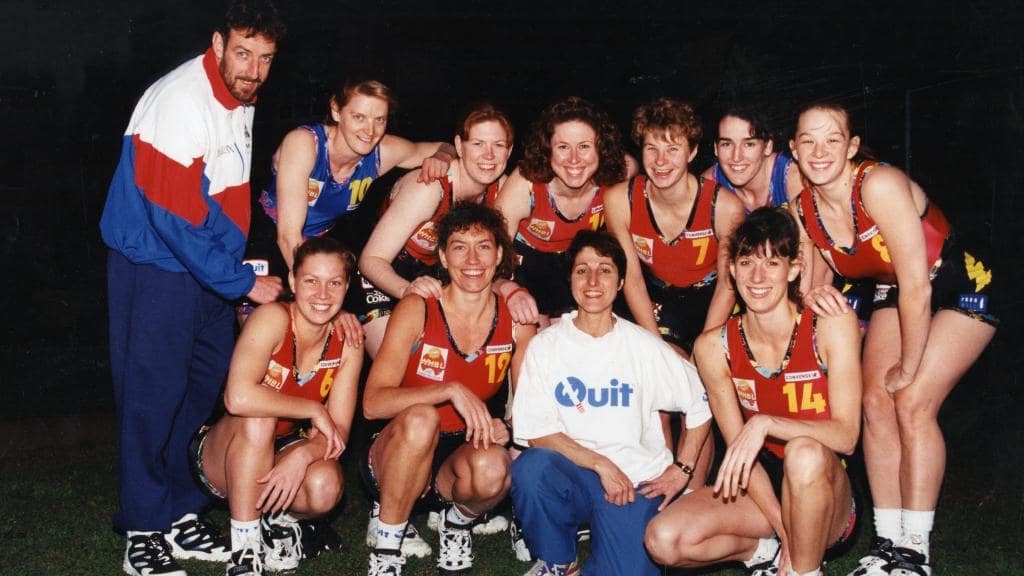 LIGHTNING'S 1995 CHAMPS: Won the title in front of a record 7,100 fans at the same venue.
Fast forward 24 years - almost a quarter of a century - and the question now is does Lightning have the same power to attract a mammoth crowd without names such as Rachael Sporn, Michelle Brogan, Carla Bord, Jo Hill and Jae Kingi in it?
Hill, originally from Murray Bridge, and Brogan from the south of Adelaide, were locally-born Lightning starters, although Sporn was soon an adopted South Aussie from Murrayville in country Vic.
Plus Adelaide was in the middle of its 1994-95-96 "threepeat" which saw it as the first sporting team inducted into South Australia's Sporting Hall of Fame in the category of best team.
Lucas' 2019 Lightning boasts co-captain Nicole Seekamp from Renmark, and fellow co-captain Stephanie Blicavs (below) carries a surname synonymous with basketball in this state, father-in-law Andris a dual-Woollacott Medallist and one of SA's all-time greatest players.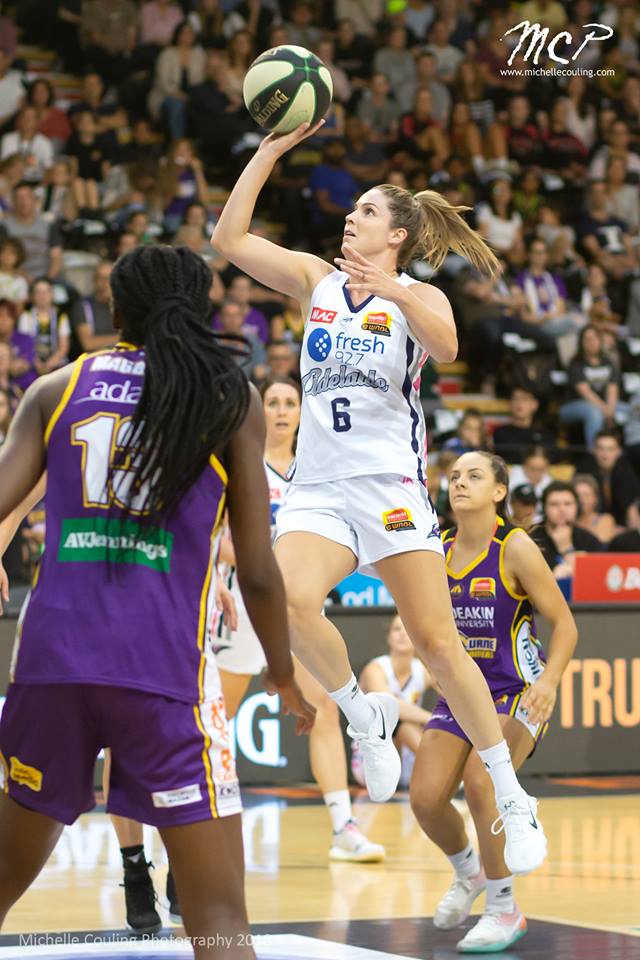 Nia Coffey and Kayla Alexander is the best import tandem in Lightning's history and Lauren Nicholson leads the league in 3-point accuracy and should romp in its Best Defensive Player award.
But perhaps it is less the personnel and more the context in which this Adelaide team has achieved such extraordinary feats that catches the eye and captures the imagination.
Informed on November 25 (after a two-point loss to a Melbourne side they swept in the semi finals) the club needed a huge financial injection or would go under at season's end, Lightning's on-court response has been breath-taking.
To set aside the ongoing background noise of an uncertain future and to focus solely on bringing a sixth WNBL championship to Adelaide has been a masterful performance of resilience and persistence by Lucas and his fabulous team.
Their selfless offensive play and commitment to defence - and to each other - has been mesmerising in its consistency and unwavering passion.
They have been playing the most entertaining basketball on show in this state and that alone deserves a massive response tomorrow.
Even the sleeping giant that is Basketball SA has come to the party somewhat by declaring last Friday its tangible support for a big crowd with this public statement:
"In celebration of the Adelaide Lightning playing in the WNBL Grand Final for the first time in 11 years, BSA will waiver the forfeit fee for any district team scheduled to play on Wednesday 13 February. Your team must notify BSA by 5pm on Monday that they wish to forfeit their game to attend the Lightning game. Let's get behind the Lightning and cheer them on to win the championship for South Australia."
Maybe interest in 2019 is not as high as it was in 1995 but, then again, with the much-publicised alleged off-court plight of this Adelaide team, the chance to do more than hand-wring or teeth-gnash hopefully will bring out the fans in huge numbers.
Maybe the final attendance won't hit 7,100 ... but even 4,121 would be nice.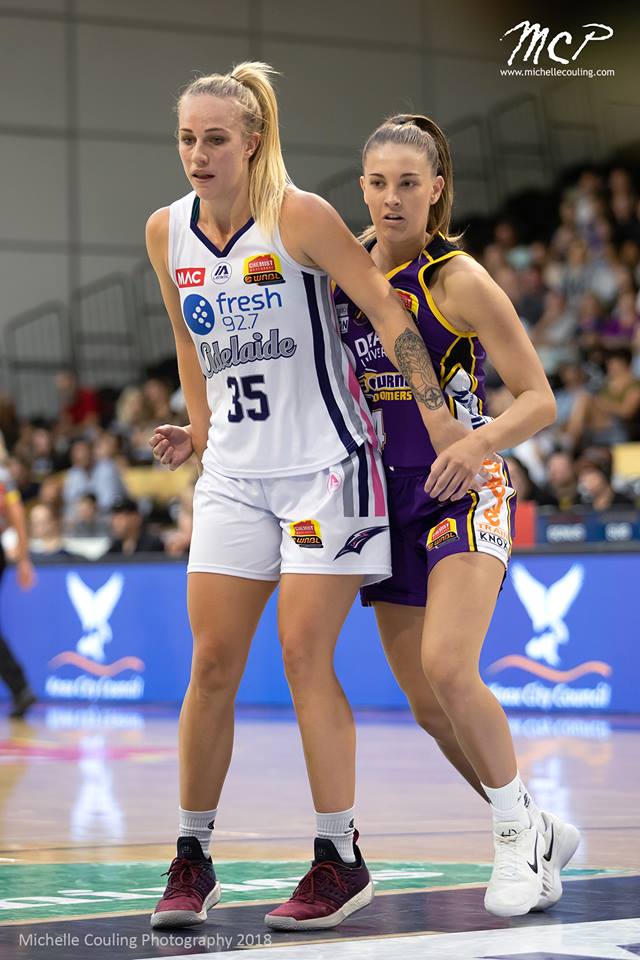 Game 2 tip-off is 6.30pm at The Lighthouse, Titanium Security Arena, on Wednesday. (Watch live on FOX and Kayo but ONLY if you don't live in Adelaide. If you do, show your support and get to the game in person!)