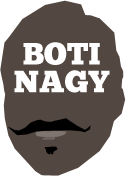 ---
Advertising opportunities available.
Please contact me.
---
Boomers break: Just Wrapping #7
Tweet
THE NBL goes into recess this week to open the FIBA World Cup qualifying window while the WNBL brings all its teams into Melbourne for its first "cluster round."
All eight teams will be under one roof at the weekend at the State Basketball Centre, with the CLB3X3 Elite also in action.
For the NBL, it is a chance for clubs to pause, reflect and reassess, Melbourne and Sydney two clubs which really need to do that.
Recruiting Jerome Randle and Jeremy Tyler - and add the imminent return of Kevin Lisch - means Sydney again will have assembled a superstar playing list.
But it is struggling for direction and desperately needs this break to regroup and attack the next portion of the regular season.
Melbourne again has assembled a championship contender but it was made to look second-rate yesterday by Perth, limited to 59 points, its much-vaunted offensive arsenal looking more like a packet of fire crackers.
Five assists strongly supports the conjecture of coach Dean Vickerman his team was/is selfish.
This break while the Boomers are away to Chinese Taipei on Friday and at Adelaide's Titanium Security Arena on Monday against Japan, gives him and his coaching staff some time to sort it out.
* * *
NOT about to get drawn into the Corey Williams commentary debate - is Homicide good or bad? - because FOX and the NBL obviously love what he brings.
Older fans clearly hate much of his opinionated nonsense, younger fans love the "gangsta" BS and the fact he calls out players who aren't performing. (AJ Ogilvy, for heaven's sake go practice your free throws.)
But he was at his worst on Saturday when the 36ers hosted the Kings.
He opened the coverage by asking Sixers coach Joey Wright the following: "Hey coach, I'm gone just ask you flat out. This game right here, you lose this game, are you goin' make personnel changes at the point guard position?"
Dumbfounded, Wright responded: "Not at all. Why?" and "Hell no."
Later Williams was credited with "asking the tough questions". Asking an idiotic question may have been more accurate.
During the call, which also was live on SBS free-to-air, Williams said Nathan Sobey needed to "get his head out of his ass" and seconds after Majok Deng swatted a shot by Randle, he said: "Get that shit outta ... get that outta here, sorry."
OK. I'm guessing there's no prudes here reading and basketball folk would be familiar with the terminology he used to described Sobey. But is that really the image and language the NBL wants associated with its product?
In my mind's ear, can't conceive Jeff Van Gundy or Mark Jackson saying something like that on an NBA call.
And yes, many of us have said far worse than the words he used to describes Deng's block. But not on national television.
Maybe Williams could take a leaf from the book of Breakers' home game colour man Casey Frank who, in the same situation, often says: "Get that shhhh-ot out of here." It's not especially brilliant but we all know what he means without having to say it.
Just occasionally, maybe Williams should think before he talks. If that is possible.
* * *
IT was a big round for Perth's national league teams with both the Lynx and Wildcats going 2-0 to enhance their playoff prospects.
But it didn't end there.
Wildcats import Bryce Cotton averaged 24.0ppg, 3.0rpg and 3.5apg as Perth beat the Bullets in Brisbane before also muzzling United in Melbourne to be the stand-out star of the NBL, claiming his first Basketball On The Internet Player of the Week award.
His success has broken the recent stranglehold on the weekly accolade which NZ Breakers have dominated in recent rounds.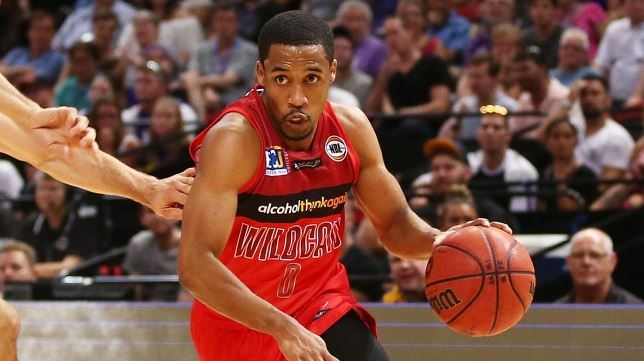 B.O.T.I. NBL Player of the Week
Rd1 Casper Ware
Rd2 Perry Ellis
Rd3 Edgar Sosa
Rd4 Shea Ili
Rd5 Edgar Sosa
Rd6 DJ Newbill
Rd7 Bryce Cotton
* * *
YES, it appeared as if it had finally happened. The deadlock power forwards and centres have enjoyed through the first six rounds of the WNBL season looked about to be broken.
Perth import Courtney Williams went off as the Lynx triumphed over defending champion Sydney, with 26 points at 52 per cent, 10 rebounds, seven assists, three steals and a block.
She had 20 after halftime to help seal a 12-point win, with not a turnover in sight.
Unquestionably, Melbourne's Liz Cambage made another powerful case for her third weekly win, going off for 32 points at 68 per cent, 11 rebounds, with four assists, a steal and a block as the Boomers pummelled Canberra by 30.
And while this time Williams appeared to have Lizzie covered, fact is Perth played - and won - two games over the weekend. Against Bendigo, Williams had 11 points on 5-of-15 shooting, five rebounds, six assists, two steals and a block.
Sadly for the WNBL's 1-2-3s, her two-game production swung the pendulum back to Liz for her third PotW award.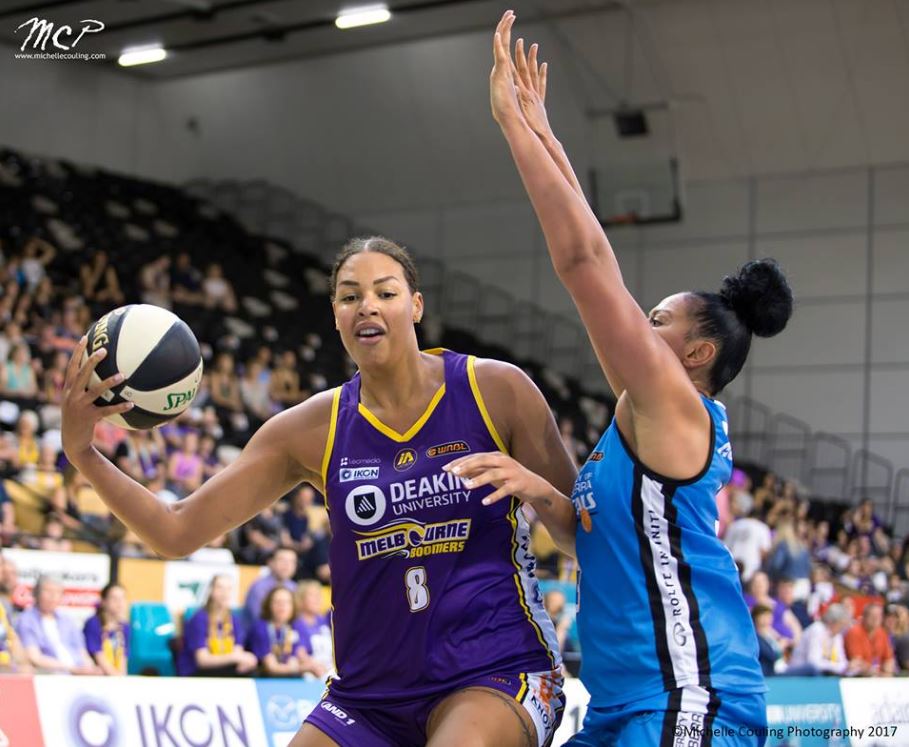 B.O.T.I. WNBL Player of the Week
Rd1 Cayla Francis
Rd2 Abby Bishop
Rd3 Liz Cambage
Rd4 Suzy Batkovic
Rd5 Asia Taylor
Rd6 Liz Cambage
Rd7 Liz Cambage
* * *
BETTER late than never. Here's a recent flashback to Taipans' mascot Joe Blake doing his "thang" when the New Zealand Breakers visited Cairns (below).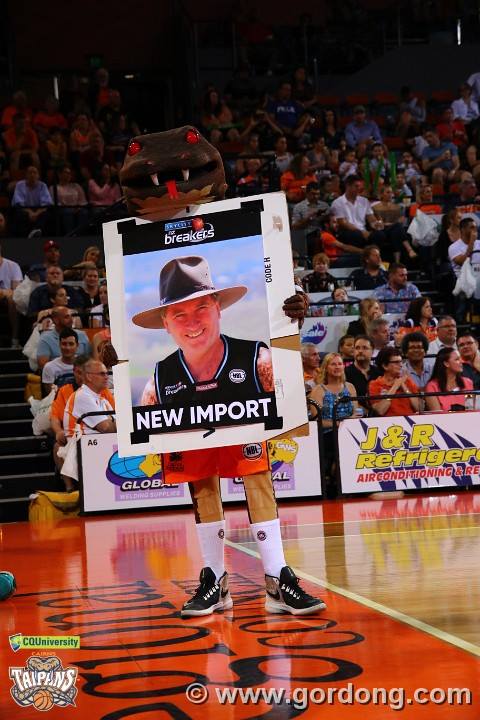 Could we call this a "political statement"?
Or would that be going too far?
* * *
HOW tough is Perth captain Damian Martin?
Finger severely dislocated, he calmly walked off the court against Melbourne to get medical attention, have the finger yanked back into place and was ready to get back into it!
* * *
KNOW there was some angst with "Burgergate" when NBL sponsor Hungry Jack's first came up with its brilliant cheeseburger promotion and Cairns' Michael Carrera aborted his two free throws against Melbourne, the fan delight part of some post-game Taipans angst.
The deal is if a player on the visiting team misses both free throw attempts, all the fans can head down to their nearest HJs and secure a free cheeseburger, provided they can show their ticket (for proof they were at the match).
Not sure how long the promo is going to run but it sure adds to the game-night atmosphere.
Miss that first FT and the fans are salivating. Suddenly there's definitely a bit more pressure than usual on that second freebie attempt as the hungry hordes harass the shooter.
* * *
SPEAKING free throws, Illawarra's Rotnei Clarke had his own mishap from the FT line this past round when he prepared to shoot the ball against Sydney and it slipped out backwards from his hands.
You don't see that every day, and he even made "the big time" with Shaquille O'Neal nominating that effort amid his "Shaqtin' the Fool" segment, Sydney's Jerome Randle among the many amused by the moment.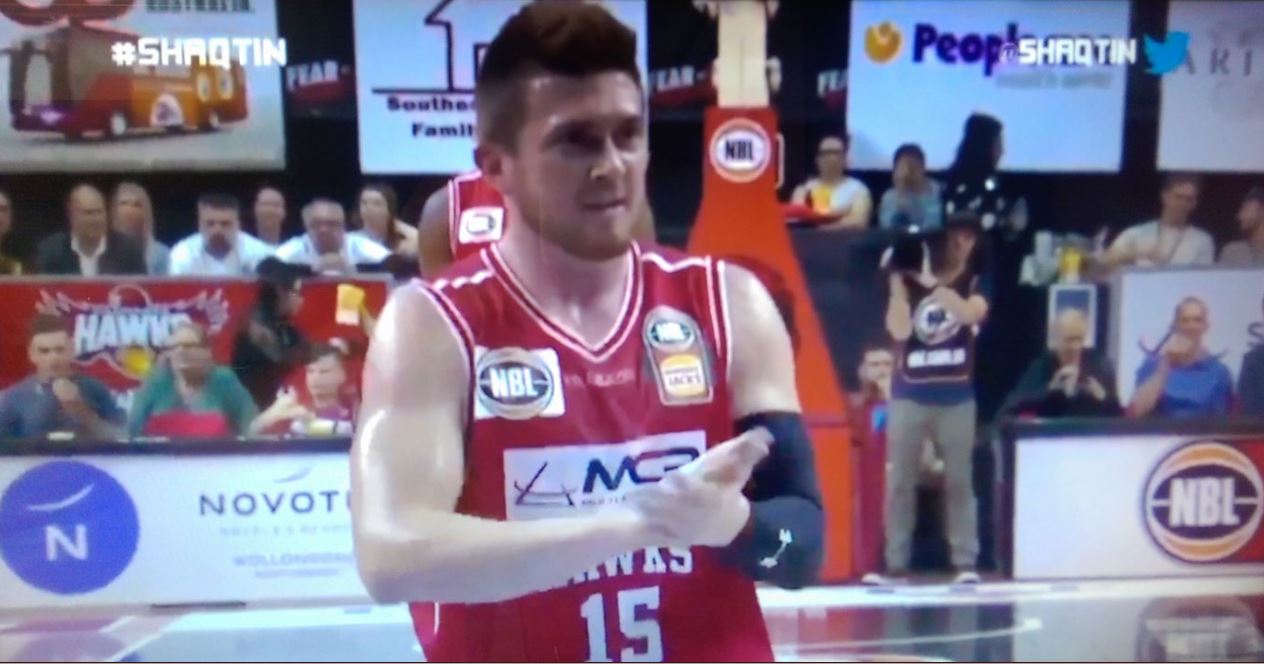 That's Rotnei above, rubbing the sweat off his palms as the ref retrieves the ball from somewhere behind him, the Hawks' shooting dynamo having a fun Twitter "war" with Shaq regarding their respective free throw abilities.
* * *
NEW Kings centre Jeremy Tyler is so foul-prone, he copped two during the national anthem this week.
* * *
BIGGEST WINNERS/LOSERS
IT was hard not to go with Cairns this week as the NBL's biggest winner after the manner in which it touched up surging Illawarra, but bouncing back from two losses with twin wins on the road over Brisbane and Melbourne meant the honours truly rest in the west with Perth this week.
CHALLENGED again by the defending champions and in front of 10,300 at home, Melbourne had no answer for Perth after quarter time, its 9-30 second quarter an embarassment, as was its 26-point second half. United, easily, was the round's biggest loser, not just with the game but credibility.
TWIN wins for Perth this round, with the city's Lynx also the WNBL's biggest winners, first travelling to Bendigo to hand the depleted Spirit a 24-point loss before entertaining the defending champion Sydney Flames in the west and inflicting a 12-point defeat. Perth is quietly getting it done.
AS depleted as it is, it's harsh to label Bendigo the round's biggest loser because they were gutsy losing efforts to Perth and Dandenong. But as the realisation settles in that they will not be in the playoff hunt, replacing Kelsey Griffin a near impossibility, the Spirit are the biggest losers.
* * *
NBL Rd7
ILLAWARRA HAWKS 97 (Ogilvy, Clarke 19, Conger 16, Martin 13, Coenraad 12; Ogiolvy 9 rebs; Clarke 6 assts) d SYDNEY KINGS 93 (Randle 28, Ellis 21, Cadee 16, Newley 10; Ellis 11 rebs; Randle 5 assts) at The Sandpit, WIN Entertainment Centre, Wollongong.
PERTH WILDCATS 90 (Cotton 24, Wagstaff 14, Martin, Tokoto 12, Cooke 10; Martin 9 rebs; Walker, Cotton 5 assts) d BRISBANE BULLETS 85 (Buford 18, Te Rangi, Trice 16, Kickert 11l Buford 9 rebs; Buford 6 assts) at Leroy's Lounge, Brisbane Entertainment Centre.
ADELAIDE 36ERS 108 (Shorter 19, Sobey 16, Johnson 15, Hodgson 13, Moore 12, Creek 11, Childress 10; Johnson 9 rebs; Shorter 6 assts) d SYDNEY KINGS 93 (Ellis 26, Randle 18, Humphries 17, Cadee 11; Humphries 10 rebs; Newley 6 assts) at The Fortress, Titanium Security Arena.
CAIRNS TAIPANS 87 (Loughton, Smith 19, Gliddon 16, McCarron 14; McCarron 7 rebs; Smith 6 assts) d ILLAWARRA HAWKS 66 (Conger 17, Clarke 12, Kay 11; Kay 11 rebs; Norton 5 assts) at The Orange Grove, Cairns Convention Centre.
NZ BREAKERS 90 (Sosa 24, Newbill 19, Ili 14, Abercrombie 11; Abercrombie 7 rebs; Ili 7 assts) d BRISBANE BULLETS 82 (Buford 18, Trice 17, Jervis 16, Kickert 14, Holt 10; Kickert 13 rebs; Trice 7 assts) at The Breakwater, Spark Arena.
PERTH WILDCATS 91 (Cotton 24, Walker 14, Martin 12; Cooke 15 rebs; Martin, Tokoto, Cotton 2 assts) d MELBOURNE UNITED 59 (Prather 20, Boone 10; Boone 12 rebs; 5 with 1 asst) at The UN, Hisense Arena.
* * *
WNBL Rd7
PERTH LYNX 83 (Whitcomb 22, Ciabattoni 15, Kunek, Williams 11; Dowe 12 rebs; Williams 6 assts) d BENDIGO SPIRIT 59 (Richards 14, Banham 11; Richards 13 rebs; Richards 3 assts) at The Spirit Level, Bendigo Stadium.
TOWNSVILLE FIRE 101 (Batkovic 23, Cocks 17, George 16, Murray 14, Garbin 12, Mincy 10; Batkovic 14 rebs; Wilson 12 assts) d MAC ADELAIDE LIGHTNING 78 (Bishop 24, Nicholson 11; Bishop 13 rebs; Seekamp 5 assts) at The Lighthouse, Titanium Security Arena.
MELBOURNE BOOMERS 96 (Cambage 32, Garrick 16, Cole 13; Purcell 12 rebs; Purcell 5 assts) d UNI of CANBERRA CAPITALS 66 (Bass 12, Scherf 11; Magbegor 8 rebs; Hurst 5 assts) at The Kangaroo Court, State Basketball Centre.
DANDENONG RANGERS 80 (Lavey, St Blicavs 19, Pederson 14, Roberts 11; Mojovic 8 rebs; Palau 9 assts) d BENDIGO SPIRIT 70 (Laney 17, Banham 16, Richards 14, Payne 13; Richards 11 rebs; Payne 5 assts) at The Ranger Outpost, Traralgon Stadium.
PERTH LYNX 83 (Williams 26, Kunek 14, Ciabattoni 13, Standish 12, Whitcomb 10; Williams 10 rebs; Williams 7 assts) d SYDNEY UNI FLAMES 71 (Taylor 32, Boag 18, Hamson 10; Taylor 9 rebs; Ebzery 7 assts) at The Zoo, Bendat Stadium, Perth.
FOUR out of six was my NBL prediction strike rate, Cairns exceptional in stopping Illawarra's run and Melbourne mustering a grand total of five assists as a team - all singles - shows what United's issue was as Perth inflicted a massive, deep wound in front of 10,000-plus at Hisense Arena.
Thought I had all five and the sweep in the WNBL but Belinda Snell's absence from the defending champ's lineup was a big one as Perth continued its winning roll over Sydney.