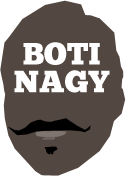 ---
Advertising opportunities available.
Please contact me.
---
Lillard silences Thunder
Tweet
SPOILER Alert! Marvel's anxiously anticipated Avengers Endgame opens in cinemas around Australia today but it was Damian Lillard, not Thanos, silencing the Thunder.
While we don't know for sure whether Thor is still up and about, we know Russell Westbrook and Company are down and out after Lillard today sank a cool-as-a-cucumber 37-foot 3-pointer to complete a 4-1 rout by Portland over Oklahoma City.
Lillard's 34-point first half en route to 50 points at 52 percent, with 10-of-18 threes, plus seven rebounds, six assists, three steals and a block, was a tour de force.
But nothing could compete with his audacity and confidence to shoot such a long threeball as the clock wound down to fulltime, OKC's Paul George just a step too far off, not expecting such a long attempt.
"It was a great feeling," Lillard said of The Shot. "When it left my hands, it felt good. I felt good about it."
George, of course, had a different take.
"That's a bad shot. I don't care what anybody says. That's a bad shot. But, hey, he made it. That story won't be told, that it's a bad shot. You live with that."
Apparently you live with it, but not with any class.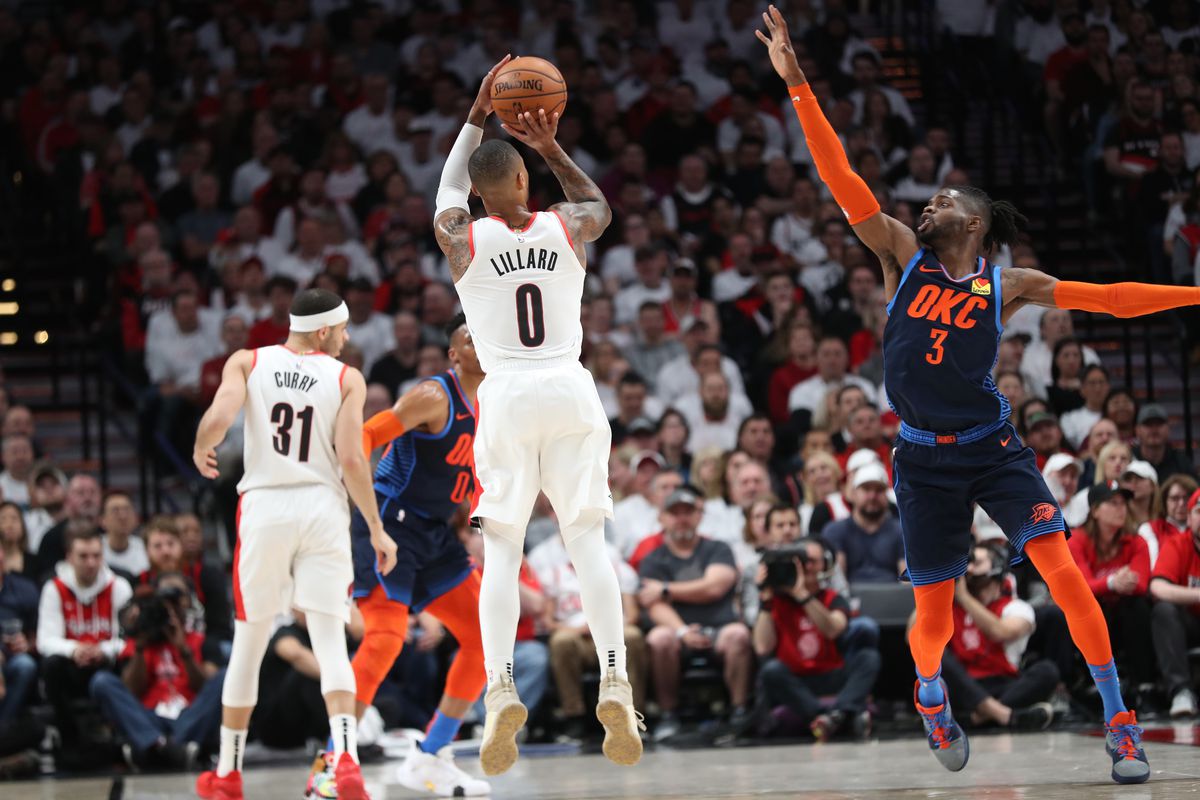 Portland can now wait for the winner of the Denver-San Antonio series in which the Nuggets have taken a 3-2 lead after trailing 1-2.
While many expected a sweep or a five-game series win by the experienced Spurs over the higher-placed Nuggets - and it looked on course for that early - Denver has found the confidence which saw it finish second in the Western Conference.
The Spurs must now win at home to stay alive and force the series back to Denver to have any chance of advancing to the Western semi finals.
The East is wrapped up with Milwaukee sweeping Detroit and Boston wiping Indiana to set up a semi final series as rivetting and mouth-watering as the likely Western semi between Golden State and Houston.
The Warriors and Rockets are a win away from advancing past the LA Clippers and Utah Jazz respectively for the showdown many feel will be the "real" championship series.
The Jazz forced their series to a fifth game after Donovan Mitchell went off for 19 last-quarter points en route to 31 in a 107-91 Game 4 home win for Utah.
After dropping their series opener against Brooklyn, Philadelphia took care of business with four straight wins and will face Toronto in their semi final. Similarly, the Raptors surprisingly dropped their first match at home to Orlando, then won four straight to close out that series.
Right now, Aussies Andrew Bogut (GSW), Aron Baynes (Celtics) and the 76ers duo of Ben Simmons and Jonah Bolden, remain very much in the hunt for the NBA championship.
EASTERN CONFERENCE
MILWAUKEE BUCKS (1) v DETROIT PISTONS (8)
Game 1: Bucks 121, Pistons 86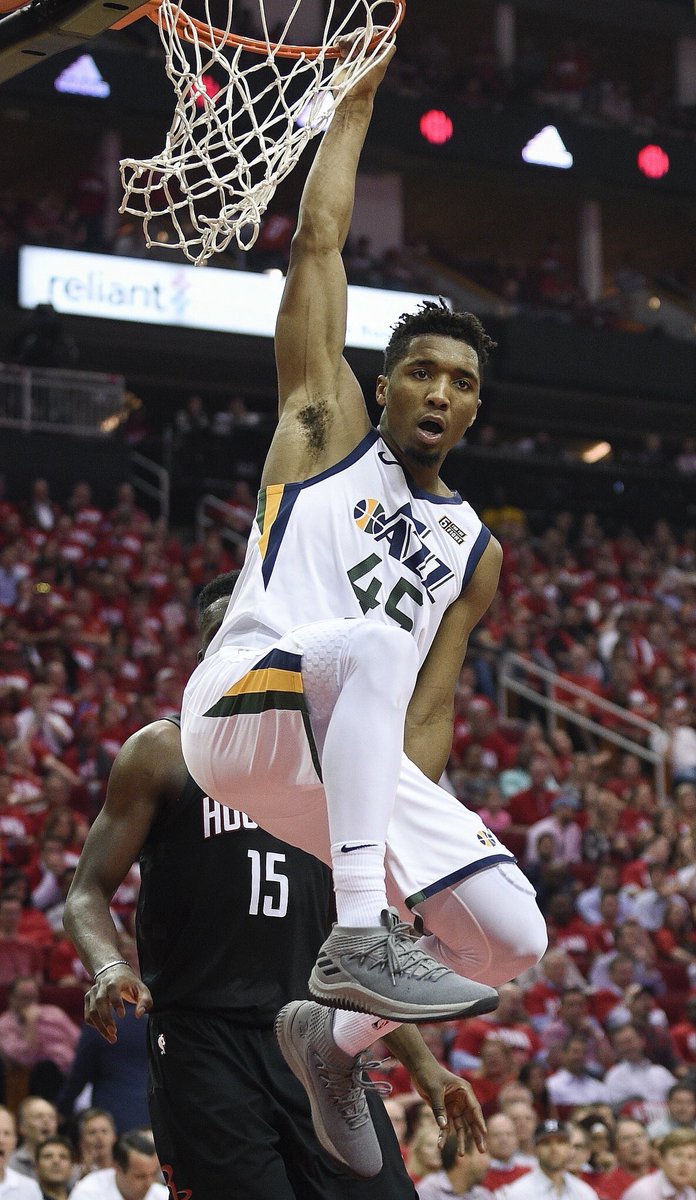 Game 2: Bucks 120, Pistons 99
Game 3: Bucks 119, Pistons 103
Game 4: Bucks 127, Pistons 104
Bucks sweep series 4-0
BOSTON CELTICS (4) v INDIANA PACERS (5)
Game 1: Celtics 84, Pacers 74
Game 2: Celtics 99, Pacers 91
Game 3: Celtics 104, Pacers 96
Game 4: Celtics 110, Pacers 106
Celtics sweep series 4-0
TORONTO RAPTORS (2) v ORLANDO MAGIC (7)
Game 1: Magic 104, Raptors 101
Game 2: Raptors 111, Magic 82
Game 3: Raptors 98, Magic 93
Game 4: Raptors 107, Magic 84
Game 5: Raptors 115, Magic 96
Raptors win series 4-1
PHILADELPHIA 76ERS (3) v BROOKLYN NETS (6)
Game 1: Nets 111, 76ers 102
Game 2: 76ers 145, Nets 123
Game 3: 76ers 131, Nets 115
Game 4: 76ers 112, Nets 108
Game 5: 76ers 122, Nets 100
76ers win series 4-1
WESTERN CONFERENCE
GOLDEN STATE WARRIORS (1) v LOS ANGELES CLIPPERS (8)
Game 1: Warriors 121, Clippers 104
Game 2: Clippers 135, Warriors 131
Game 3: Warriors 132, Clippers 105
Game 4: Warriors 113, Clippers 105
Warriors lead 3-1, Game 5 in Oakland
HOUSTON ROCKETS (4) v UTAH JAZZ (5)
Game 1: Rockets 122, Jazz 90
Game 2: Rockets 118, Jazz 98
Game 3: Rockets 104, Jazz 101
Game 4: Jazz 107, Rockets 91
Rockets lead 3-1, Game 5 in Houston
DENVER NUGGETS (2) v SAN ANTONIO SPURS (7)
Game 1: Spurs 101, Nuggets 96
Game 2: Nuggets 114, Spurs 105
Game 3: Spurs 118, Nuggets 108
Game 4: Nuggets 117, Spurs 103
Game 5: Nuggets 108, Spurs 90
Nuggets lead 3-2, Game 6 in San Antonio
PORTLAND TRAIL BLAZERS (3) v OKLAHOMA CITY THUNDER (6)
Game 1: Trail Blazers 104, Thunder 99
Game 2: Trail Blazers 114, Thunder 94
Game 3: Thunder 120, Trail Blazers 108
Game 4: Trail Blazers 111, Thunder 98
Game 5: Trail Blazers 118, Thunder 115
Blazers win series 4-1