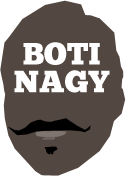 ---
Advertising opportunities available.
Please contact me.
---
Opals 'rein in' Spain
Tweet
TRAILING by eight points with a period to play, Australia's Opals reined in Spain with an outstanding 22-8 final quarter today to storm into the FIBA Women's World Cup Gold Medal Final 72-66.
Liz Cambage's rebound from her own missed shot which led to Bec Allen feeding Cayla George in the corner for the emotional 3-point dagger, made it 69-64 with 2:12 left in the semi final.
Roared on all game by a loud, raucous home crowd, Spain drew back to 66-69 on a huge basket by Laia Palau inside the last 90 seconds.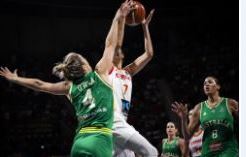 A turnover had them in a frenzy before Jenna O'Hea blocked Alba Torrens' shot (left) before again making a big play with a key steal as the last-minute dramas had everyone on the edge of their seats.
Cambage pumped the lead back to 71-66, Allen got a piece of Torrens' 3-point attempt and Ebzery, enjoying her best all-round game of the championship iced it from the line.
Drama, passion, heroics – this match had it all as the Opals met a serious physical, mental and emotional challenge and came up trumps.
With 33 points at 69 per cent, 15 rebounds and four blocks, Cambage was a keyway colossus, inciting the crowd and dealing with plenty of close attention and obvious acting by her immediate opponents.
She got into it with the crowd who reacted by booing her and cheering any perceived misstep on her part. It certainly added to the theatre of what already was the best game of the tournament.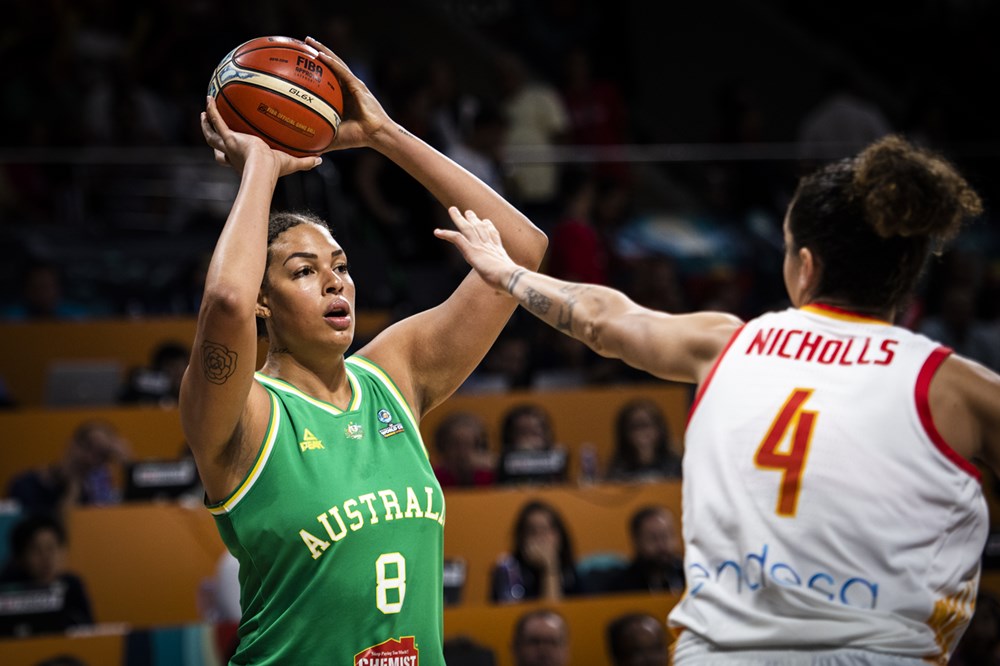 MVP: Liz Cambage dominated again, despite external pressure. All pics courtesy FIBA.com
Cambage opened the game's scoring, Ebzery (below) drove for 4-0 and when Spain swung into a zone defence, Allen made it pay with a swish 3-pointer for an 11-5 lead and an early hometown timeout.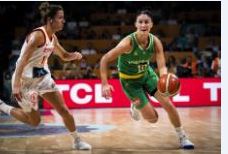 It did little to stem the Aussies, Cambage with a three-point play for 14-5, an offensive rebound for 16-6, Allen free throws for 18-6, then Sami Whitcomb sticking a triple for 21-6!
But at 1:41 to the first break, it was Opals coach Sandy Brondello calling timeout to curtail a 7-0 Spanish outburst which drew the hosts to 13-21.
Unceremoniously decked, O'Hea picked herself up to stick two free throws, Australia ahead 23-15 after one.
Cambage, called for a debatable open court foul midway through the second quarter, had the fans in full voice, Torrens – well held by Steph Talbot and O'Hea – connecting on back-to-back threes to tie the game at 30-30.
Spanish centre Astou Ndour also stepped up, boos raining down on Cambage as she returned 2:24 out from halftime.
Ndour struck a 3-pointer and Spain was ahead 33-32, Talbot on the baseline restoring the lead 34-33, Anna Cruz scoring to have the hosts up 35-34 at the interval.
Six Opals turnovers in the third quarter contributed greatly to Spain's 23-16 advantage, Cambage's third foul on a blatant defensive flop telling, as the momentum and atmosphere shifted completely behind Spain.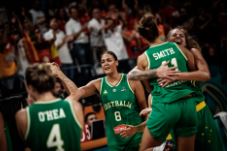 But up 58-50 with a quarter to play, the Spaniards were rocked on their heels by Australia's aggressive opening to the fourth, a 9-0 run including six points from Cambage interrupted by an Ebzery triple.
Ndour's three gave Spain back the lead 61-59 but she fouled out on the very next play.
Given a technical foul for taunting, it was Cambage's fourth and with 4:50 left, the Opals again were being asked the question.
Torrens made the free throw to give Spain the lead 62-61, then stole the ball off Talbot for a layup and 64-61 buffer with 4:28 left.
A very fast five-second side-ball inbounds violation meant the Opals turned over the ball and the pieces were falling into place for Australia to unravel.
Instead, it rallied.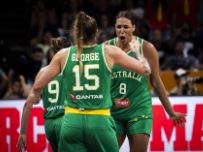 Another Spanish "big", Laura Nicholls fouled out on a Cambage basket and the Aussie star added the bonus free throw to tie it at 64-64.
Then, after another decisive defensive stand, George made two free throws for the 66-64 lead.
Her corner three made it a night to remember in Australian basketball folklore. Tony Ronaldson, your Boomers' three in Atlanta in 1996 now has a book-end.
"It was tough," Cambage said of the titanic struggle.
"We knew it was going to be a hard, hard 40 minutes going into this game and it was.
"They (Spain) are a group of superstars. We just came up with it in the end.
"We played our hearts out and left it on the court.
"I've always said 'screams from the haters got a nice ring to it'. That's the stuff that gets me going. I love it.
"I've so much respect for Spain. I love this city, I love this island, I love this country. They go hard for their country and I respect that."
Cambage collected the match MVP – surely the tournament MVP is not far behind – as Australia kept its long overdue appointment with the USA in tomorrow's Gold Medal game, its 55-34 boards advantage a huge stat.
SEMI FINALS:
AUSTRALIA OPALS 72 (Cambage 33, Ebzery 10, George 9, Allen 8; Cambage 15 rebs; Talbot 8 assts) d SPAIN 66 (Ndour 17, Torrens 15, Xargay 9; Gil, Torrens, Nicholls 5 rebs; Palau 8 assts).
USA 93 (Taurasi 26. Stewart 20, Griner 16; Stewart, Charles 7 rebs; Bird 7 assts) d BELGIUM 76 (Meesseman 23, Mestdagh 12, Linskens 10; Meesseman 6 rebs; Allemand 12 assts).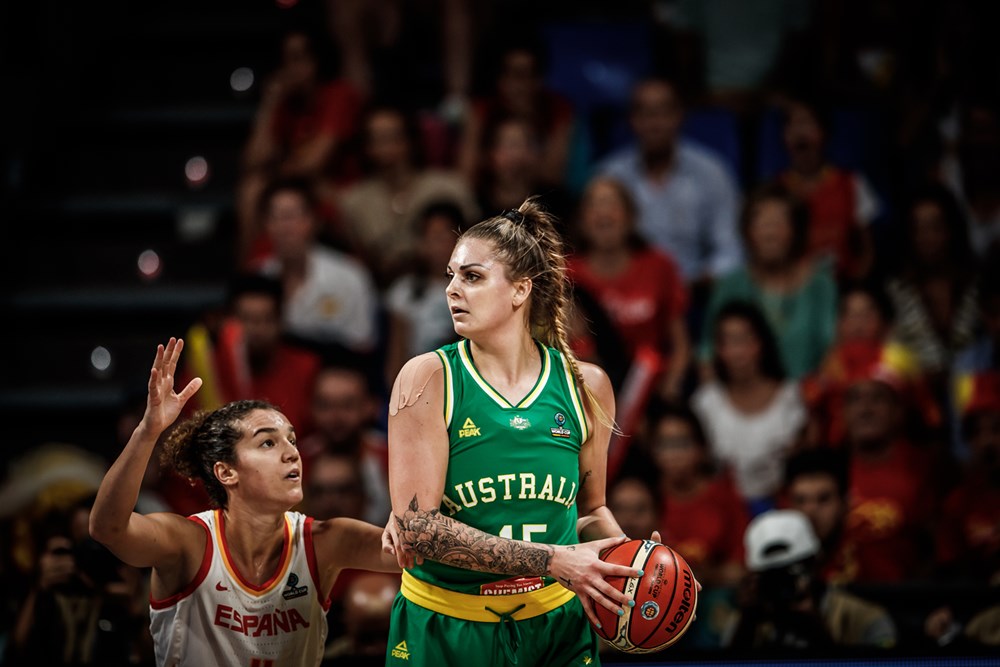 VICTORY, BY GEORGE: Cayla George, came up big in the tense finale.