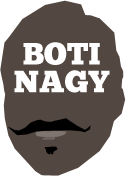 ---
Advertising opportunities available.
Please contact me.
---
Play it again Sami, in green 'n' gold
Tweet
OPALS' coach Sandy Brondello, whose Phoenix Mercury took Seattle Storm to five games in their WNBA semi final, now will be barracking for the Storm to complete a championship sweep over Washington Mystics to get Sami Whitcomb to Spain as soon as possible.
Whitcomb has been a revelation this season off the bench for Seattle and will join Brondello's Australian team in Tenerife as a replacement for star playmaker Leilani Mitchell.
A Rio Olympics starter and member of the Opals' 2014 FIBA World Cup Bronze Medallist, Mitchell played out the WNBA season with Phoenix severely restricted by a lower limb injury.
With the World Cup due to tip off on September 22, Mitchell (below) made the emotional decision to withdraw from the team, opening the door for Whitcomb as a late inclusion.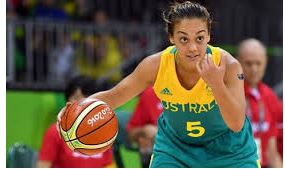 The situation has shades of the 2014 World Cup when Liz Cambage was injured on the eve of the championship and Gabrielle Richards was flown in to replace her.
Rio Olympian Katie-Rae Ebzery will step up but more pressure will fall onto the shoulders of South Australian playmaker Lauren Mansfield, who quarter-backed the Opals at last year's FIBA Asia Cup and was expected to also back up Mitchell.
Whitcomb is a pure scorer of world class but a very different player to Mitchell, causing some adjustments for Brondello.
"I am very excited to be adding Sami to the team for the World Cup," Brondello said.
"Sami is a dynamic scorer and will add another dimension to our team with her shooting ability and will to win.
"Her experience playing in the WNBA finals will also be a valuable asset during the World Cup."
Whitcomb is averaging 6.0 points in the championship, Seattle leading the Mystics 2-0 in the best-of-five series, with Game 3 on Wednesday.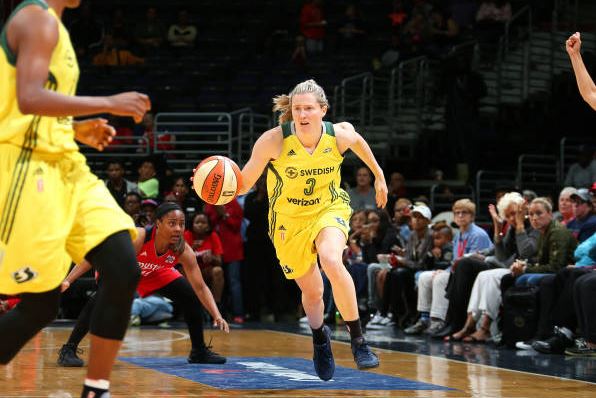 STORMING OPAL: Sami Whitcomb will swap Seattle's green-&-gold for Australia's next week.
If it goes the distance, Game 5 is scheduled for September 16, leaving Whitcomb little time in her World Cup preparation.
The naturalised guard, who has ripped the WNBL apart with Perth Lynx, could be a huge X-Factor for the Opals who have split two warmup games, with Rebecca Allen (below) in great form.
"I am honoured and humbled for this opportunity to represent the Opals," Whitcomb said.
"Australia is my home and to now be a part of this amazing Opals team is beyond a dream.
"You work your whole life for these opportunities, so Sandy's call was pretty emotional for me.
"The first thing I did was call my wife who was sleeping in Australia and share the news with her. Then it felt real. I can't wait to put on that singlet and compete for Australia."
Whitcomb has been among the WNBL's greatest imports and unlucky not to have an MVP accolade alongside her All Star Five selections.
OPALS WORLD CUP DRAW
September 22: v Nigeria at 8.30pm
September 23: v Argentina at 8.00pm
September 25: v Turkey at 8.30pm
September 26: Quarter-Final Qualifications
September 28: Quarter-Finals
September 29: Semi-Finals
September 30: Medal Games