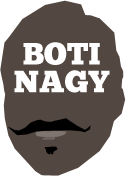 ---
Advertising opportunities available.
Please contact me.
---
Cole has the Wright stuff
Tweet
ADELAIDE 36ers coach and multiple NBL Coach of the Year, Joey Wright, is genuinely thrilled at the prospect of working alongside new Adelaide Basketball President and Hall of Famer Ken Cole.
"I think it's great," Wright said today when asked about Cole's appointment to the honourary and, as yet, not fully-defined role within the Sixers organisation.
Yesterday, Cole told Basketball On The Internet that as he understood it from early discussions with 36ers management, part of his new role would involve talking basketball with Wright and to act as a springboard, if required.
Cole, coach of the Adelaide 36ers' 1986 "Invincibles" championship team, stressed he would have no input into Wright's running of the team but would just be there to lend the coach any off-court assistance he might desire.
"Yeah, a few people have jumped to conclusions about what Ken's role is and does it 'intimidate me'?" Wright said.
"No, not at all.
"It's weird we grew up in totally different atmospheres and times but our basketball ideas are very, very similar.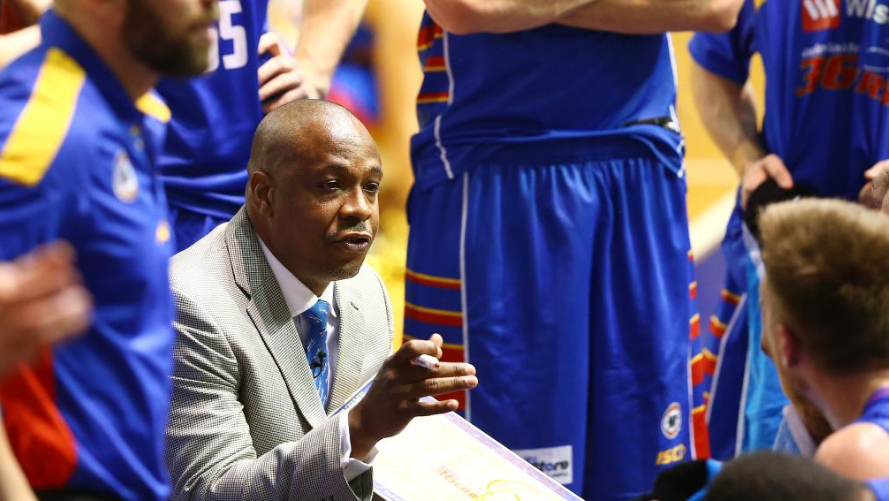 "It's scary how much our ideas are so much the same.
"He's there to help."
Cole and Wright have similar NBL coaching resumes. Cole's 1986 Invincibles went 24-2 en route to the championship and are indisputably the most successful single-season team.
Wright's 2007 Brisbane Bullets won the championship and a record 21-straight games, making that team widely regarded as the best of all time.
That's a topic the pair can debate long into the night.
Sharing views with a peer and gaining insights in the process is something Wright enjoys and actively seeks.
"I still talk to (three-time 36ers championship-winning coach) Phil (Smyth) and I just think it's great to have Ken on board," Wright said.
"Every time I talk to him, I gain some knowledge."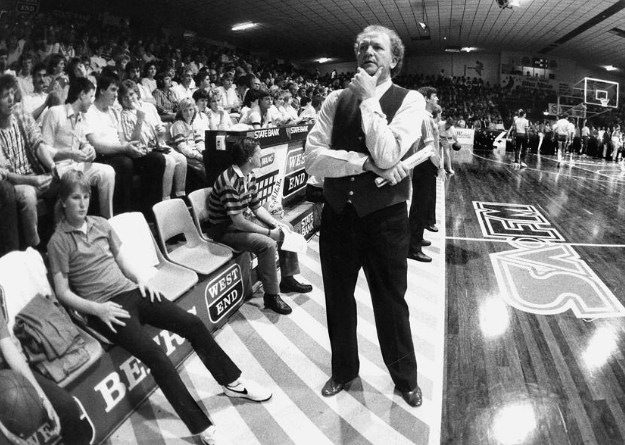 THE KING: Ken Cole in his coaching heyday with his 1986 super 36ers team.
Wright said Cole loves his basketball and is passionate about it.
"It's great he has a place to bring that love (of basketball) to," Wright said.
Meanwhile on court, Wright is pleased at how his lineup is coming together, predicting big seasons for his Boomers trio of Daniel Johnson, Nathan Sobey and Anthony Drmic.
The 36ers are away to WA for preseason games against Perth Wildcats this weekend, then play Illawarra Hawks in Canberra next week ahead of the NBL's Blitz Tournament in Bendigo and Ballarat.
After that, Cairns Taipans hit Titanium Security Arena before the 36ers fly out to Salt Lake City in the US to take on the NBA's Utah Jazz and Aussie duo Joe Ingles and Dante Exum.
Ingles is a Southern Tigers junior from Adelaide and Wright played as an NBL import with Exum's father Cecil at Geelong Supercats 22 years ago.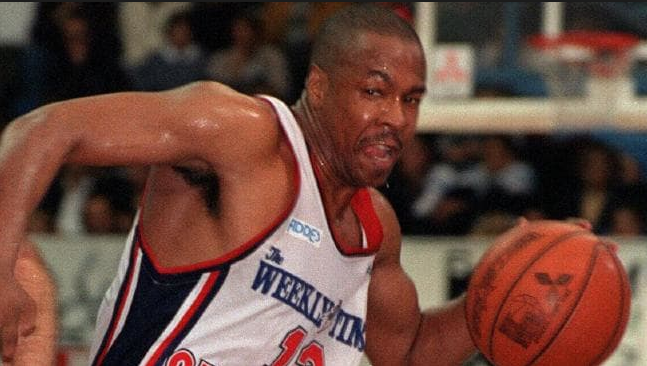 SUPER STARS: Joey Wright the import, playing for Geelong Supercats, and with Cecil Exum.
Last year Wright also worked with Jazz coaches at the NBA Summer League. Right now though, his focus is on his men in navy.
"Jack (McVeigh) and Harry (Froling) have fit in really well," he said of the two tyros.
"And (imports) Jacob (Wiley) and Adris (De Leon) have been exactly what we want.
"Adris will be a guy who can fire us up, play with a chip on his shoulder and lift our intensity levels.
"Jacob, he is an energy guy off the charts. I like high energy and I'm telling him to slow up!
"He has an engine, that's for sure and he is high intensity, big time.
"I'm sure he'll get a few travels and a few fouls while he adjusts to the refereeing but he is going to be very good for us."
In other news, New Zealand Breakers, having released Jerelle Benimon, have landed on their feet with Shawn Long (below), 25 and 206cm, a G-League All Star who has logged NBA minutes at Philadelphia 76ers.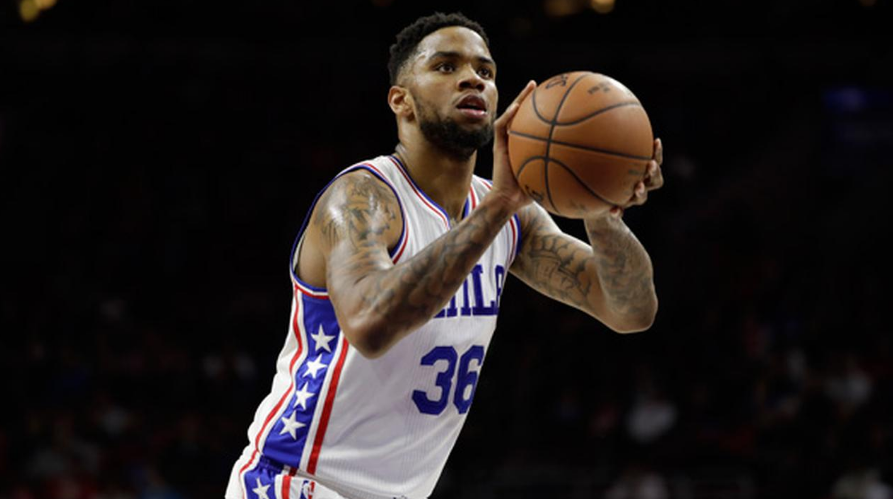 Currently, rosters look like this ahead of the Sydney Kings V Illawarra Hawks preseason game at Newcastle Entertainment Centre on Saturday.
ADELAIDE 36ERS: Adris De Leon, Majok Deng, Adam Doyle, Anthony Drmic, Harry Froling, Daniel Johnson, Ramone Moore, Jack McVeigh, Nathan Sobey, Brendan Teys, Jacob Wiley. Coach: Joey Wright
BRISBANE BULLETS: Cameron Bairstow, Jason Cadee, Al;onzo Gee, Adam Gibson, Cameron Gliddon, Makoto Hiejima, Matt Hodgson, Stephen Holt, Will Magnay, Reuben Te Rangi, Mika Vukona. Coach: Andrej Lemanis
CAIRNS TAIPANS: Devon Hall, Nathan Jawai, Jarrod Kenny, Dexter Kernich-Drew, Kuany Kuany, Robert Loe, Alex Loughton, DJ Newbill, Melo Trimble, Lucas Walker, Mitch Young. Coach: Mike Kelly
ILLAWARRA HAWKS: David Andersen, Todd Blanchfield, Tim Coenraad, Brian Conklin, Daniel Grida, Cedric Jackson, Jordair Jett, Emmett Naar, Marshall Nelson, AJ Ogilvy, Kevin White. Coach: Rob Beveridge
MELBOURNE UNITED: David Barlow, Josh Boone, Chris Goulding, Peter Hooley, Mitch McCarron, Craig Moller, Alex Pledger, Tohi Smith-Milner, Daniel Trist, Casper Ware. Coach: Dean Vickerman (*Import spot to fill)
NEW ZEALAND BREAKERS: Thomas Abercrombie, Finn Delany, Shea Ili, Shawn Long, Majok Majok, Armani Moore, Jordan Ngatai, Patrick Richard, Corey Webster, Jarrad Weeks, Tai Wesley. Coach: Kevin Braswell
PERTH WILDCATS: Angus Brandt, Bryce Cotton, Greg Hire, Tom Jervis, Nick Kay, Damian Martin, Mitch Norton, Clint Steindl, Rhys Vague, Jesse Wagstaff, Terrico White. Coach: Trevor Gleeson
SYDNEY KINGS: Deng Acouth, Kyle Adnam, Andrew Bogut, Brian Bowen, Deng Deng, Daniel Kickert, Kevin Lisch, Brad Newley, Dane Pineau, Jerome Randle, David Wear, Tom Wilson. Coach: Andrew Gaze