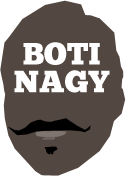 ---
Advertising opportunities available.
Please contact me.
---
Wildcats, Breakers, dish out the pain
Tweet
OVERNIGHT NBL results in Wollongong nand Perth have determined two finals factors - Illawarra is done and dusted, while the Perth-Adelaide rivalry once again is red-hot.
Not only did the New Zealand Breakers stitch up the Final Four, they reminded those not paying attention that they remain very much in the top-two chase.
By virtue of its road loss in Perth, Adelaide slumps to 15-10 and drops to fourth. Of course that could change again tomorrow but what won't change is the fact Melbourne, Perth, New Zealand and Adelaide will be playing in the post-season.
Losing 73-77 at home last night, despite the best efforts of MVP candidate Demitrius Conger (24 points at 53 per cent, seven rebounds, three assists and a steal) drops Illawarra's record to 10-13.
It now needs to win all of its remaining (five) games and hope for other favourable results. It's not impossible. But neither is a blind man climbing Everest. It's happened. It just doesn't happen often.
"It's a big ask, no doubt about that," Hawks coach Rob Beveridge said.
"If we can go out and compete every game, tidy up certain areas from a technical perspective, we're going to be in every game, I know that.
"Yes we know it's extremely tough, we've got to rely on other teams dropping games, obviously New Zealand, but we've still got another one to go. Yep. Very difficult.
"Can we do it? Who knows?"
* * *
MEANWHILE the NBL today handed down its reports from the fiesty finish in Perth with Adelaide's Brendan Teys and Perth's Dexter Kernich-Drew reported for unduly rough play from their fourth quarter incident.
Adelaide's Shannon Shorter and Perth's Lucas Walker left their respective team benches as a melee broke out and were reported accordingly.
For their roles in that melee, Majok Deng, Nelson Larkins, Anthony Drmic, Mitch Creek and Shannon Shorter (Adelaide) and Dexter Kernich-Drew, Clint Steindl and Jarrod Kenny (Perth) all were reported.
Each report will be reviewed by the NBL Games Review Panel and charges announced by 6pm tomorrow, leaving everyone clear to play in the rematch at Titanium Security Arena at 2:30pm local time.
* * *
BACK to the game itself and what a ripper it was from go-to-whoa.
After a strong Perth start, the 36ers got on a roll - Shorter noticeably on the bench - and stormed to a 36-28 lead after one quarter, shooting at a remarkable 73 per cent.
Daniel Johnson and Mitch Creek were stroking threes as the Sixers asserted their authority. They pulled further away in the second period to lead by nine before the Wildcats rallied.
Threes by Damian Martin and Clint Steindl were big in dragging the Wildcats back to 60-61 by the main interval, Adelaide's offence becoming stifled as much by Perth's defence as its growing reluctance to share the ball.
Nathan Sobey had 14 points at halftime but with finished with 18 as the Sixers' vaunted attack faltered and stumbled, devoid of on-court direction or leadership.
Martin inspired Perth with his aggressive play after the break and Jesse Wagstaff was sensational en route to an equal game-high 25 points on 9-of-13 shooting.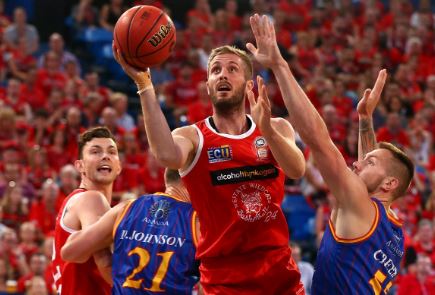 Perth reduced Adelaide to early (bad) options while continuing on a 13-0 run from the break (and 15-0 from the last basket of the first half) to be ahead 73-61 before Creek broke the drought with a free throw at 6:15.
Bryce Cotton (equal game-high 25 points) then landed a 3-pointer and at 62-76, the 36ers were floundering and the Wildcats rolling.
"On the road, you don't want to give up a home team rhythm, let them knock shots down, let them get going," Adelaide coach Joey Wright said.
"Every time they hit a bucket they're hearing 'yeah, yeah, yeah' (and) every time we hit a bucket we're not hearing anything. You're not going to continue to score at that rate on the road, and they will.
"The home team will because they're getting celebrated every time. They get the reinforcement.
"So we've got to do a better job. You can't give up 60 points (in the first half) on the road and expect to win. That's not going to happen.
"Third term, Perth is notorious for third term scores. It's about 11.30 at home for us – third quarter – and we fell asleep.
"I've been coaching down here for 15 years – third quarter – if you ain't ready for the third quarter, you're in trouble."
Adelaide was not ready by any stretch.
It took until 4:02 for Adelaide to score its only field goal for the third quarter, a Ramone Moore drive which erroneously was credited to Matt Hodgson as a tap in.
The 27-9 period by Perth was phenomenal and clearly was the reason it claimed the (Martin) Cattalini Cup and why Wagstaff walked away with the Paul Rogers Medal as match MVP.
"It was a great win for us. The third quarter was some of the best defence I've seen we've played. (They) really had each other's back. To hold them to nine points, I don't know if that's a season-low for them," Perth coach Trevor Gleeson said.
"To come in at one point down at the half was pretty damn good.
"The defence in the third quarter was outstanding. The start of the third quarter was really good as well."
Two Derek Cooke Jr dunks to start the fourth ensured this was going to be a Wildcats win, the question now by how much?
"The way it's done this year, how much you win by and how much you lose by is important, so not necessarily a head-to-head record anymore," Wright said.
"So we definitely were trying to slow it up at the end of that game. We want to keep that score as low as we possibly can and we try to get ours as high as we possibly can but they did a great job of defending us (and) we did a poor job of defending them."
There still was much to come with Lucas Walker flinging Nelson Larkins to the floor, ostensibly for having the audacity to try and box him out.
Creek gave up a hard foul on Cooke, who retaliated and both copped USFs.
Brendan Teys also gave up a fairly agricultural foul but later, as the game was in the shadows of the siren, shoved Dexter Kernich-Drew out of court on a defensive rebound.
While play went down the other end, referee Chris Reid had to get in between Teys and Kernich-Drew as they verballed each other before play came flying back at them.
Clearly still agitated, Teys then crudely fouled Perth development player Lochlan Cummings who still made a great shot as he was being decked.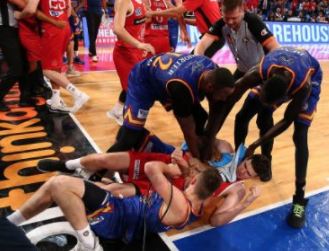 The whistle blown for the foul, Teys was blindsided as Kernich-Drew barrelled through him, sending him flying and setting off the melee.
"Went crazy didn't it? It's disappointing with Lochy, our development player comes in, intentional foul on him and then it just escalated," Gleeson said. "I'm disappointed it finishes that way.
"I thought it (Teys' foul) was an unsportsmanlike and I think it was called an unsportsman so I don't think it was anything more than that.
"I'm happy that Dexter stood up for his teammate, first and foremost. But we've got to play smart. There's other ways to skin a cat, so to speak and reacting straight away is not the way.
"It's getting down, playing defence, getting lockdown stops, and hurting them on the scoreboard, more than physicality."
The ending, and it's subsequent upshot today, is sure to fire up tomorrow's rematch but a fracas of some sort was always coming.
"I knew it was going to come to that. We don't do a better job of protecting the obvious things, it's going to be like that every game and someone's going to get hurt," Wright said.
"It has nothing to do with me. I'm always surprised at coaches who get upset because players fight. Nothing to do with me. They can wrestle and tussle all they want if they want to and end their careers with stupid plays.
"I thought there were a lot plays the refs should have cleaned up early and it probably wouldn't have got to that point."
* * *
NEW ZEALAND BREAKERS 77 (Sosa 12, Loe, Newbill 11, Penney 10; Vukona, Newbill 7 rebs; Sosa 4 assts) d ILLAWARRA HAWKS 73 (Conger 24, Kay 17, Clarke 15; Johnson 8 rebs; Conger 3 assts) at The Sandpit, WIN Entertainment Centre, Wollongong.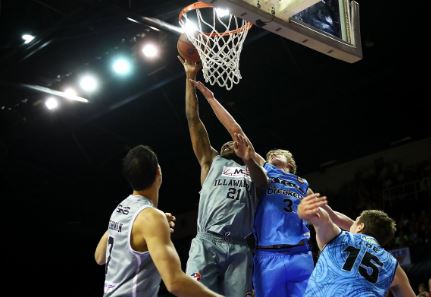 PERTH WILDCATS 111 (Wagstaff, Cotton 25, Brandt 11, Kenny, Martin, Tokoto 10; Tokoto 10 rebs; Tokoto 5 assts) d ADELAIDE 36ERS 90 (Sobey 18, Creek 16, Moore 14, Childress 12; Shorter, Johnson 5 rebs; 4 with 2 assts) at The Jungle, Perth Arena.
* * *
TOMORROW the question is can Illawarra summon something special on the road and upset the Breakers in Auckland?
Sadly, it looks as if the Hawks are cooked.
In Adelaide?
It should be a great conclusion to their four-game season-series, the 36ers having to start favourite at home in what should be another barn-burner.
* * *
COMMENT: Don't blame the refs.