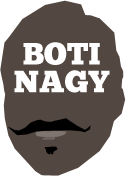 ---
Advertising opportunities available.
Please contact me.
---
3X3 finds first permanent venue
Tweet
THE countdown is on to Australia's first 3X3 playing venue opening to the public from May 26 at Kangaroo Point in Brisbane, offering a "home away from home" purely for 3X3 players.
Champions League Basketball and its CLB3X3 division, in conjunction with fitness experts at Kangaroo Point Health and Fitness, will launch an Australian first with their "PLAY3X3" centre, provided exclusively for 3on3 players, action catered for on an official FIBA half court, MEGA SLAM Hoop, plus access to a swimming pool, players lounge, strength training area and more.
It will be available seven days a week and 24/7, the climate lending itself perfectly to the outdoor court located alongside the pool and strength conditioning area.
Ideal for regular weekly competitions – which start on May 29 and May 31 – it also is a great adjunct for training purposes, recovery, and just chillin' with teammates and fellow 3X3 protagonists.
It's common knowledge now FIBA will expose 3X3 basketball to the masses at the 2020 Tokyo Olympics, but the Commonwealth Games has followed suit, abandoning 5on5, with this year's twin Australian Golds the swansong for the original form of the game.
Current 3on3 champion and London Olympian Peter Crawford has been competing on the 3X3 circuit for 18 months, including representing Australia with the Townsville Suns team at a FIBA event in Mongolia last year (pictured below, PC on the far right).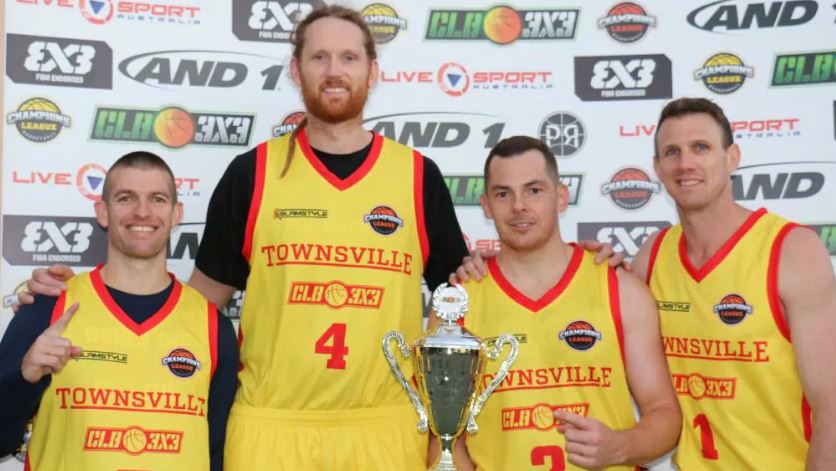 "This latest initiative is a terrific opportunity to get in game-time before competing in the likes of World Tours, Challengers and other 3X3 events around Australia," Crawford said.
"The sport is really gaining in popularity and I know some of the guys I played with in previous tournaments are looking forward to having a location they can go to and specifically train, perfect their skills and recover around the 3X3 game."
It all fires up in just 12 days' time.
"Kangaroo Point Health and Fitness is thrilled to be working in conjunction with CLB to launch this Australian first, FIBA-endorsed 3X3 basketball Initiative," KPHF's general manager Jon-Michael Stuart said.
"With Brisbane's perfect climate, our stunning facilities and our close proximity to the CBD, we couldn't think of a better location to kick-start a thriving 3X3 basketball culture in South East Queensland."
CLB3X3 is equally excited, with more such venues planned.
"Our PLAY3X3 centres, which we're expecting to open across the country over the next 18 months, are designed specifically to meet the needs of our players who endure the physicality of this high-impact, high-cardio sport," CLB's marketing and events executive Yvette Williams said.
"The official FIBA half courts and state of the art MEGA SLAM hoop systems installed at the centres also give the players a true sense of how a real tournament feels.
"This is huge in terms of pathways and opportunities for not only past, current and future players but for our officials, administrators and coaches as well."
* * *
THE NBL's first 3x3 Pro Hustle series concluded yesterday at the Overseas Passenger Terminal at Sydney's Circular Quay, the Opera House spectacular in the background.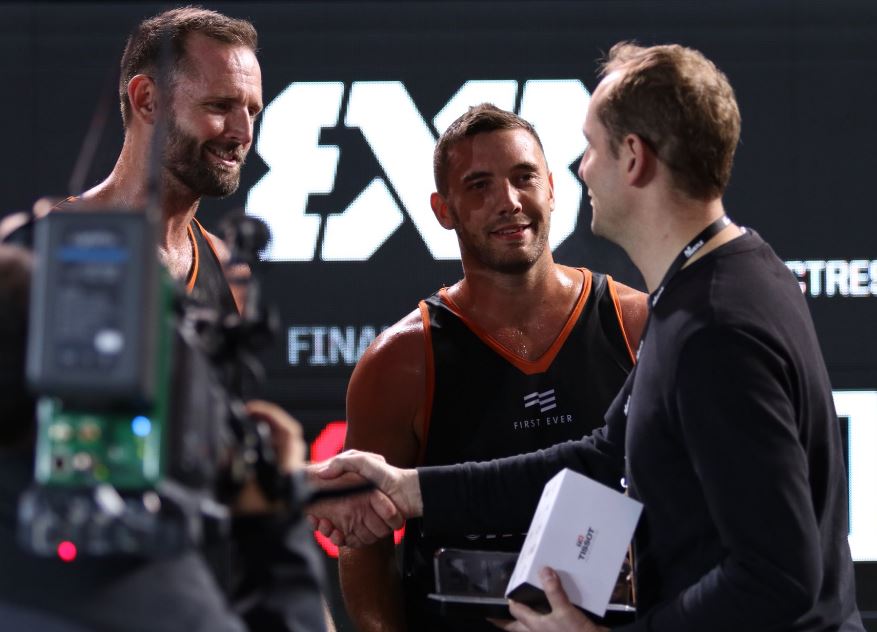 Brisbane-based Anthony Petrie and Adam Gibson (above receiving their prizes) steered the Platypuses to victory and a clean-sweep of Hustle's three events, scoring $10,000 plus an additional $10,000 as the overall winners, plus four Tissot watches.
The women's finals produced memorable games, none moreso than an overtime win by Deakin Melbourne Boomers over Spectres iAthletic to snatch the $10,000 first prize.
The WNBL's 2017 Betty Watson Rookie of the Year, Monique Conti, hit a miracle shot for the Boomers to send the game into overtime but it wasn't all heartbreak for Spectres iAthletic, finishing top of the championship points table to claim $10,000 and four Tissot watches as the overall winners.
Matches were streamed live with expert commentary provided by Matt McQuade and Tommy Greer (pictured below battling Darren Ng at the CLB3X3 event at Hart's Mill in January).