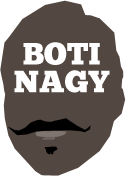 ---
Advertising opportunities available.
Please contact me.
---
BA shortly for "BALLSY" today in Boomers move
Tweet
BASKETBALL Australia has never been known for ballsy, gutsy decisions but today's report it is installing Brett Brown as coach of the Boomers for the Tokyo Olympic Games is massive.
This is breaking news and BA has yet to respond but it was broken this morning in Connecticut by renowned basketball insider, ESPN and SportsCenter analyst Adrian Wojnarowski with this tweet: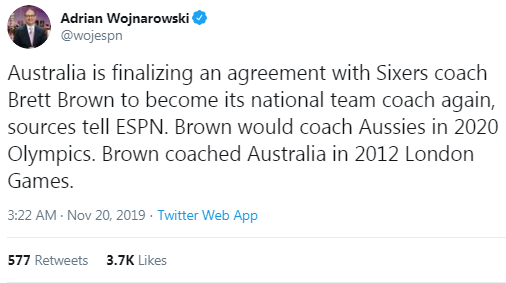 Sources this morning - yes, ACTUAL sources - said current Boomers coach Andrej Lemanis, who secured fourth placings for Australia at the Rio Olympics and World Cup in China earlier this year, has been stood down.
Brown coached the Boomers at FIBA's 2010 World Cup and 2012 London Olympics before his burgeoning NBA commitments - he is head coach of the Philadelphia 76ers - led him to step aside.
Lemanis was his lead assistant, a role Brown also filled for then head coach Barry Barnes at the 1996 Atlanta and 2000 Sydney Olympics, with the 1998 FIBA World Championship in between.
The increasingly troubling relationship between Lemanis and the new breed of Australian NBA players - most notably his handling of the Jonah Bolden situation in Perth ahead of the 2019 World Cup - is believed to have acted as the catalyst for BA's decision.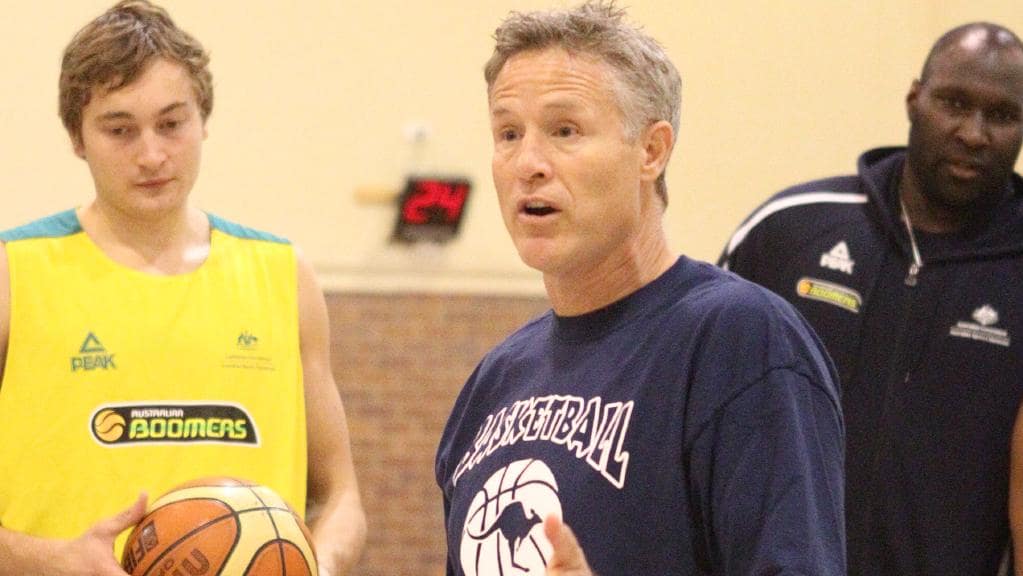 It is likely only a medal in China would have saved Lemanis.
Bolden was selected in the team for China but withdrew after the Boomers' second warmup game against Canada, having been instrumental in the victory.
Being used as a backup five man - which isn't his position - he only really had his opportunity in that match because Andrew Bogut did not play and Aron Baynes ran into foul trouble.
Most pundits, myself included, believed Bolden should have started at power forward, where Lemanis preferred Jock Landale, backing him with Nick Kay.
The selections of barely used Nathan Sobey, Cam Gliddon and veteran David Barlow also sparked considerable debate.
The eventual inability to play anyone from that trio led to many of the Boomers' main players being "cooked" by the time Australia reached the semi finals.
Worse though was the deepening perception Lemanis and NBA players such as Ben Simmons, Bolden, Thon Maker could not get on the same page.
Lemanis is an "old school" coach with old school values such as putting your country first. Players such as Patty Mills, Joe Ingles, Andrew Bogut, Aron Baynes, Matthew Dellavedova and Ryan Broekhoff are cut from similar cloth.
The new breed of player, earning mega-millions of dollars, has to be handled differently and it appears as if BA has accepted that premise.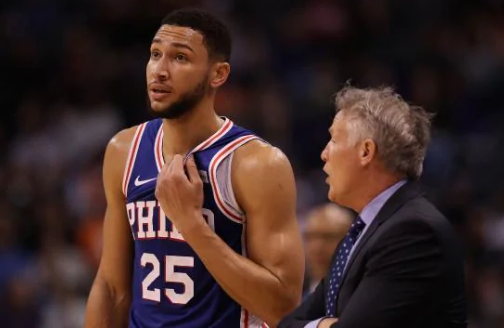 Brown coaches both Simmons and Bolden at the 76ers. He was heavily involved with both of their fathers during their time as NBL imports. He understands the modern-day player and his previous experience at international level makes him a perfect fit.
Sydney Kings coach and current Boomers assistant Will Weaver also has history with Brown so, along with assistants Luc Longley, David Patrick and Adam Caporn, would likely be retained for Tokyo to maintain some continuity.
Brown began his coaching in Australia under the tutelage of Lindsay Gaze at Melbourne Tigers. The New England-born American took the helm of the NBL's North Melbourne Giants in 1993, winning the 1994 NBL championship and reaching the 1995 Grand Final Series.
He also coached the Sydney Kings from 2000 to 2002 and was a lead assistant under legendary NBA coach Gregg Popovich at the San Antonio Spurs, before taking the role at Philly.
* * *
THE next question though is if Brett Brown agrees to continue on beyond the Tokyo Olympics and coach the Boomers at the 2023 World Cup and 2024 Olympics, who will coach the team through all the FIBA qualifiers and its Asia Cup, a Cup Australia currently holds?
While the immediate answer would appear to be Weaver, the less obvious but possibly more relevant would be Rob Beveridge.
An NBL championship-winning coach, Bevo coached Bogut and Co to a Gold Medal in 2003 at the FIBA Under-19 World Championship and currently does not have an NBL gig.
That means he would be available to pour all his energies into the Boomers' program, not have it as an afterthought, albeit a seriously significant one.
Weaver will have Sydney Kings issues to deal with, just as Lemanis has Brisbane Bullets on his daily plate.
Beveridge was the unlucky runnerup to Lemanis when both initially competed for the Boomers head coach role but has coached internationally and even coached an unlikely Scotland team (below) into the medal rounds at the 2018 Commonwealth Games.
Australia, Canada, New Zealand - these teams were all expected to be in medal contention. But Scotland?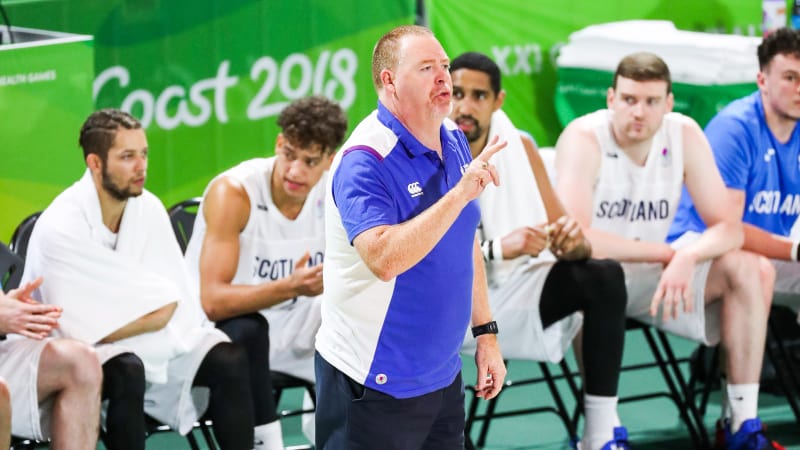 If Brown chooses not to go on after Tokyo, then Australia already has its readymade Lemanis successor in the wings.