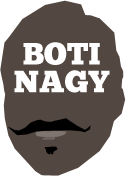 ---
Advertising opportunities available.
Please contact me.
---
Boomers' legacy as Baltic giants pass on
Tweet
THE deaths in the past several months of three more South Australian basketball icons - all from the Baltic states - leaves Colin Burdett as the only surviving member of Australia's original Boomers, the 1956 Melbourne Olympic team.

Lithuanian-born dual-Woollacott Medallist Algis Ignatavicius passed away last month, following the death the previous month of Latvian superstar Inga Freidenfelds.
Latvian giant, George Dancis was the first to leave us this year from the group which dominated the Boomers' Melbourne Olympic team.
The wealth of Latvian talent in South Australia in the mid-1950s meant they fielded two teams, A.L.S. and Venta, winning championships before they merged to form the more famous and successful A.S.K.
Freidenfelds was a silky smooth forward and ferocious competitor, which belied his pleasant and warm demeanour off the hardwood. At just 21, he captained the Boomers in 1956 and would have been a dual-Olympian but Australia did not make it to the 1960 Rome Olympics, bundled out in the pre-Olympic tournament in Bologna.
Inga learned to play basketball in a Displaced Persons Camp in Europe in 1946, migrating to Australia in 1950 as a 15-year-old.
He made his senior debut for South Australia as a 19-year old in 1954 and following the 1955 Australian Championship, was selected to the 1956 Olympic Games team. A true gentleman, he was the South Australian Basketballer of the Year three times during the 1950s and remained in the highest esteem up to and beyond his retirement in the mid 1960s as an outstanding ambassador for the game.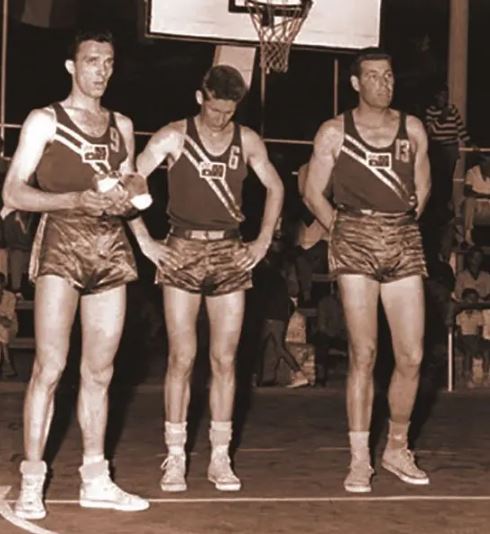 CAPTAIN COURAGEOUS: Inga Freidenfelds, left, and George Dancis, right, 1956 Olympians.
Dancis too would have been a dual-Olympian but for the fact our Australian team for the Rome Olympic Games failed to qualify. He combined with Freidenfelds to win the 1958 and 1959 Australian Club Championships at Melbourne's Albert Park.
At 200cm, Dancis was a giant of the era and a formidable keyway colossus.
Ignatavicius is remembered as a phenomenal shooter, and a player who could slot into any team, as first observed by the visiting Harlem Globetrotters.
He also was noted above all else for his wicked sense of humour.
A story of adversity, Ignatavicius' basketball journey began when he and his family were placed in the Displaced Persons Camp in Germany after World War II, where they remained for almost four years before migrating to Australia in 1949.
At 17 years old, Algy landed in Adelaide with his family. With basketball the No.1 sport in both Latvia and Lithuania, Algy soon found his way to the local Lithuanian team, Vytis, with which he won Woollacott Medals in 1955 and again in 1956 as the fairest and most brilliant player in South Australia.

He was a regular state selection from 1951 onward, winning the national championship for the first time in 1953.
The trio led Australia's scoring at the Melbourne Olympics. Inga averaged 17.3 points and 10 rebounds per game, George averaged 16.3 points and Algy 11.6 to be 1-2-3 in the Boomers offence.
Each boasting Hall of Fame careers, they set South Australian basketball on a course of success it only has veered from this century.
What a joy it would be to see these men in action once more, with "Mrs Ware" on the door, selling entry tickets.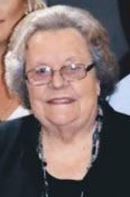 Leonie Ware, a fixture at Forestville, Wayville, Sturt and Pasadena stadia, also left us this year, one of the sport's greatest non-playing characters in the history of the game.
Like Ollie Cosgrove in the early years at Forestville, Leonie was meticulous as a doorkeeper but also knew anyone and everyone worthwhile in the sport.
She loved a chat and brought great humour to any conversation, the quintessential volunteer and the type of person who kept the sport afloat, always reliable and always willing to help. Her smiling face and hearty laugh brightened the evening for many and she is sorely missed but always remembered.
May they all be resting in peace.