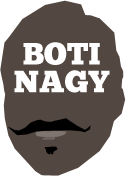 ---
Advertising opportunities available.
Please contact me.
---
Comm Games Gold 'gift' wrap
Tweet
IT IS rare in sport to truly get a "sure thing" but nothing was surer than Australia's Opals and Boomers claiming Commonwealth Games basketball Gold Medals.
Both teams' FIBA ranking strongly suggested a one-sided tournament but that's not for a millisecond to detract from what were performances of which we should be proud.
It's not that they won. We expected that. It's how they went about it.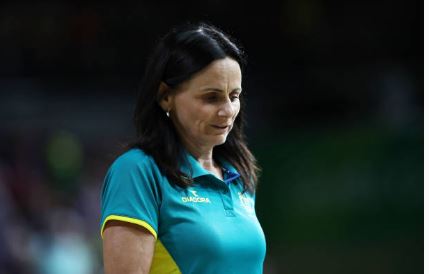 For starters, the two people daily dealing with enormous pressure and expectations were coaches Sandy Brondello (left) and Andrej Lemanis.
Making her senior international debut as coach of the Opals, the pressure to win a Gold Medal may not have been as debilitating for Brondello – Australia was always going to win the Gold – but how she went about it, how her team played, what the future holds … these were all issues which had to some extent prey on her mind.
After all, it was going to be Australia's first look at Brondello as coach after a stellar international career as a player, logging 302 matches for the Opals across four Olympics, four FIBA World Championships and the campaigns that went with them.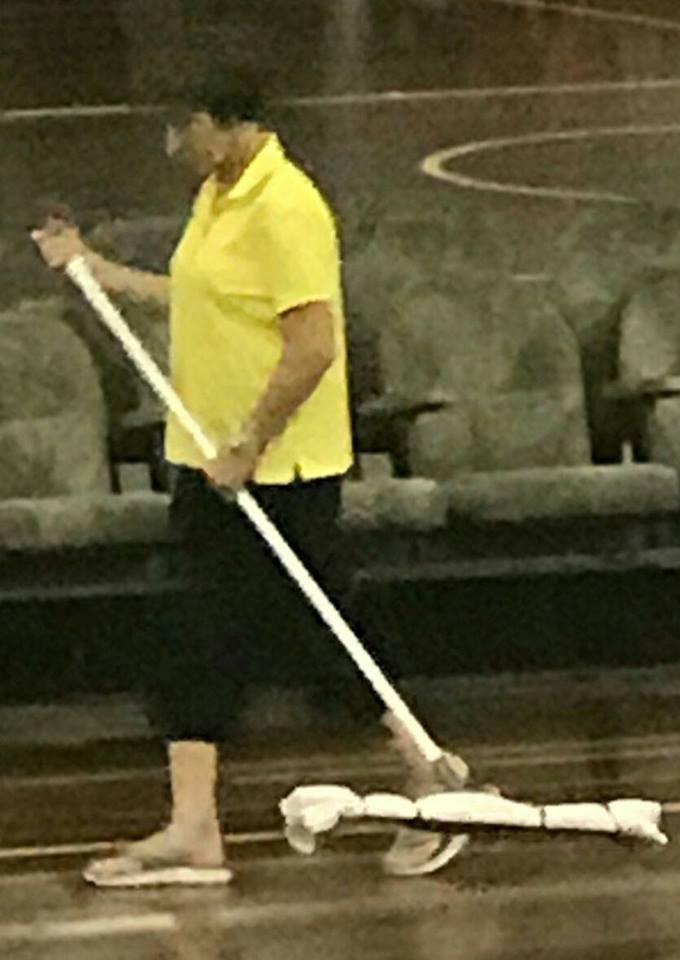 Her husband Olaf Lange coached the Opals to Silver at their FIBA Asia Cup debut last year, though there were those at Basketball Australia who wanted to sweep that fact under the carpet (pictured) and pretend Cheryl Chambers was at the helm.
Lord knows why when Brondello's Opals camp at Phoenix had introduced the next gen to her system and Lange was the perfect choice to mastermind the Asia Cup campaign while she was otherwise engaged with the Mercury in the WNBA.
But I digress. This was Brondello at the coal-face and didn't she come up trumps?
The Opals played such attractive, free-flowing basketball, sharing the ball and were fierce defensively.
They averaged 107.8ppg and gave up 54.8, a winning margin of 53 ppg.
They smashed the boards 48.2-32 and here's the best stat of all – the Opals averaged 30.8 assists per outing.
Sure, there were no USA or Russia types in the tournament but if that's the way her team is going to play – and it is – then the FIBA World Cup in Spain cannot come soon enough.
And while Australia had Liz Cambage dominating the paint and averaging 24.5ppg before her expulsion by the refs after playing just 8:55 in the Final – she already had 10 points on 5-of-5 shooting – every Opal in the 12-player rotation scored in every game.
There was no single-player reliance here, Australia 13 up on England in the Final when Cambage copped her marching orders, and still winning by 44.
No, we wouldn't like to see a similar occurrence in a Worlds or Olympics Gold Medal match but the point is there were a lot of good players who missed selection for this team. The future (Ezi Magbegor, below) is so very bright.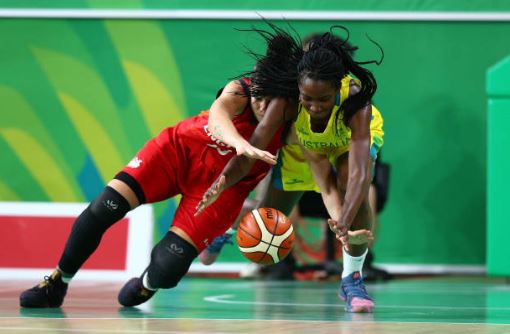 * * *
THE Boomers had one opponent to worry about – New Zealand. But the Tall Blacks shot themselves in the foot in their semi final with Canada and never earnt the right to avenge their thrilling 73-79 loss to the Aussies in intrapool play.
Whether New Zealand's inability to keep the Gold Medal appointment was a relief to the Aussies or not, it doesn't matter one iota.
The Boomers started the Games beating Canada by 40 and they concluded the Games beating Canada by 40.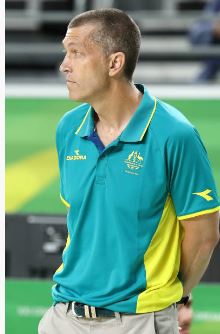 They also whacked Nigeria by 42 and Scotland by 57 which, when you calculate who was unavailable to wear the green-and-gold, is quite the phenomenal effort by our NBL's finest.
The Boomers played such attractive, free-flowing basketball, sharing the ball and were fierce defensively.
Yeah that's right. Exactly the same as the Opals.
But don't think for a second there wasn't any heat on Lemanis (pictured). If the Boomers had lost to anyone, even been harassed by a lesser nation (other than New Zealand), the slings and arrows would have been loaded and battering the living bejesus out of him.
It comes with the territory, yes. But again, he had his team playing like a well-oiled machine with every player who hit the court scoring in Australia's last three games and only principle defender Damian Martin (first up against Canada) and Cam Gliddon (against New Zealand) without points of their own in those two outings.
When you win a Final by 40 and your leading scorer has 11, you have a team to be very much feared.
* * *
SCOTLAND was the story of the Games and all credit to Illawarra Hawks coach Rob Beveridge for the work he did and the 4-2 win-loss result he achieved with these basketballing minnows.
The bagpipes will be belting out tunes of this performance around the campfires for a long while to come.
But when it comes to celebrating, how big of a dufus was Canada's Mamadou Gueye?
The largely irrelevant forward managed to gather up a pass, almost slip, throw up a prayer which BANKED in to give Canada its last-gasp upset win over New Zealand in the semi final.
Having watched Gueye play, believe this – he will NEVER have another moment in his basketball career as big as that one. Never. That will be the legacy of his entire playing career.
So how did he react after banking the fluke of the Games?
Like some arrogant jerk, strutting around while his jubilant, disbelieving teammates ran after him to congratulate and celebrate with him. But nup. He continued with the deadpan "I do this type of shit all the time" face.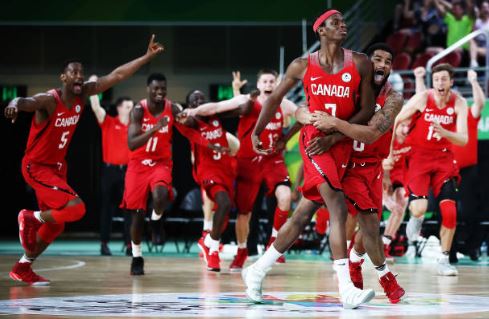 Sunshine? That was the biggest moment of your career. What a shame you were too immature to realise it.
* * *
JOHN Casey has been either the best basketball TV calling anchor – or briefly #2 as the late Clinton Grybas was emerging - pretty much since the NBL first aired.
But his performance alongside Andrew Gaze at these Commonwealth Games must rate right up there among his best ever basketball work.
Informed (when hasn't he been?), intelligent and amusing when called for, he was at his best throughout the tournament.
(Even if he did say – and twice – that Chris Goulding was coming off an NBL championship success where he also was MVP of the tournament. Not sure a best-of-five Grand Final qualifies as a "tournament" but come on, it was more worthy of a giggle than any admonishment.)
And this also was Gaze at by far his best. No fence-sitting, no BS. Straightforward, shoot-from-the-lip commentary and insight.
Who will forget his description of Canada's Ammanuel Diressa and his penchant for launching a shot on almost every touch?
"He'd rather pass a kidney stone than the ball," was Gaze's wry observation.
OK. Some of us have heard it before but it was so perfect as to be sublime – and still hilarious.
Rachael Sporn on the Opals' matches was equally enjoyable and some of the camera angles Channel 7 employed also gave a new perspective to the coverage.
There was no place for self-serving BS analysis – "I told you" etcetera – a la an NBL coverage which can slip into the tedious and banal so very easily as a few of the callers pretend to NOT want to talk about themselves or their careers.
I must confess, I loved this coverage. I didn't love having to switch 7 channels midstream or be referred to the network's App.
But I just revelled in the stellar work done by John, Drewy and Rach. Someone give them a morning radio show!
PS
It was a joy to hear Phil Lynch again too, even if he couldn't tell his Steph Blicavs from his Sara!
* * *
HAS to be said. NBL referees could learn from the Comm Games' officiating.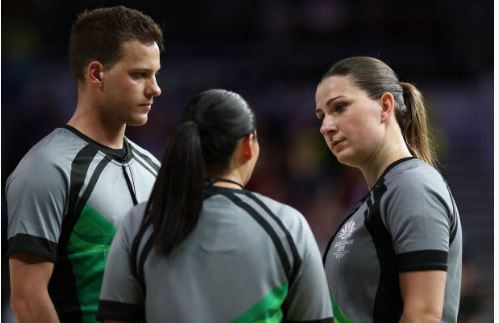 They were quick with the trigger-finger to shoot any dissent and frankly, that was so preferable to the constant whingeing and whining of players and coaches in our NBL.
They got a few calls wrong for sure – a player dribbling on the sideline with his foot out of court, a player called for out of court driving along the baseline when he wasn't, those were two that were particularly bemusing.
But it was definitely a "zero tolerance" policy and everyone quickly learnt how to cope successfully within that environment.
Maybe the tech fouls flew too quickly but we had clean games with the focus on the game and not the refs.
They also were consistent in how they called the games and everyone adjusted accordingly.
In the NBL, you drive to the hoop and you'll be getting a bonus free throw or free throws if anyone so much as looks at you.
At the Comm Games, players had to weather incidental contact. Guess what? They were able to and complaints were minimal.
It was a much better look.
* * *
THERE were great moments at these Commonwealth Games and GETTY IMAGES did a fantastic job of capturing them.
Here's a sample of some great GETTY shots where even a thousand words wouldn't do the moments justice.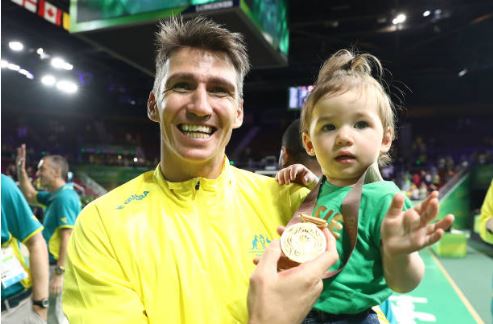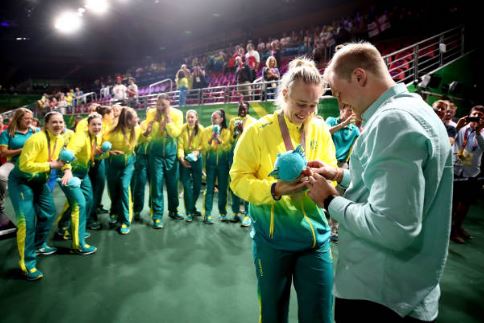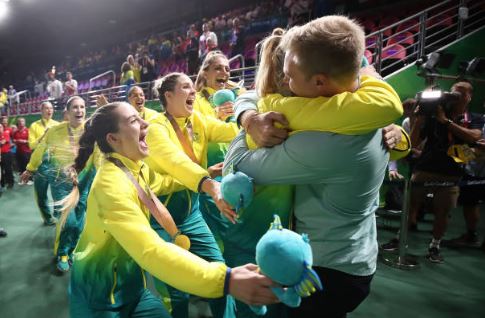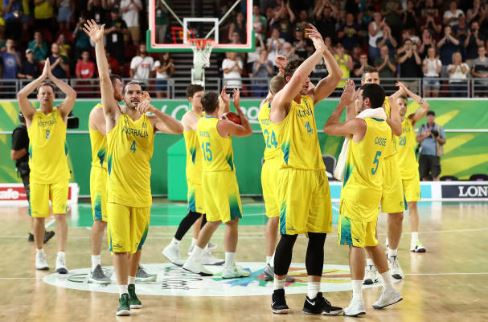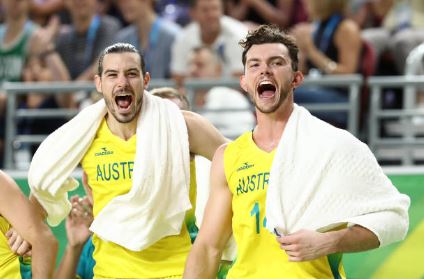 * * *
CONGRATULATIONS to our teams, coaches and staffs. Naturalised Opals forward Kelsey Griffin may have put it best with these personal but highly applicable sentiments today on social media.
"What an incredible experience!
"Being an Opal has been a complete game changer for me and it's because of the incredible people that you get to be surrounded by! From the support staff, to the coaches and players it still amazes me! I feel so lucky to have been able to play with a legend of the sport like Snelly in her last game in the Green and Gold!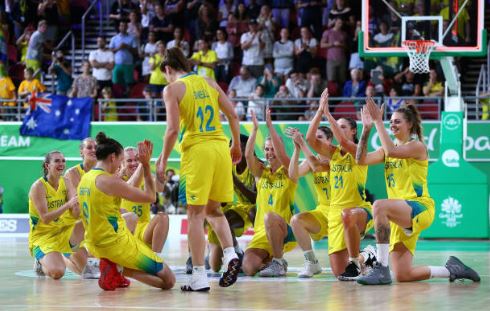 "What also makes the journey so amazing is everyone who reached out! All of the messages sent have been truly humbling and I am so grateful to everyone who sent their support!
"Lastly, but certainly not least my FAMILY both near and far! I definitely couldn't achieve any of this with out you! To my parents who woke up at 3 am to watch live stats for every game, I knew you were with me in spirit. To Megan, your good luck messages are top notch and always bring a smile to my face and help with the nervous butterflies! Thank you Judy for braving the 2 weeks with your daughter to be my sideline champion! And to Erin, I don't even know how to put to words what it means to be on this journey with you! Thank you for riding this rollercoaster with me and being my rock through it all! You make all of this that much more special because I get to share it with you!"
* * *
AND to close...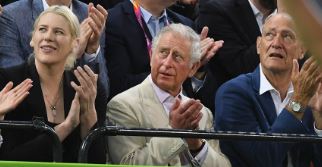 Yes, finally meeting Royalty at the Commonwealth Games on the Gold Coast as Charlie Windsor (centre) meets the Queen of international basketball, Lauren Jackson and triple-Olympian Perry Crosswhite...
Pretty sure it's a moment he will always cherish.