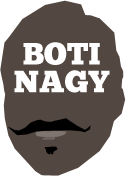 ---
Advertising opportunities available.
Please contact me.
---
Crowds are loud in city of churches
Tweet
THERE'S more than one sport creating religious fervour in the city of churches but when it comes to loudness, Adelaide 36ers fans repeatedly have proven there's no mass debate, they are #1.
Heading into their first Grand Final Series since 2014 and chasing their first championship since 2002, the 36ers have had the gauntlet more than merely thrown down by regular season champion Melbourne United.
Today, even United's practice session ahead of Friday's Game 1 at Hisense Arena in the best-of-five championship series was a full house, as fans crammed into their training facility (right).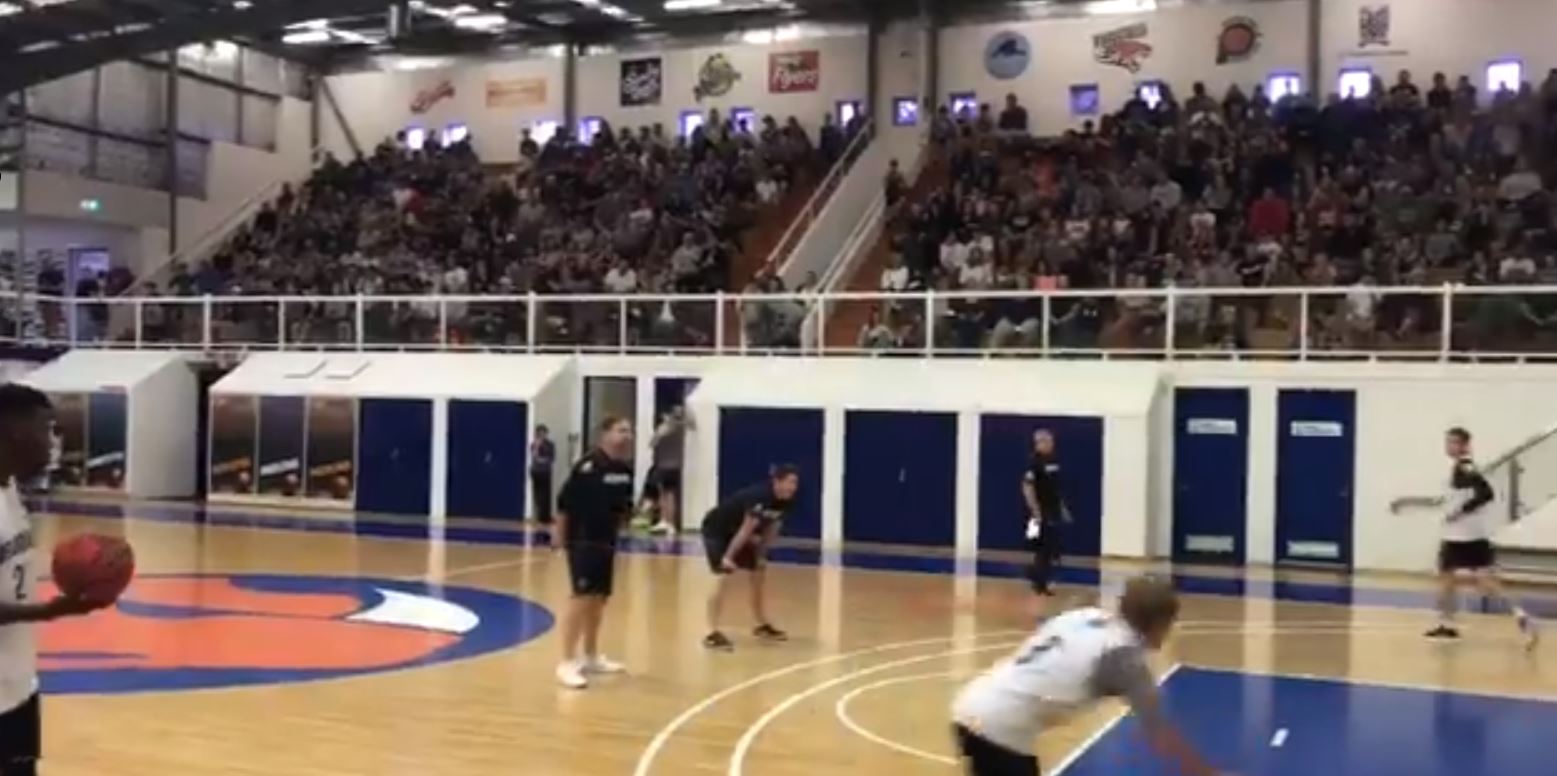 Adelaide will have its own "open session" from 10-12 on Wednesday morning but the battle lines are drawn.
As the 36ers battered the defending champion Perth Wildcats by 35 points in Game 1 of their best-of-three semi finals to take the first step toward qualifying for the NBL's biggest event, the crowd at The Fortress - a.k.a. Titanium Security Arena - was loud.
How loud? The club's internal media was busy nominating it as among the loudest it had ever been, which, frankly, was maybe just a fraction over the top. Oh it was loud, for sure. But 36ers' fans have a reputation for raising their (vocal) game to the level of the stakes being raised.
Let's go back in time for a few reminders.
November 7, 2015, Regular Season: The 36ers were in danger of being humiliated on their home floor by the Sydney Kings, who were playing without their injured NBA star Josh Childress.
But, incredibly, Adelaide came back from 25 down to pip the buzzer, largely driven by Jerome Randle.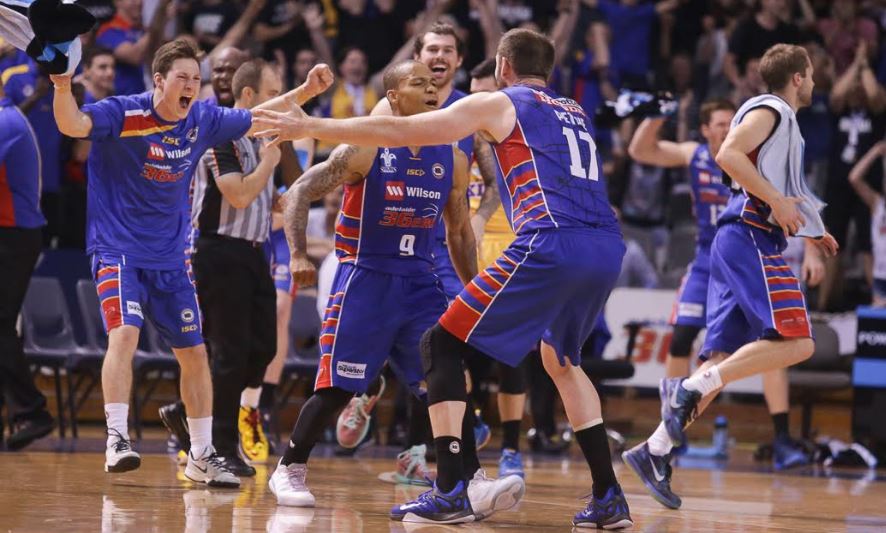 "The crowd was awesome," Sixers coach Joey Wright said at the time. "I don't normally hear them or pay any attention but I felt their energy and I know the players did.
"When Ebi (Ere) hit that three, I felt the vibrations on my back."
Ere's first big triple made it 81-87 as the 36ers continued to graft back, the Arena shaking with excitement and anticipation.
Inside the last two minutes, Ere's second three made it 95-95 and the volume from the 5,640 in the venue left no doubt of the rapture Adelaide had made it all the way back.
Randle's 33rd point of the evening made it 99-98 with 5.3 seconds left and after doggedly forcing a bad final shot from the Kings, the jubilant scenes and standing ovation were akin to those of a championship.
It was a night at the basketball everyone will remember. (Except maybe current 36ers front office staff.)
"Put it this way, if we play that game on the road? There's no way we win that," Wright said.
"That's how big the crowd was for us tonight."
Sydney coach Damian Cotter soon after was sacked. His Kings had led 39-21 at quarter-time, their 39 points the most in a first quarter by any team in the 380 NBL games played at The Fortress to that time, including the 48-minute era.
They led 64-45 at halftime, the highest score for a half by any Kings team during the 12 years of 40-minute games.
But Randle, Anthony Petrie, Ere, Mitch Creek and Daniel Johnson brought it home in a performance for the ages.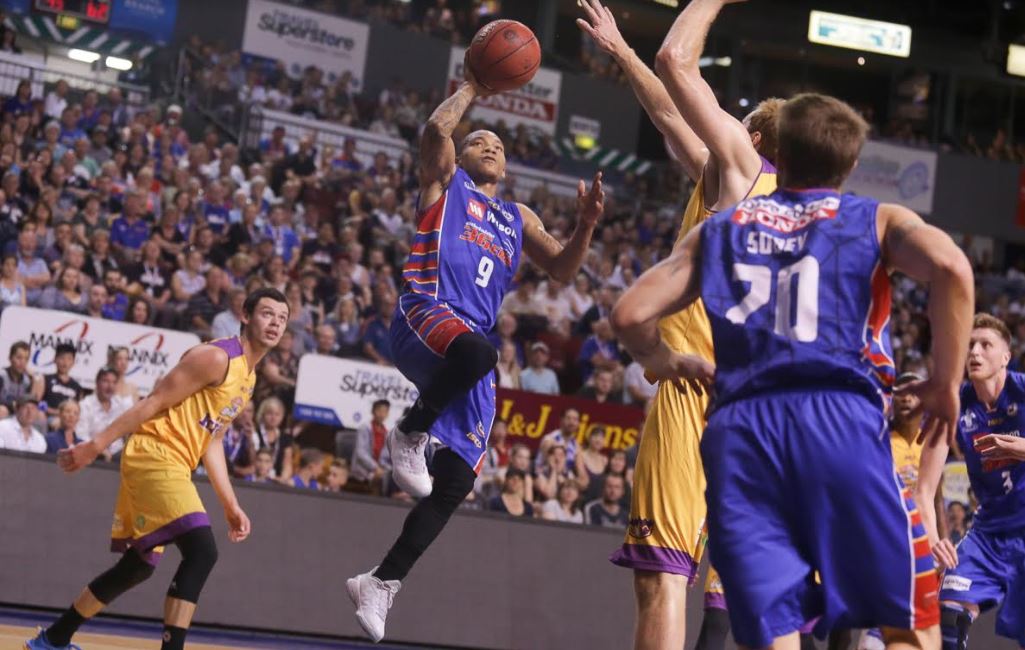 April 11, 2014: Grand Final Game 2: After Perth took control of the series with a 92-85 Game 1 home win in which only Brendan Teys played up to form, it shifted into Adelaide where 8,127 - more than 300 over capacity - turned up in full voice.
From go-to-whoa they rode the Wildcats and it was deafening as the 36ers sent the series to a decider with an 89-84 Game 2 win.
Unsurprisingly, Perth coach Trevor Gleeson blasted the referees, slamming their performance, in particular a late out-of-bounds decision that was called a jump-ball after they couldn't decide who touched it last.
"It came down to (the last) 24 seconds, Jermaine (Beal) was going for the ball with Daniel Johnson and Adam Gibson and you know, a white hand against a black guy and a white hand tapped the ball out and the referee, who was right there, couldn't make a call," Gleeson said.
"I find that flabbergasting.
"The referees adviser, I'll talk to him, and hopefully there's a change up in the personnel.
"I thought Joey (Wright) was out there refereeing."
Yeah, right. TG at his best. But it was the Adelaide fans who won that day.
March 27, 2014, Semi Final Game 1: Chris Goulding had managed to alienate a large section of The Fortress faithful, which long has enjoyed a history for targeting opposition personnel worthy of "villain" status.
While a meagre 3,865 fans filed in for the opening match of the best-of-three semi final series, Melbourne Tigers players could have been forgiven for believing it was three times that number, such was the ferocity of their verbal assault. Needless to say, Adelaide took the opener comfortably, winning 101-85.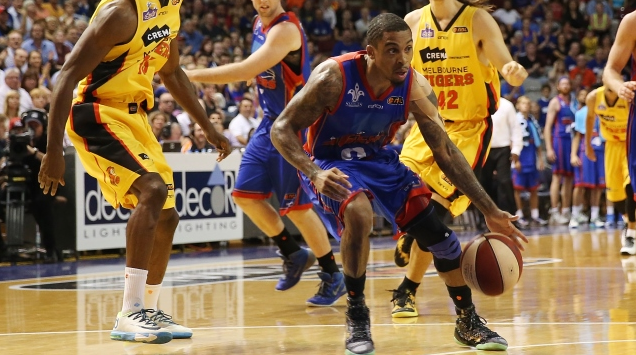 April 1, 2014, Semi Final Game 3: Sixers import Gary Ervin (above) had been suspended for one game after being found guilty of attempting to knee Goulding in the groin during a heated Game 2, won by the Tigers in Melbourne to force the decider.
Sixers fans already were ready to again unleash on Goulding but after he and Anthony Petrie clashed ahead of a time-out, they really fired up. The big screen replay in the venue revealed Goulding had exaggerated the contact and that was all it took for the 4,024 in attendance to go from relatively quiet to full-on riot.
Goulding heard it for the rest of the match as Adelaide powered into the Grand Final against Perth with a 102-63 Game 3 rout. Loud? This was menacing and no April Fool's joke.
December 5, 2009, Regular Season: There was such a feeling of seething animosity from 36ers fans the first night Julius Hodge returned to Adelaide as a member of the Melbourne Tigers.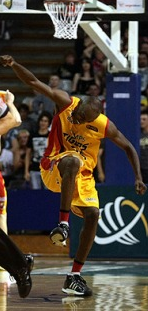 Hodge played in Phil Smyth's final season as 36ers coach, then answered an SOS as a replacement import for rookie coach Scott Ninnis the following season. But while he remained popular with fans, he lost them when he failed to suit for a home match against the Hawks, citing a pay dispute which later was shown to have been resolved.
He quit, making unsubstantiated claims against the club and when he returned with Melbourne during the 2009-10 season, the fans, albeit only 5,894, were waiting for him.
The crowd in Adelaide was well-informed at that time and knew what went on. You can't fool them. So when you come back to town as a member of the opposition, the crowd is waiting for you. It's almost like an ambush, they're just waiting for you to come back.
Hodge copped it from start to finish and the fans were hostile. The match tied at 77-77, it went into overtime and when Melbourne won it 87-84, he raised his hands in triumph. He then marched over to the recently-installed signature of club icon Brett Maher on the court surface and theatrically stomped on it.
Tigers stalwart Mark Worthington wrapped his arms around his emotional teammate and attempted to drag him away but Hodge went in for seconds as the raucous "Hodge is a wanker" chants swept the venue.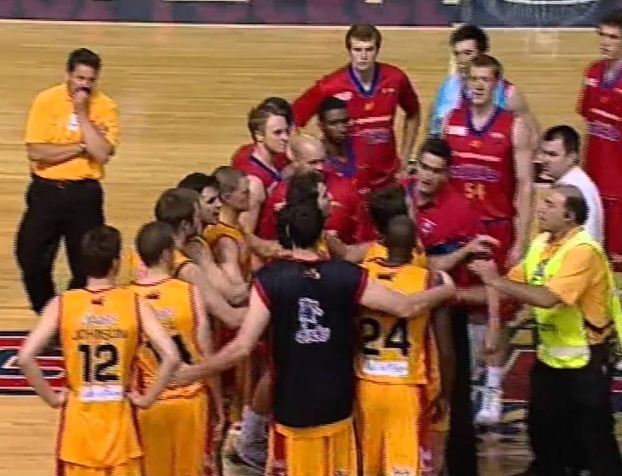 Hodge went back for a third go, confronted by 36ers GM Ben Fitzsimons as the situation turned volatile, angry fans rushing down the aisles, as teammates pulled Hodge away and led him in a pack from the floor.
Fans had made "villains" such as Chris Anstey, Brian Goorjian, Shane Heal and Matt Neilsen the subject of their ire previously, but it was nothing like this.
Hodge scored 18 points on 6-of-17 shooting but it was Worthington and to a lesser extent, a young Daniel Johnson who carried the day for the Tigers. John Gilchrist had 22 for the 36ers, Adam Ballinger, who later joined the Tigers, with 19.
February 7, 2009, Regular Season: The 36ers still had a road game to go and a road playoff match as well, but February 7 was their last game at what was then being called the Distinctive Homes Dome and as such, it would be the final time fans would see a retiring Brett Maher in action.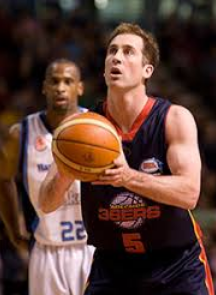 The club's greatest player had won two Larry Sengstock Medals while leading the 36ers to three championships, and while Adelaide had fallen on leaner times, the fans had not forgotten.
The "sold out" sign was up, as it was throughout the mid-to-late 90s, fans giving Maher a loud and memorable send off in his final home game, against the New Zealand Breakers.
He received a pre-game standing ovation and the Dome blew off the roof when he hit a monster 3-pointer to put the match outside New Zealand's reach, 102-91. It could not have been a more scripted, fairytale ending to a stellar career and he again was given a rousing and raucous standing ovation as the match concluded.
Maher finished with 17 points and four assists and the spot from which he launched the match-clinching triple - to beat the shot-clock as well - forever immortalised with his signature on-court at that fateful spot. Oh yes. The fans were LOUD.
April 19, 2002, Grand Final Game 3: The best-of-three championship with West Sydney Razorbacks locked away at 1-1, the decider was always going to be a sellout in Adelaide.
But the fans were almost hoarse by halftime when the 36ers led 70-51 and had stroked 14-of-16 from outside the 3-point line by the interval, en route to a 125-107 rout.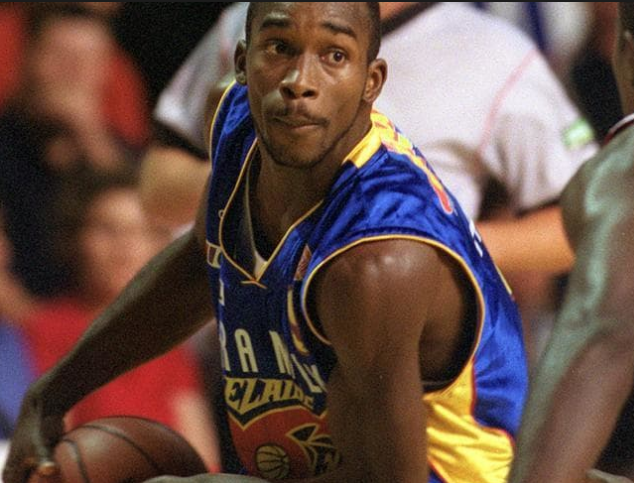 Five 36ers hit first-half bombs. Rupert Sapwell had 3-of-3 in the first quarter and had 4-of-4 by halftime, with 18 points. Grand Final MVP Brett Maher was 3-of-3 in his 19 points, and he had eight rebounds and five assists. Super import Willie Farley had only 14 with 4-of-6 threes. Mark Nash was 2-of-2 and Jason Williams hit his only attempt.
It was surely one of the NBL's most amazing shooting performance in any game, let alone a Grand Final and let alone a first half! It ensured the noise meter inside the Clipsal Powerhouse was in the red all evening.
April 21, 1999, Grand Final Game 2: The crowd was in a frenzy at halftime as Adelaide, ahead 1-0 in the championship series, was threatening to sweep a Brian Goorjian-coached team for the second season in a row.
It had been a heated first half and as Goorjian approached the referees walking towards the changerooms, 36ers centre Paul Rees stopped to hear what was being said. Allegedly. He stopped short in front of Goorjian who, blindsided, walked into Rees' back and hit the floor.
The fans roared their approval as Goorjian leapt to his feet, remonstrating with Rees, repeatedly calling him a "son of a bitch". Rees feigned innocence but everyone, including Goorjian, was in no doubt it had been anything but an accident.
Years later, Rees admitted as much, Victoria Titans with the last laugh on this occasion, winning 88-82. Two nights later in front of another hostile full house, Adelaide claimed its back-to-back championships 80-69.
April 10, 1999, Semi Final, Game 2: Wollongong Hawks had come into Adelaide already down by one game so were playing with abandon and forcing this one to the wire.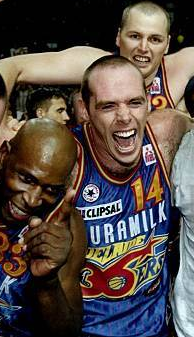 A full house was stunned as the 36ers trailed 85-88 with 9.9 seconds to play when coach Phil Smyth took time-out. Brett Maher, expected to take the potential match-tying trifecta, instead inbounded the ball and it was Rupert Sapwell who had the clean look.
He missed it but David Stiff flew for the rebound and had the presence of mind to pass it back out to Sapwell. With no time on the clock, Sapwell wasn't going to miss his moment, letting fly and the ball swished for 88-88 and overtime, the siren was drowned out by the crowd.
Despite CJ Bruton's fabulous performance, Adelaide held on to win 99-98 in the extension to advance to the Grand Final.
June 28, 1998, Grand Final, Game 1: South East Melbourne Magic swept Adelaide during the regular season - a la United this season - and few expected the 36ers to make a series of it for the championship.
Amazingly, Game 1 of the Grand Final was only the second time the 36ers beat the Magic since the Eastside Melbourne Spectres and Southern Melbourne Saints merged to form the club in 1992.
The 36ers' only other win against the Magic was in 1997 at the Powerhouse, adding fuel to the belief Adelaide merely was making up the numbers.
Ahead by 19 at halftime, the noise once more ear-splitting at the Powerhouse, Adelaide then had to weather a magnificent Magic fightback.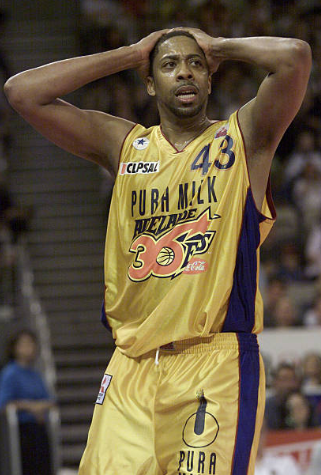 SEM closed to within a triple with 43 seconds left. But #43 - Kevin Brooks - stepped up for Adelaide.
Never afraid to take the big shot, he first swished a 3-point bomb and when Clint McDaniel sank one to bring the margin back to three again, KB drove baseline for a classic reverse in traffic.
He grabbed the defensive board next and, forced to foul, the Magic sent Mark Davis to the stripe where he completed the 100-93 upset.
You haven't heard loud like it was that Sunday afternoon when the siren sounded.
January 31, 1998, Regular Season: Hometown hero Phil Smyth had returned to Adelaide to take up the coaching reins for the first time in his illustrious career.
It was opening night, a full house of expectant fans, and the 36ers were hosting Townsville Crocodiles.
When the champion player was introduced pre-game as "Coach of the 36ers - Phil Smyth", the Powerhouse exploded. In a reception for the ages, Smyth was given a deafening ovation usually reserved for the most beloved of players, an eruption which continued unabated for almost a full two minutes.
Having never coached an NBL game, Smyth was completely overwhelmed and humbled by the relentless and affectionate nature of his reception. And his team responded by giving him a 125-86 debut victory which made the memorable night even moreso.
October 22, 1994, Grand Final, Game 1: The 36ers champion and spiritual leader Mark Davis had come off second-best in a clash with Melbourne's Dave Simmons during the 36ers' semi final against Melbourne on October 8.
With his right shoulder dislocated, Davis missed Game 2 which the 36ers wrapped up in Melbourne. Working overtime and relentlessly to have his shoulder repaired in time, Davis really had no business being in the line-up for the Grand Final against North Melbourne.
Most mortals still would have been at home, nursing that shoulder for a further month. Or two.
When the 36ers' players were individually introduced, the reception for #33 was so deafening his name could not be heard.
It was spine-tingling.
October 22, 1994 Grand Final, Game 1: This truly is the barometer against which all 36ers crowd noise is measured.
It was a full house and a loud house of epic proportions. A 24-7 second period by the Giants had them ahead 44-27 at halftime.
Down by 17 and still 11 with a period to play, it got worse again for the 36ers as they slipped behind by 14 with 5:43 left.
Rob Rose was unbelievable and apprentice Brett Maher equally stoic as the Sixers fought to stay alive. Still down by nine with 95 seconds left, Rose was swishing threes and Maher doing it from the stripe and somehow, incredibly, they tied it 84-84 before the siren.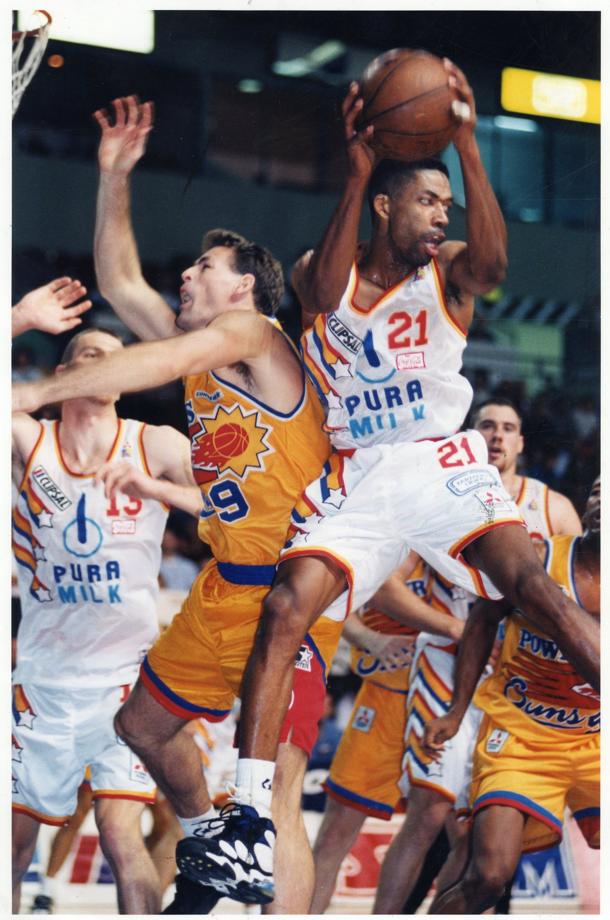 The comeback was inspired and now the 8,000-strong crowd which had willed its team back from the brink, was showing its unfettered appreciation.
If the final result of overtime had only been about surfing the emotion, North Melbourne would have drowned without trace. The roar across the two-minute break between the end of regulation and the start of overtime was so loud, fans literally could not hear the person next to them, even if screaming.
It later was described as being louder than standing under a 747 airplane with its engines on at max. Giants coach Brett Brown took his players onto the court to try and escape the ferocity of the vocal assault.
* * *
Before any of this, of course, there was the reason the Titanium Security Arena was built - because 36ers crowds had made the 4,000-capacity Apollo Stadium the loudest venue in Australia.
Forget Creedence Clearwater Revival, Doobie Brothers or Paul McCartney and Wings playing at Apollo. When the 36ers were on, you needed your ear muffs.
So yes. The crowd for Game 1 of the semis against Perth was loud, and repeatedly exhorted to be so with similar antics to those employed at The Jungle and The Sandpit.
But Adelaide 36ers fans really don't need a lot of assistance. They're ready. And history shows they're more than able.
* * *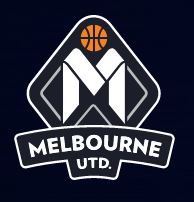 V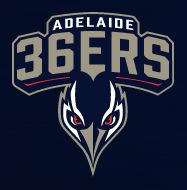 GRAND FINAL SERIES (Best-of-5)
MELBOURNE UNITED (1) v ADELAIDE 36ERS (2)
GAME 1: 7:30pm Friday, March 16 at Hisense Arena, Melbourne
GAME 2: 3pm Sunday, March 18 at Titanium Security Arena, Adelaide
GAME 3: 7:30pm Friday, March 23 at Hisense Arena, Melbourne
GAME 4 (If required): at Titanium Security Arena - TBA
GAME 5 (If required): at Hisense Arena - TBA