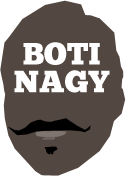 ---
Advertising opportunities available.
Please contact me.
---
Don't. Blame. The. Refs.
Tweet
LAST night's fiery finale to the Perth-Adelaide NBL game at The Jungle was a long time coming but don't blame the refs. They're not even on the podium when it comes to guilty parties.
No, I'm not being the least bit disingenuous when I say our much-maligned (by myself too, very much included) whistlers don't even rate for the Gold, Silver or Bronze allocations of blame.
Today the NBL issued a series of reports which should help line the league's coffers with the fine monies, if there aren't a few suspensions as well.
Adelaide captain Brendan Teys and Perth 3-point specialist Dexter Kernich-Drew are on report for unduly rough play arising from their fourth quarter clash.
Sixers import Shannon Shorter and Wildcats forward Lucas Walker are reported for leaving their benches during that same incident's escalation.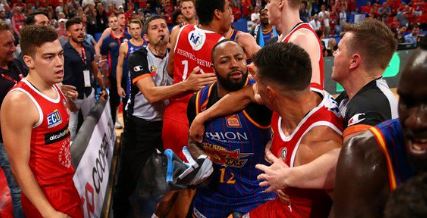 Five 36ers - it happened near their bench - Majok Deng, Nelson Larkins, Anthony Drmic, Mitch Creek and Shannon Shorter, plus Perth trio Dexter Kernich-Drew, Clint Steindl and Jarrod Kenny are reported for engaging in a melee.
So, in brief, here's what happened. The game steadily became more aggressive as it wore on, frustrations passing boiling point.
A random sample of incidents included Lucas Walker throwing Nelson Larkins to the floor for no apparent reason, Brendan Teys giving up an unnecessarily hard foul, Mitch Creek giving up a hard foul on Derek Cooke Jr, with the Wildcats' big man then retaliating by elbowing him.
Majok Deng twice was called for fouls on clean blocks.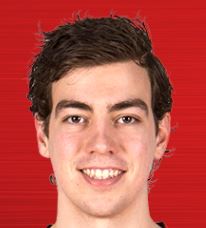 But the spark which ignited the frustration powder keg was Teys smashing Wildcats development player Lochlan Cummings (right) as he drove to the hoop. (It didn't quite have the run up of Josh Childress' foul on Jesse Wagstaff a few years ago in a Wildcats-Kings fixture, but it was of similar intent.)
Teys then was blindsided by Dexter Kernich-Drew who ran at him along the baseline and hip-and-shouldered him flying to the floor.
Creek and others then ran in as fraying tempers allowed a few seconds of chaos before calm was restored.
Shorter, clearly as unaware of the rule - players cannot leave their team bench to join a melee or fracas - as fellow imports Jean Pierre Tokoto and Bryce Cotton down at the Wildcats' end, did join in.
Tokoto and Cotton were restrained by teammates and team staff. Luckily.
Teys' foul on a DP was ordinary to say the least but he could be forgiven for being distracted and agitated after engaging in an on-court tete-a-tete with Kernich-Drew seconds before the incident with Cummings.
The 36ers' captain had shoved Kernich-Drew out of court at the defensive rebound, the Perth benchman reacted and the two got into a heated verbal exchange which referee Chris Reid jumped between to keep it from escalating.
Meanwhile, play was at the other end - a bit of 4-on-4 - but then suddenly it swept back to the 36ers' defensive end and with 0.9 of a second left in the match, Teys made his foul far cruder than it needed to be on Cummings. Enter Kernich-Drew and etcetera.
So who's at fault here?
That's easy:
1 The Coaches
Let's be blunt here. Everyone likes their coach to be passionate but Trevor Gleeson and Joey Wright are ridiculous and by far the two worst offenders in referee baiting, sniping and nonstop dialogue.
It is as tedious as it is tiresome.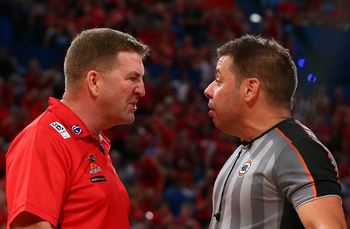 I'll give you Aaron Fearne has a bit to say too, Rob Beveridge and Dean Vickerman are mostly measured, Paulie Henare and Andrej Lemanis always willing "to help" the refs and Andrew Gaze still in the "frustrated by most everything" stage of his coaching career.
But Gleeson will debate every call, insist Damian Martin fell over because someone stepped on his foot - when the video replay shows no such thing - and just is relentless in his referee focus.
And you know what? The refs will perpetually come over and try to explain what happened or what they saw!
We all understand there should be healthy communication between referees and coaches but truthfully, the officials have gone way above and beyond.
Wright is a stickler the game should be called consistently and so will arc up at anything and everything he perceives as an opposition indiscretion.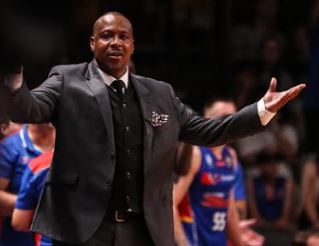 Consequently he also is relentless and often easily agitated, leading to exchanges that ultimately serve no purpose other than to give the games an ugly look.
Here's something that truly would help the NBL and NBL games. The coaches should at the very least TRY to shut the eff up and coach.
Focus on their team ... and coach.
Next in the blame game?
2 The Players
Taking their cues from their coaches, it seems there's hardly a player in the NBL now who ever commits a foul.
Last night Jarrod Kenny was insisting on clarification on what was a clear and obvious foul on his part. Say what, Jarrrod?
(Apologies for singling you out mate because you're no orphan.)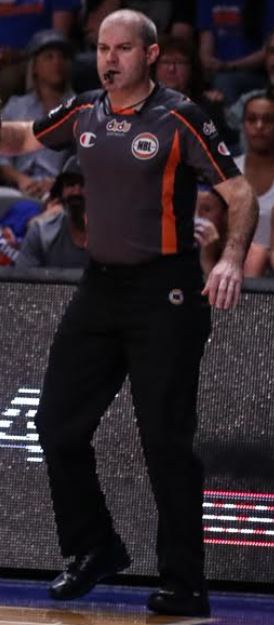 So many players who drive to the basket, see the potential for defensive contact, then immediately throw back their head and/or scream: "Hey!" as if they've just been pole-axed, still find time to bitch and moan if the performance didn't rate a call.
There seems to be zero respect for the authority or competence of the officials.
Sorry, but that stems from the coaches, and has its trickle-down effect on players.
Why do we have this much-despised flopping epidemic, for example?
You know it exists. Every NBL club has at least two floppers in its lineup, some have many more. And let's be honest here - every fan who understands the game even a little knows who the floppers are on their own team and can quickly identify the floppers on the visiting team.
No team is immune to it.
So now for those playing along at home, you might be asking yourself: 'Well if I know who they are, why don't the referees?"
Wrong. If we know who they are, so first must their coaches, so why don't THEY pull them up on it and put a stop to it?
It is sickening watching coaches on the sideline indicating the flop call to referees but NEVER taking responsibility to stamp it out by benching any of their own players who do it.
That's how we get rid of players testing the referees all the time. By their coaches saying: "STOP THAT CRAP guys. Play like men. If Michael Jordan didn't flop, why are you?"
So we're back at the #1 men responsible for games getting out of hand - the coaches. Why don't they sit down their players who show those tendencies to cheat? (Because, after all, cheating is what flopping is.)
We all know why coaches don't police their own. Because they're happy to get the benefit of the call when one of theirs fools a referee. And if the referee isn't fooled, then he's a fool, right?
Players will do whatever they're allowed, get away with as much as they can - that's never going to change. But if you want to get rid of frustration with the officials, then players need to stop putting officials into no-win scenarios with the flop. And it is coaches who can get them to do that.
3 The NBL
The league is responsible on several fronts but mostly it is culpable because it has not done the work to ensure its officials are the best they can possibly be.
Throwing fulltime contracts at a couple of them is grand but instead of CEO Jeremy Loeliger last month feeling compelled to release his "Statement by the NBL CEO" re the refs, he needs to come to grips with reality.
Here's what he said, in part: "Like players and coaches, referees are human and will make mistakes from time to time. But we have been heartened by the noticeable improvement in the quality and consistency of our referees over the last three seasons – sentiment that is proven both by the numbers and feedback from officials from clubs, Basketball Australia and FIBA.
"This is a direct result of the very significant investment that the NBL has made toward training and development for our officials and referees since 2015. In that time we have welcomed our first ever full-time professional referees to the sport and we've seen seven new referees blow the whistle in NBL regular season games.
"...we want to continue to be transparent with the fans about the game. Led by our head of referees, Scott Butler, we review every game throughout the season and over the coming weeks we will provide more in-depth analysis of some of those decisions – both good and bad – so you can be better informed."
You can rest assured no-one has a clue what clubs he's referring to as being "heartened by the noticeable improvement in the quality and consistency of our referees over the last three seasons."
The past three seasons have seen more vocal and growing discontent with the officiating than at any previous time in the league's preceding 37 seasons.
Scott Butler unquestionably was one of Australia's greatest referees. But as the referees' boss, his message either isn't getting through, isn't being followed or just isn't very good.
Pick one. But don't let's hide behind the fact officials in, say, Uganda, are worse than ours or other crud like that.
Does the NBL really assist the growth and development of the umpiring fraternity?
Far more resources need to be poured into that area and new people blooded. But young refs must receive positive and pertinent direction.
Still further, how slowly does the NBL act?
OK. Big congratulations all around that the league today laid charges in the wake of last night's fracas. But none of it can be determined before 6pm tomorrow?
Seriously?
If this was the NBA - the very league the NBL strives to align with - the incidents already would have been adjudicated. So we aim to be like the best in the world, but just not in every aspect.
And finally, the other area the NBL can be downright embarrassing is on its social media platforms.
Relentlessly promoting melees, incidents and events from eons back and those which resulted in reports, suspensions and/or fines is the height of hypocrisy and grasps at the sensational or unconscionable in an almost pathetic manner.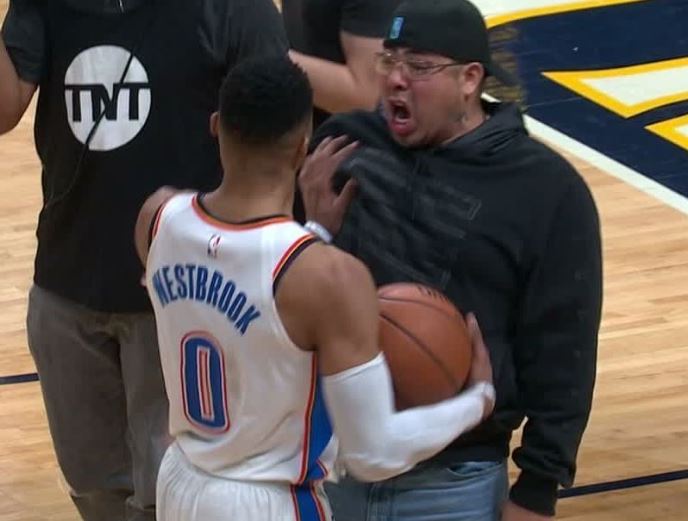 It shows such a lack of imagination and creativity and aims at the lowest common denominator.
And what happens when a fan - and in record crowds numbering in the many thousands, why wouldn't there be just one less stable fan? - hits the court, as one knucklehead did in the NBA, approaching OKC's Russell Westbrook (above)? Who gets the blame for setting him off?
The NBL should have strict rules in place regarding player security. Why wasn't a security guard accompanying Shannon Shorter from the court confines last night? Could no-one see the potential hazard of him walking through the Wildcats bench area?
(Thank goodness Perth assistant coach Matt Nielsen was on hand to keep a verbal exchange there from escalating, escorting Shorter away. Sidenote: Anyone who watched Matty's playing career would have been chuffed to see him as a "peacemaker".)
4 The Officials
Yes, our referees are not the greatest by any stretch of the imagination.
I'm convinced some of that stems from a lack of direction and while personally the prospect of them behaving like NCAA officials scares me - a warning, bang! you're thrown out - sometimes their own insecurity leads them to offer explanations to coaches and players where none are warranted.
Sometimes it simply should be a case of: "That's the call, STFU or here's a tech foul."
The excessive player whining, bitching, complaining, exhorting - refer "The Coaches" - is as much a blight on our game as flopping.
Yes, our refs aren't great. But maybe stop trying to cheat on them. Maybe stop baiting their insecurities. Maybe stop thinking you (the coach or the player) ALWAYS know better.
It leads the referees into making miscalculations.
For example last night, why would Chris Reid get between Teys and Kernich-Drew at one end of the court, with the match occurring at Adelaide's offensive end?
Obviously he was trying to do the right thing and keep them from coming to blows.
But seriously, why not just blow his whistle and throw them both out? Neither one was listening to him because he is a referee and an authority figure in which they don't have any faith.
The only reason that incident diverted was because the Wildcats had the ball and were coming down the court toward them.
So how did that work out for everybody?
Our referees are not as good as the days of Mildenhall, Hunt, Weeks, Cooper, Crouch and Co but they're NOT as bad as coaches and players want us to think.
When an incident like last night's evolves into a player break-out, its genesis often has as much to do with the people in the game as the ones trying to control it.