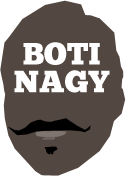 ---
Advertising opportunities available.
Please contact me.
---
Don't write off the USA just yet
Tweet
THE drop out rate of the NBA's biggest stars from the USA's FIBA World Cup team has never been greater, but ultimately that only means the defending champs will start slightly shorter favourites.
In our own - and the world's - haste to point to all the turnstile-turning superstars who will not be attending, the focus has squarely been on who will be missing, not who will be playing.
And that's a big mistake right there.
"I would like to keep the focus on who is there, not on who's not there," Jerry Colangelo, USA Basketball's managing director, told the New York Times this week.
It's sage advice.
FIBA's decision to move its World Cup, formerly its World Championship, to the pre-Olympic Games year, effectively moved it clear of soccer's more famous World Cup last year.
It also meant that in changing its qualification requirements to four-year zone play culminating in 32 teams qualifying for China from August 31-September 15, home fans would get to see their national teams in action in meaningful fixtures.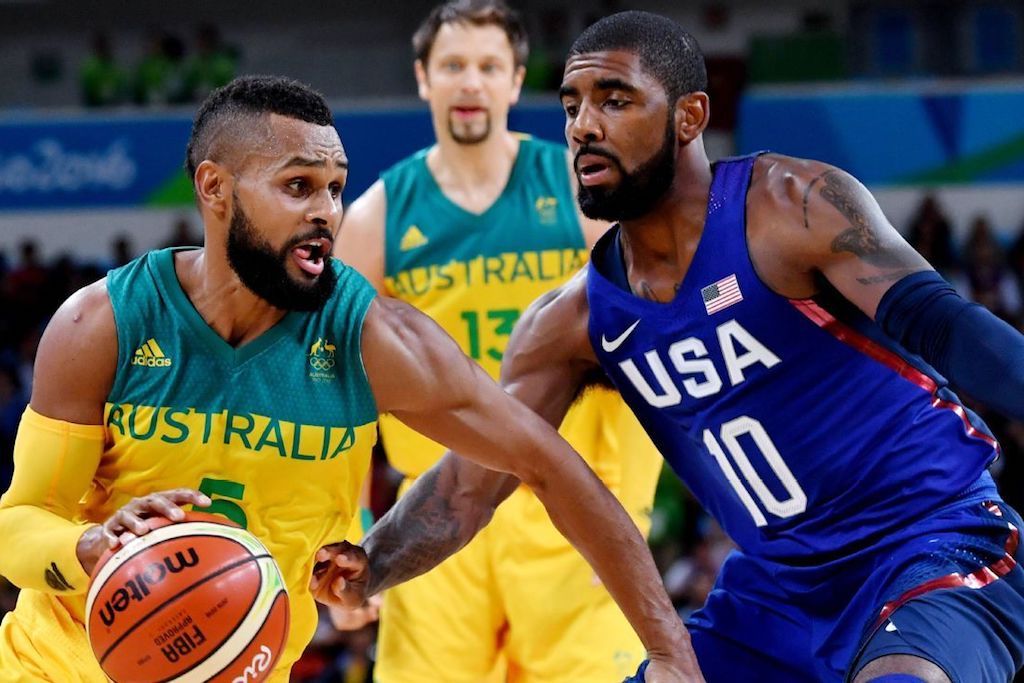 The USA won the World Cup in 2010 and 2014 and despite the growing list of player withdrawals, Colangelo remains supremely confident their new 12-man team is more than capable of winning a third consecutive FIBA crown.
"I think we're going to be fine," Colangelo said, the squad in camp this week on the campus of Nevada-Las Vegas, under new coach Gregg Popovich of the San Antonio Spurs.
Colangelo's optimism may be well-founded but few would argue this will be the US's least accomplished or decorated outfit since he and departed coach, Duke's Mike Krzyzewski, took over for the 2006 FIBA Worlds in Japan.
The lack of appreciable star power has many Australian fans who have paid top dollar for seats at Marvel Stadium in Melbourne to see the two USA-Boomers games on August 22 and 24, baying for their money back.
(They won't get it. Promoters and Basketball Australia advertised Boomers V USA games and that's what fans will be getting, even if they are disenchanted with who they might be getting.)
As reported by NYT's Marc Stein, of the 11 Americans in the 15 spots on last season's All-NBA teams, only one is training in Las Vegas, Boston's Kemba Walker.
Of the 20 Americans who earned All-Star status last season, only two currently are available to Popovich - Walker and Milwaukee's Khris Middleton. (That stretches to three if Toronto's Kyle Lowry, who recently underwent thumb surgery, recovers in time and doesn't drop out.)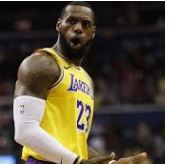 The USA lost Kevin Durant and Klay Thompson to injury during the NBA Final, LeBron James (left), Blake Griffin and Russell Westbrook already had flagged their unavailability, then July rolled around and it was a horrific month for USA Basketball.
Houston Rockets James Harden and Eric Gordon, Cleveland Cavaliers' Kevin Love, Portland Trailblazers Damian Lillard and C.J. McCollum, new Los Angeles Lakers signing Anthony Davis, Detroit Pistons' Andre Drummond, Philadelphia 76ers' Tobias Harris and Denver Nugget Paul Millsap all withdrew.
What it really boils down to is if it is a toss up between the FIBA World Cup or an Olympic Games, the WC really doesn't mean that much to America's elite players. (And FIBA, which has introduced 3x3 basketball to the Olympics and harbours a longer-term goal to remove 5-on-5 and make its World Cup the sport's ultimate pinnacle event, needs to pay attention and rethink. Australians feel the same. Being "an Olympian" will always top being "a World Cupian".)
Have zero doubt that ahead of the 2020 Tokyo Olympics, Popovich will have a much deeper roster to select from than this current crew, but Colangelo rightly reminds that for the 2010 Worlds, there were no returning players from the USA's 2008 Beijing Olympic champion.
In fact they suited an NBA rookie few yet knew named Stephen Curry and Durant was only off his third season as a pro. Durant, Curry, Westbrook and Derrick Rose from the 2010 team now are NBA MVPs.
Ahead of the 2014 World Cup, the USA again was "knobbled" by withdrawals but still suited a few emerging young stars such as Kyrie Irving, James Harden, Anthony Davis, Curry and Klay Thompson. Everybody knows them now.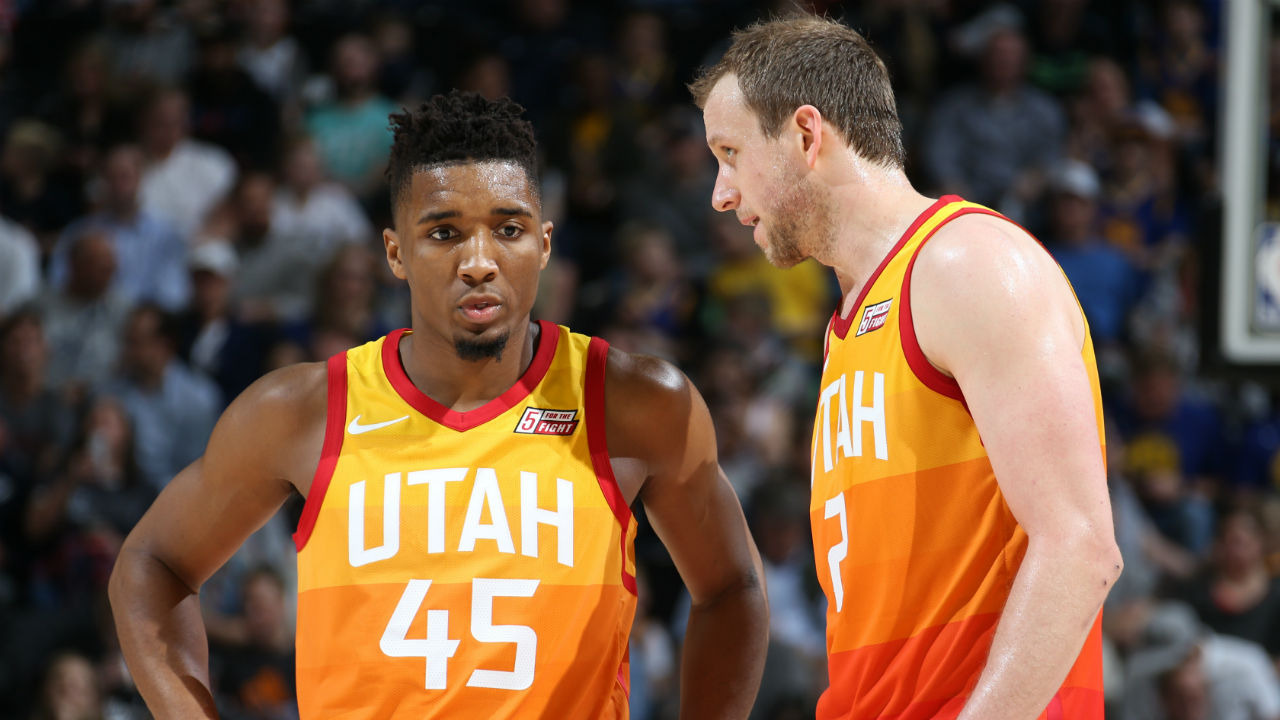 ALL THAT JAZZ: Donovan Mitchell, soon to be even better known, with Joe Ingles.
Most Aussies keeping a closer eye on Utah Jazz teams since Joe Ingles and Dante Exum became fixtures there, will know Donovan Mitchell. This country also has no shortage of Boston Celtics or LA Laker fans, so will be very much aware of Jayson Tatum and Kyle Kuzma respectively.
And let's not overlook who the USA has on its coaching staff, led by Popovich (below), with Golden State Warriors coach Steve Kerr, Villanova's Jay Wright and Atlanta Hawks coach Lloyd Pierce as assistants.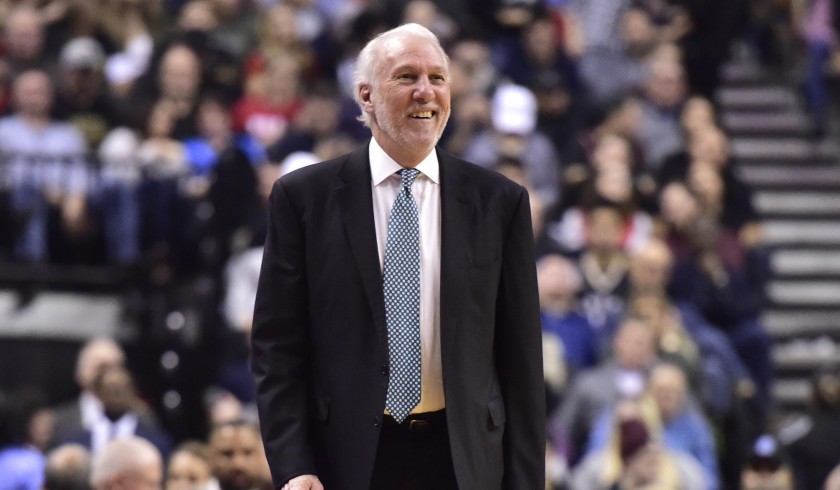 Krzyzewski, whose win-loss record at the helm of USA Basketball from 2006 to 2016 is 88-1, also is in Las Vegas advising Popovich on the international scene.
"Don't judge a book by its cover," Colangelo said of the 29-player contingent at camp.
"Out of this — I don't want to call it adversity — out of these circumstances comes opportunity for the young guys. Some young guys who I think are ready to bust out."
And they will still be favourites.