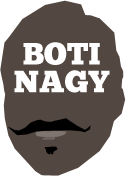 ---
Advertising opportunities available.
Please contact me.
---
FFT: Does anyone want to finish 4th?
Tweet
FOOD FOR THOUGHT (Main Course): For weeks, Brisbane held the door to the Final Four open for Adelaide and the 36ers refused to oblige. Then the Bullets shot themselves in the foot and the 36ers did find a way in. So last Sunday, when the Sixers could have shut the door, they instead very politely kept it ajar for Brisbane.
Oh sure, Melbourne stars Casper Ware and Chris Goulding definitely had a huge say in determining the outcome in Adelaide, dominating the final quarter in a manner Nathan Sobey might dream about.
But really, Season 2018-19 has been about Melbourne, Perth and Sydney finding the consistency to match their talent, and lock up positions one-to-three.
Adelaide and Brisbane have been about teasing all that their best is championship calibre while their worst is either listless or selfish doggy-do.
At The Jungle in Perth, 13,520 Red Army fans, the biggest crowd of the season, watched their Wildcats take down Sydney in overtime, after Melbourne United with its 89-87 win over Adelaide at Titanium Security Arena in front of 7,149 fans, grabbed first place off the Kings.
Now Perth is top and the only way Adelaide retains its Final Four spot is if it beats the Wildcats at The Jungle, OR, Brisbane loses at home to NZ Breakers.
It could not be a tighter finish, with Perth also still having to play Melbourne in the quest for the pinnacle.
With games against Melbourne and Sydney, last-placed Cairns also has its role to play, last round unsettling Brisbane yet again, in the last home game by Taipans stalwart Alex Loughton.
The Big Fella received a tumultuous farewell from an Orange Army recognising the exceptional service he gave the club, the community and the league.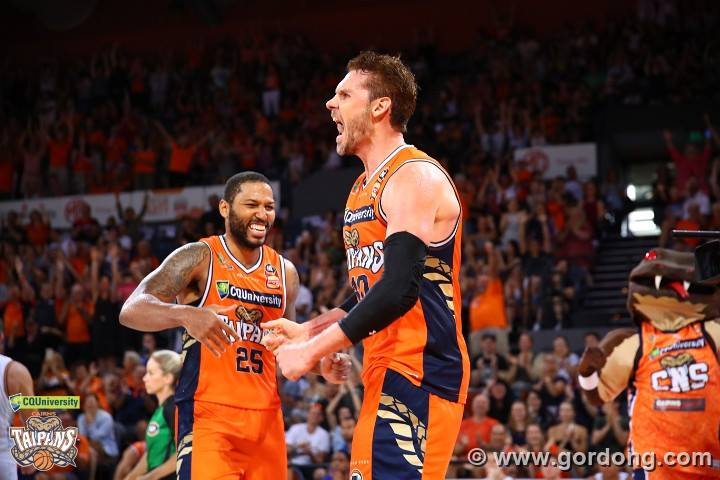 * * *
HORS D'OEUVRES
THE 36ers have retained jumping jack import Jacob Wiley, the US forward Mitch Creek strongly recommended to his former NBL club, for the 2019-20 season.
It means Adelaide retains Daniel Johnson, Ramone Moore, Harry Froling, Anthony Drmic, Jack McVeigh and now Wiley next season.
Shame the club chose to announce it a day prior to its women's team, MAC Adelaide Lightning, playing in a Grand Final at home though.
THIS just in. After going 3-1 over intrastate rival Brisbane Bullets (that's also three of the Orange's five wins), Cairns Taipans plan to petition the NBL for eight games against Brisbane in the 2019-20 regular season, with the additional matches in Heritage Round, Make-A-Wish Round, Indigenous Round and Kelly Country Round.
With the Harlem Globetrotters on tour in April, Cairns also wants to slot in a couple of preseason matches against the New York Nationals, Washington Generals and Baltimore Rockets to build some momentum.
DISTINCTIVE Homes' Harry Florentzou doubled his original offer of $100 for every 3-pointer Adelaide made against United, to go toward raising funds and awareness of Von Hippel-Lindau Syndrome, a genetic condition from which Anthony Drmic's niece Bella sadly suffers.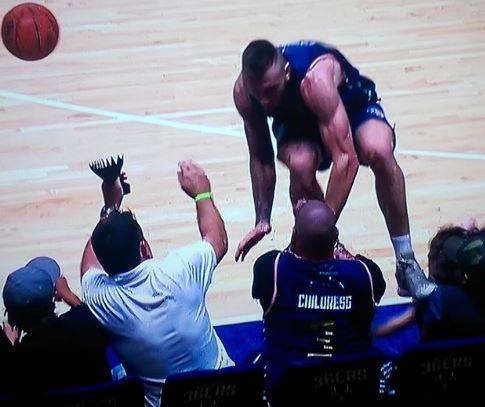 Mitch Creek, for a better part of the past decade the face of the Adelaide 36ers, also jumped aboard, offering $50 per triple made.
The 36ers connected on nine, Drmic with four of them himself.
Of course Creeky, now playing in the NBA G-League with Long Island Nets, meant US dollars when he said $50 per three, so his $450 actually translated to $634 Australian.
The pic is from last season, When Harry Met Mitchy, running down a loose ball.
* * *
MEATBALLS
OK, I said here last week I know it isn't just me because of the support this observation has had through social media, but a day out from Game 2 in the WNBL's best-of-three Grand Final Series, can anyone at FOX offer an explanation why its audio and visuals so often are out of sync?
On pre-recorded pieces, maybe viewers can cut some slack but this has been going on all season and now even occasionally on live pieces. Seeing lips moving, then sounds following, takes me back to Bruce Lee movies.
Meanwhile at the NBL, SKY's Andrew Mulligan just wants to remind us - in case we missed it the previous few times - the Breakers-36ers game is Tom Abercrombie's milestone 300th.
And Cam Tragardh? Thank you for letting us know the loser of the Brisbane-Illawarra game is out of playoffs contention. Again. And again. And again.
We do hear you, often even the first time. Definitely the second time. After that guys, you're only filling time.
PRINT time and not sure what The Advertiser's thoughts are regarding great basketball action photos, but these have been the paper's offerings for the past two days: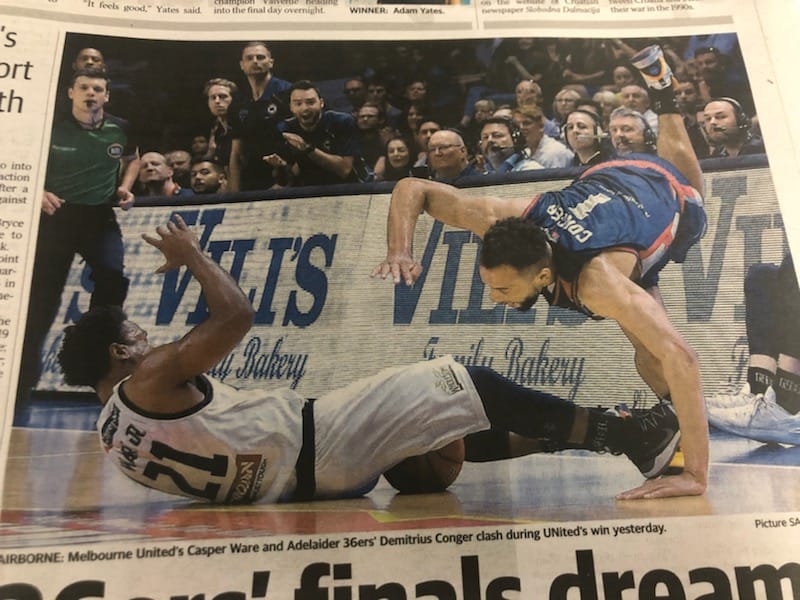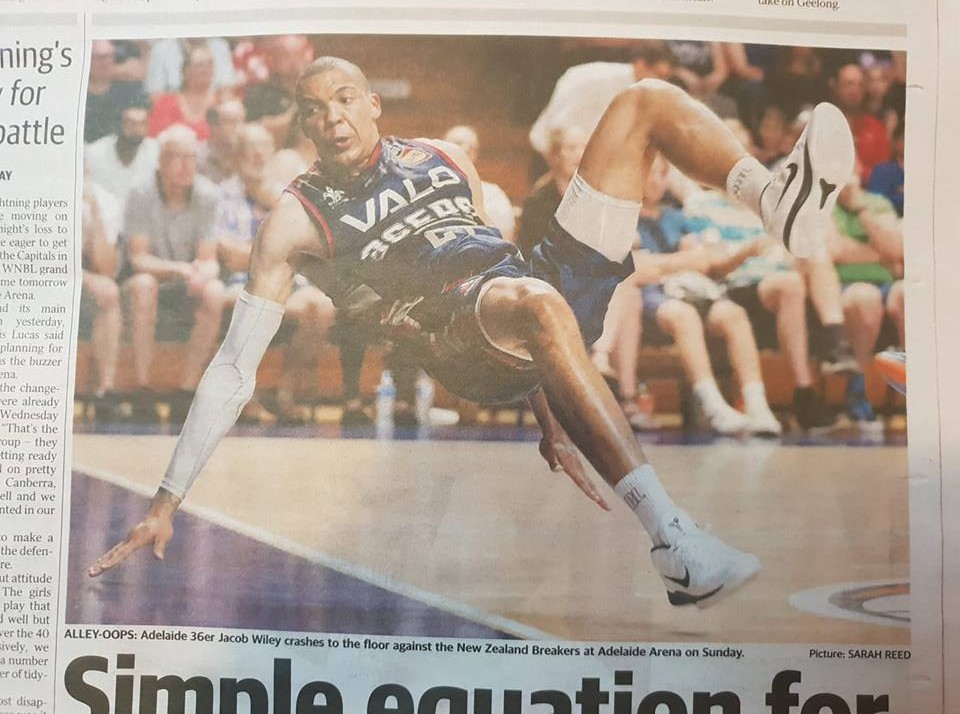 Guess pictures of dunks, blocks, jumpshots, drives, emotions etcetera are nowhere near as exciting as, um, falling over? Can't wait to see tomorrow's paper!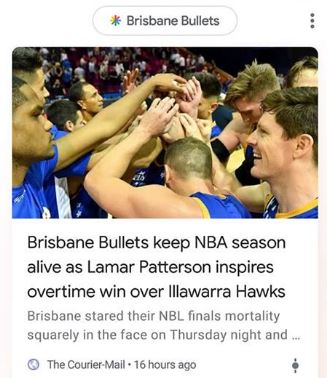 Meanwhile, what difference does a headline make, right?
NBA.
NBL.
It's all the same man.
It's all basketball, right?
Those observations made, how good has the coverage of the WNBL Grand Final Series between Canberra Capitals and Adelaide Lightning been?
The Canberra Times and The (Adelaide) Advertiser (and Sunday Mail) have rallied - though, in all fairness, the former newspaper always has been very gracious in its coverage of the Caps.
With 4,120 attending Game 1 last Saturday, I suspect Capitals officials Carrie Graf and Lucille Baillie might not be all that devastated should Adelaide force a Game 3 back in Canberra on Saturday.
* * *
DESSERT
STARING down the barrel at home against Sydney with a double-digit deficit and Jerome Randle on fire, Perth first followed Angus Brandt, then the stunning Bryce Cotton to an overtime victory and into first place on the NBL table. Yes, the Wildcats were our biggest winners.
THE 36ers snatched defeat from the jaws of victory in going down to a far better organised Melbourne outfit in Adelaide, losing their way - again - and in the process, failing to shut the door on Brisbane's Final Four chance. It made Adelaide the round's biggest loser.
* * *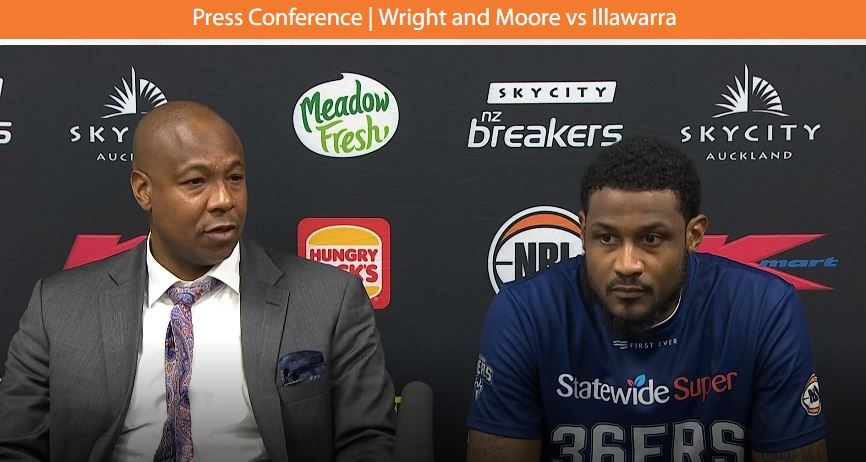 DON'T SPEAK WITH YOUR MOUTH FULL
ASKED whether he was concerned when New Zealand made its run at Adelaide in the last quarter, 36ers coach Joey Wright laughed, saying: "I was anxious from the tip, all the way to the horn."
(PS. No, it's really NOT the Illawarra press conference, as the back drop might clearly indicate.)