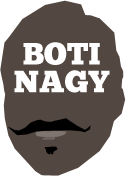 ---
Advertising opportunities available.
Please contact me.
---
Woe Canada, as Boomers go golden
Tweet
AUSTRALIA's Boomers today claimed the Commonwealth Games men's basketball Gold Medal 87-47 from Canada, teaching it the three "Rs" of international basketball in a ruthless, relentless performance filled with the right stuff.

For "right stuff," read hustle and commitment, first-second-third defensive efforts, teamwork and ball movement, passing up good shots for great ones.
For "relentless," check the energy and effort that went into containing Canada to 10-9-10 returns from the first three quarters before the Boomers' 24-18 finale at Gold Coast Convention Centre.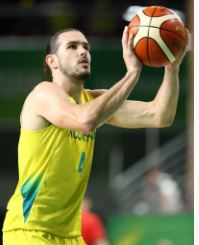 For "ruthless," see an Australian team so rich in talent and reliable in execution that all 12 players on the roster scored, with Chris Goulding (left) leading the way with 11.
The Rio Olympian and NBL Championship Series' Larry Sengstock Medallist opened the Final swishing a 3-pointer.
Welcome to the Gold Medal match Canada.
There was another jumpshot and 3-pointer from Goulding, a.k.a. CG 43, as he dominated the early going of CG2018.
When he subbed out after receiving a tech foul from one of the game's short-fuse "hanging judge" referees, CG3 took over, with Cam Gliddon sticking a three.
The Aussie frontcourters – Daniel Kickert, Nick Kay, Jesse Wagstaff and Angus Brandt – also were having their way in a well-spaced Boomers offence, ahead 20-10 at the first break.
Jason Cadee launched a 14-0 start to the second period which completely erased this as a contest when he spotted an opening, drove, scored and was fouled in the process.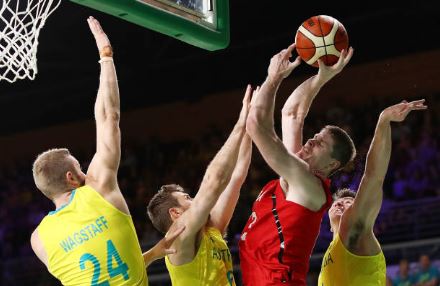 One of the sport's most reliable free throw shooters, he missed the bonus but snaffled the rebound to Gliddon who stuck a 3-pointer.
Then Kay found Gliddon with a great pass on a nifty back cut before another Cadee three.
Kay stayed busy, feeding Nathan Sobey's cut before a drive and jumper, then a reverse.
Canada's Conor Morgan (1-of-9) copped a tech and Kickert a USF but it was less about any on-court hostility and more about the refs not standing for even a modicum of dissent.
Sobey (right) closed the half with a 3-pointer as Australia took a 45-19 lead into halftime, before Goulding opened the third period as he started the game, swishing a triple.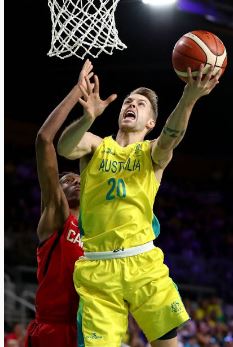 Other than guard Munis Tutu, Canada could not find a winner, Ammanueal Diressa 2-of-13 and, like Morgan, not shy about aborting offences early.
Semi final hero Mamadou Gueye was 0-of-1 and back to irrelevance, nailed on a back screen and left to sook about those hard-ass Aussies.
The Boomers' constant pressure reduced Canada to head-shaking plays such as Morgan grabbing the ring on Jean Pierre-Charles' 3-point attempt, guaranteeing his teammate's shot missed!
Say what?
Sobey dished for a Brandt bucket, then one to Damian Martin before Brad Newley – like Belinda Snell in the Opals – the only returnee from Australia's 2006 Commonwealth Games Gold Medal team, knocked down a 3-pointer.
Newley turned back the clock in the last quarter with a steal and leisurely two-handed slam dunk, before Lucas Walker powered to the hoop for a three-point play and Mitch Norton got busy with a three and a reverse to ensure everyone on the roster was on the scoresheet again.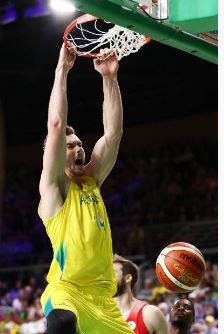 Ahead 80-36, the joy within the Boomers camp was palpable and well-deserved.
Brandt (left) still had time for a putback dunk in one of Australia's most convincing and complete performances.
"Being at home on the Gold Coast and winning the Gold Medal, it feels pretty good," Cadee said.
Why wouldn't it?
New Zealand, perhaps the only team which could have caused the Aussies a hiccup but took its eye off the prize in the last-shot semi final loss to Canada, claimed Bronze with a hard-win 79-69 win over Scotland.
The Scots were the Comm Games' "feel good" story and their achievement should not be under-estimated.
But the Games were all about Australia adding to its medals cabinet, the Boomers winning their 17th consecutive international against Asian and Commonwealth opponents.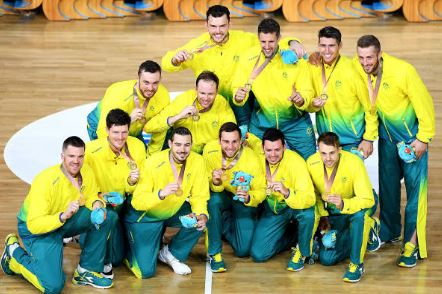 COMMONWEALTH GAMES 2018
MEN'S BASKETBALL
GOLD MEDAL: Australia
SILVER: Canada
BRONZE: New Zealand
GOLD MEDAL FINAL: AUSTRALIA 87 (Goulding 11, Kay, Sobey 10; Sobey 8 rebs; Gliddon 5 assts) d CANADA 47 (Tutu 10, Shephard, Alleyn 7; Tutu 6 rebs; Tutu, Morgan 3 assts) at Gold Coast Convention Centre.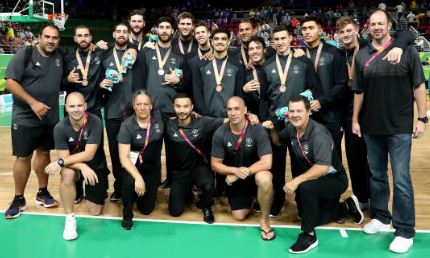 BRONZE MEDAL FINAL: NEW ZEALAND 79 (Abercrombie 26, Vukona, Delany, Ili 8; Loe 10 rebs; Loe 4 assts) d SCOTLAND 69 (Bunyan 13, Fraser 12, Vigor 10; Fraser 6 rebs; Bunyan 5 assts) at Gold Coast Convention Centre.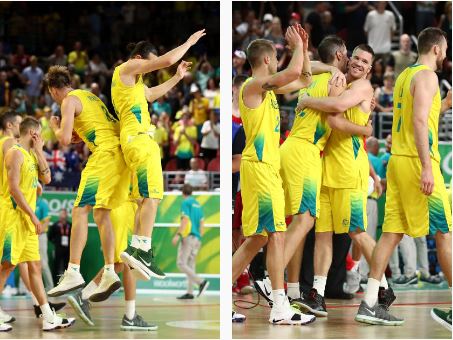 CELEBRATIONS: The Boomers revel in their golden success. All pictures courtesy GETTY IMAGES
TOMORROW: Commonwealth Games wrap