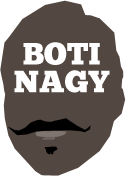 ---
Advertising opportunities available.
Please contact me.
---
Kings reign, United bounces back
Tweet
A RECORD crowd, career highs, an overtime thriller, the best of Bogut - Sydney's sixth straight win tonight to start NBL 2019-20 in arguably the season's best match so far, lacked nothing, other than smarter officiating.
Adelaide Entertainment Centre had a record 8,252 fans file in to see the 36ers wrestle the league leaders to an 86-86 deadlock before Sydney prevailed 98-96 in overtime.
The largest officially recorded crowd to attend a ballgame in the city of churches saw Andrew Bogut (18 points, 12 rebounds, two blocks) dominate the paint, Didi Louzada score a career-best 17 points, Anthony Drmic haul down a career-high 15 rebounds in a match which had virtually everything a basketball junkie could want.
Sydney had five players score in double-digits, led by Bogut's 18, Louzada with 17, Jae'Sean Tate 16, Brad Newley 15 and Casper Ware - hobbled by an ankle injury - scoring 11 of his 14 in the fourth quarter and overtime.
Jerome Randle (23) led six Sixers in double figures, Ramone Moore next on 18, Daniel Johnson 17, Anthony Drmic 11, Harry Froling and Eric Griffin 10 apiece.
And the drama could not have fluctuated more wildly through the first half in particular.
Adelaide leapt out of the gates with Moore and Griffin (twice) pumping the lead to 6-0 before Louzada's dunk at 7:49 had the Kings on the board.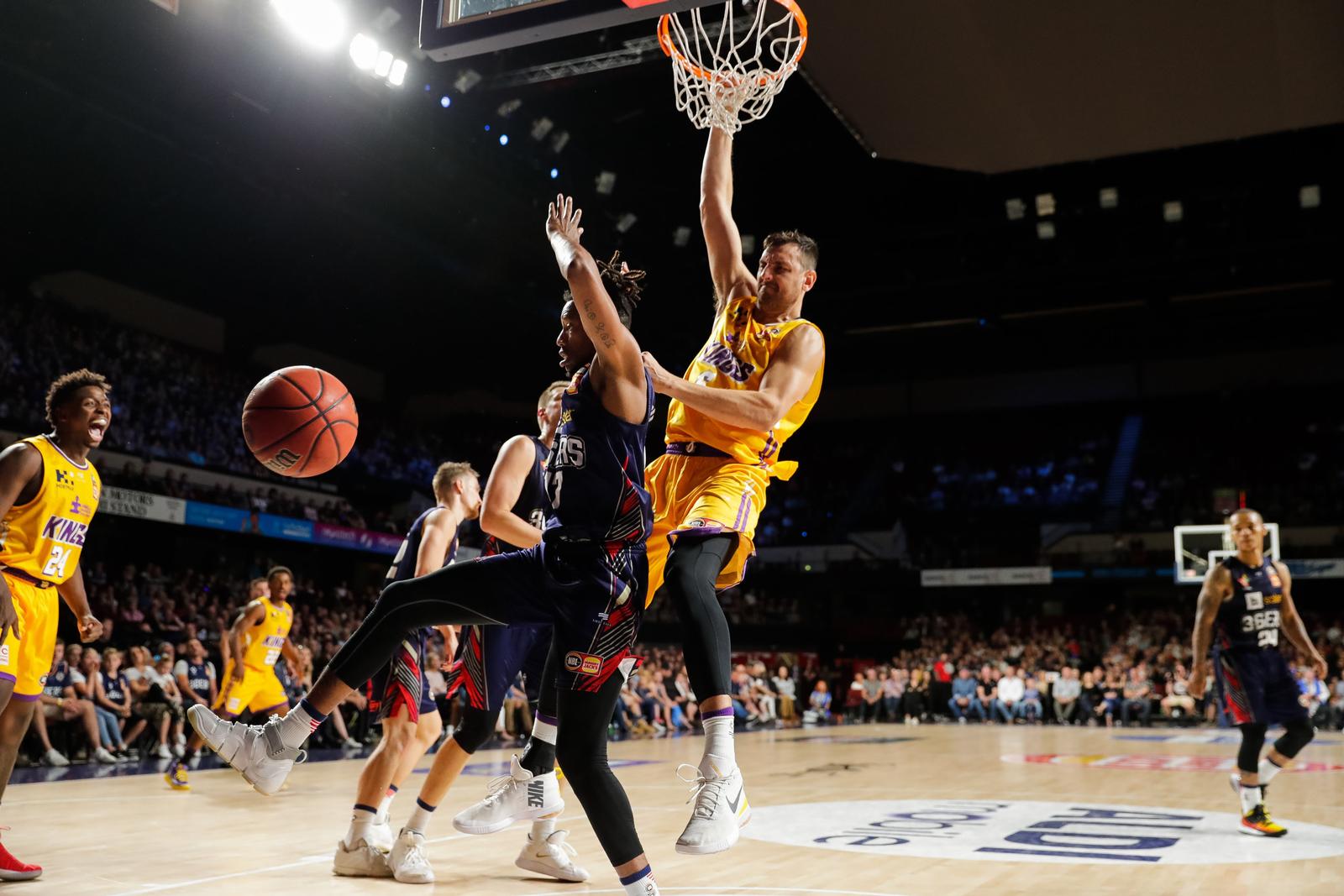 Bogut slammed Sydney's second dunk before Lucas Walker came off the bench to collect three fouls virtually in three plays. Obi Kyei's free throw had Adelaide ahead by double figures at 18-8 as Bogut again scored in close, only to be tripped by Kyei after the basket.
Kyei assessed with an unsportmanlike foul, Bogut converted the free throws to pull the Kings back to 12-18 but a pair of Randle jumpshots in the last minute meant Adelaide took a shocking 24-12 lead into the first break.
Sydney's lowest single-quarter score quickly was erased when Tate went to work, scoring twice before feeding Bogut. At 8:03 in the second, Bogut was fouled as he scored again for 20-24. An offensive rebound off his missed free throw led to Shaun Bruce nailing a 3-pointer for 23-24.
Randle finally ended Sydney's 11-0 start to the second, but within minutes Newley iced a three and the Kings were in front for the first time, 30-28.
Louzada pulled Sydney to 32-28, then threes by Newley and Ware made it 38-30 in a remarkable 11-2 run, 26-6 for the quarter.
Dan Kickert missed from point blank for a possible 10-point lead and Drmic punished that with a three-point play. Randle and Johnson further sliced the deficit back to 37-38 and Jack McVeigh's triple finally tied it all up at 40-40.
That set off a 3-point chain, Louzada sticking one in reply for 43-40, Randle stroking one for 43-43 in his 17-point first half. Bogut had 14 as Sydney took a 45-43 lead into the break after a whopping 33-point second period.
Just as Tate powered Sydney in the second quarter's early going, Drmic was in everything for Adelaide to start the third. He tied the game 45-45, drew a charging foul on the next defensive possession, then struck two free throws for the lead after a Bogut unsportsmanlike foul.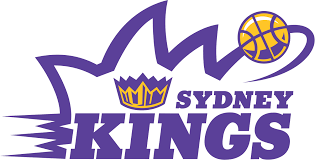 Newley's triple pushed Sydney out 50-47, Drmic scoring again to pull it back to 49-50.
At 5:15 in the third, confusion reigned as the officials threw out another unsportsmanlike foul after Tate had grabbed at Kyei and Bogut done something similar.
Believing he had his second USF, Bogut headed for another early shower, only to be called back when it was assessed as Tate's infraction. Kyei aborted both free throws anyway.
Craig Moller was giving Sydney great hustle as it again asserted itself with a 9-0 run, ahead 61-53 on Kickert's putback. Moller, active at both ends and working hard, finished the quarter's scoring with Sydney ahead 69-60.
Tate had the lead to 71-60 before the 36ers' bigs, Froling and a strangely subdued Johnson, found their range from the perimeter. Louzada's lob on the break for Tate's slam dunk was pretty but Johnson's second 3-pointer for the quarter meant Adelaide was back at 75-78.
Not for the last time, Ware's three stalled the 36ers but offensive aggression from Moore and an opportunist bucket by Johnson meant Randle's jumper with 3:36 left tied it up at 81-81.
Fans were in a frenzy when Johnson's third three for the quarter gave Adelaide an 84-81 lead on a 9-0 run.
Tate was great for 83-84 before Bogut played great perimeter defence on Johnson. With 57 seconds to play, Drmic's steal and fast break for 86-83 appeared likely to end it in a home upset.
The Sixers doubled Ware to prevent a 3-pointer from the master, Bogut getting the ball to Louzada. His three missed but Tate grabbed the most important offensive board of the night.
Too smart to go up for the two, he threw it back out to Ware on the perimeter and swish, it was 86-86 and time-out Adelaide.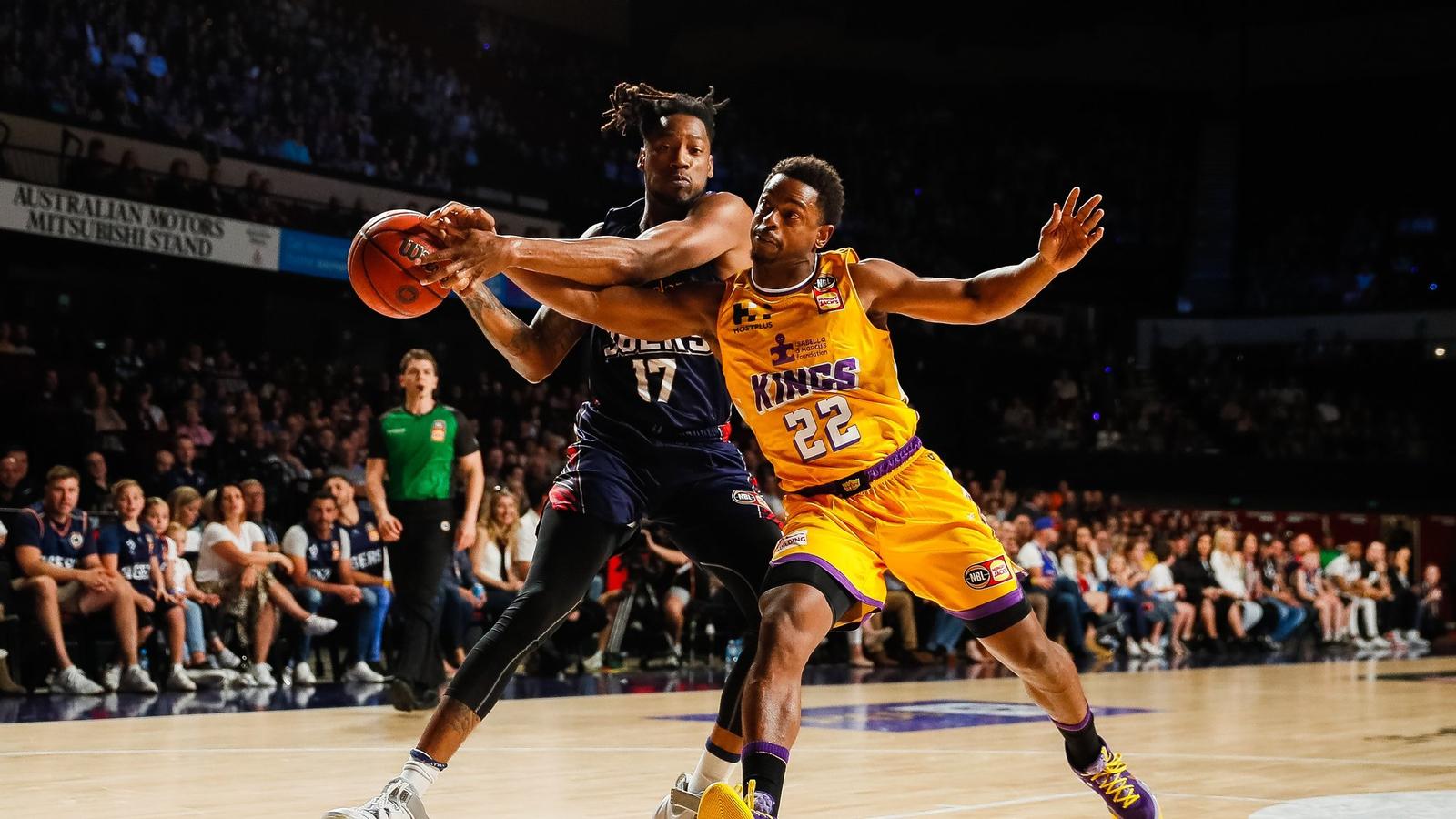 On the 36ers' play, Randle drove, only to be rejected by Bogut, Ware looking to drive at the other end but randomly called for a phantom offensive foul.
On Adelaide's last chance to win it in regulation, Randle jacked a three, kicking out his legs hoping for contact, but Johnson missed the putback and Drmic missed a third chance as the siren sent the game into a five-minute extension.
Bogut opened overtime scoring with a lane-driving emphatic dunk, Moore's free throw broke an 88-88 deadlock, the lead then seesawing until Louzada knocked down a triple in the last minute for 93-91.
With 43.4 ticks on the clock, Johnson uncharacteristically clunked two free throws and when Ware drove at the other end, it was Sydney out 95-91.
It effectively was over but Adelaide grafted back to 93-96 before, fittingly, Adelaide's own Brad Newley put the icing on the Kings' cake with two free throws for 98-93, Moore's 3-point heave to end the match a final punctuation point on what a cracker it had been.
* * *
EARLIER in Melbourne, THROWDOWN II turned into a coming out party for Melbourne United as it tied the series 1-1 with a 110-98 victory over South East Melbourne which was more lopsided than the final scoreline indicated.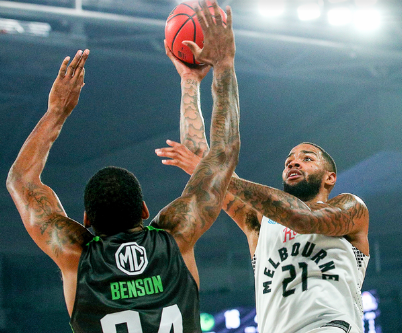 Shawn Long was slammingly masterful with a 31-point, 12-rebound tour de force - just what he needed ahead of his Melbourne Cup Eve clash with Sydney's Andrew Bogut - and Chris Goulding got under the skin of Phoenix phans with 24 points, three rebounds and three assists.
Long had 16 of his points in the opening quarter, the most by any player in the first period of a game this season.
Mitch McCarron (13 points, four rebounds, four assists) was doing his thing as Melbourne looked the goods for the first real time this season, Alex Pledger scoring his 2,000th point during the festivities.
MELBOURNE UNITED 110 (Long 31, Goulding 24, McCarron 13; Long 12 rebs; McCarron 5 assts) d SOUTH EAST MELBOURNE PHOENIX 98 (Creek 23, Roberson, Madgen 16; Crockett 8 rebs; Creek 7 assts) at the Firepit, Melbourne Arena. Crowd: 6,745
SYDNEY KINGS 98 (Bogut 18, Louzada 17, Tate 16, Newley 15, Ware 14; Bogut 12 rebs; Tate 5 assts) d ADELAIDE 36ERS 96 (Randle 23, Moore 18, Johnson 17, Drmic 11, Griffin, Froling 10; Drmic 15 rebs; Randle 4 assts) in overtime {86-86} at Adelaide Entertainment Centre. Crowd: 8,252