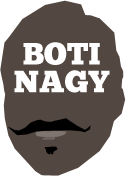 ---
Advertising opportunities available.
Please contact me.
---
Lightning won't be a 'Light' touch
Tweet
IT was a long time ago now Tamara Haase jumped out of an aeroplane over Light's Vision to announce the arrival of ADELAIDE LIGHTNING as a new entity, and very quickly a WNBL force.
February 11, 1993 to be precise as the Basketball Association of SA launched its newly merged representative team, a pathway for South Australian women's players just as its Adelaide 36ers was the pathway for the state's men to the NBL.
On Wednesday, July 27, 2016, "Adelaide Basketball" which runs the 36ers, took official Basketball Australia-endorsed custodianship of the Adelaide Lightning, once again uniting the two elite national league teams under the banner dissolved a decade ago when BASA was wound up.
Thank Naismith for the Sixers' foresight.
Their decision, coupled with the Motor Accident Commission deciding to continue its naming rights sponsorship for at least the next two years, heralds a new era in Adelaide.
Finally, the Lightning has a plan again and a means to rebuild a program in steady and inevitable decline since the dollar became more prevalent in recruiting than the loyalty and opportunity the pathway presented South Australian players.
The Lightning could not BE a more South Australian brand.
The 36ers name represents the founding of the state in 1836, the state's SEABL champion in 1987, the Adelaide Buffalos, also staying true to its SA origins, named after the Buffalo ship which first berthed at Glenelg all those years ago.
Colonel William Light planned the city of Adelaide, his statue (Light's Vision) on Montefiore Hill overlooking his vision and the perfect place to launch the new team honouring his name, the Light-ning.
As Haase was parachuting to the site and the gathering of players, sponsors and media waiting below, the prevailing mood was the Lightning would emulate the 36ers and win a championship straight away. It took the 36ers - as SA's sole NBL entrant - two years to win the title and the same was true for BASA's women.
An instant powerhouse, Lightning claimed the regular season title in their inaugural season before being beaten in overtime in their semi final, then again in overtime in the preliminary final.
A year later Adelaide won the first of three straight WNBL championships - that team is enshrined in the SA Sports Hall of Fame as first among the state's greatest teams - and continued on to five straight grand finals, winning four.
How the mighty have fallen.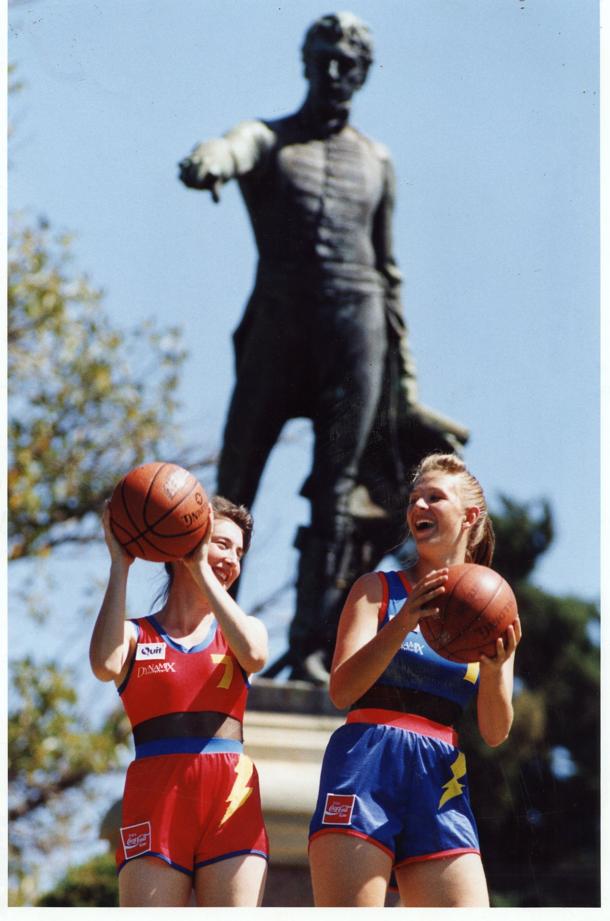 FEBRUARY 11, 1993: Vicki Daldy and Michelle Brogan model the new Lightning outfits.
That inaugural Lightning squad was Michelle Brogan (Noarlunga), Donna Brown (North), Debbie Copley (North), Vicki Daldy (Norwood), Belinda Godden (North), Tamara Haase (Norwood), Merryn Jenkinson (West), Kaye-Lee Jennette (Noarlunga), Tania Konecny (Adelaide), Jo Matthews (Murray Bridge), Leanne Perkins (North), Carol Reimann (Sturt), Trina Roberts (Forestville), Rachael Sporn (West), Carolyn Watts (Adelaide), Michelle Weir (North). Coach: Jan Stirling. Assistant: Peter Sexton.
That was 16 players with only Donna Brown and Merryn Jenkinson - both active in the local competition - from interstate, plus Trina Roberts an import. (The rest were identified as South Australian, especially eventual club icon Rachael Sporn, who remains one of our own, Murrayville birth notwithstanding.)
Jan Stirling presided over 12 years of success as Adelaide claimed four championships while she compiled a 181-71 win-loss record or 71.8 per cent success rate. The Lightning never missed the finals during her rein.
Never.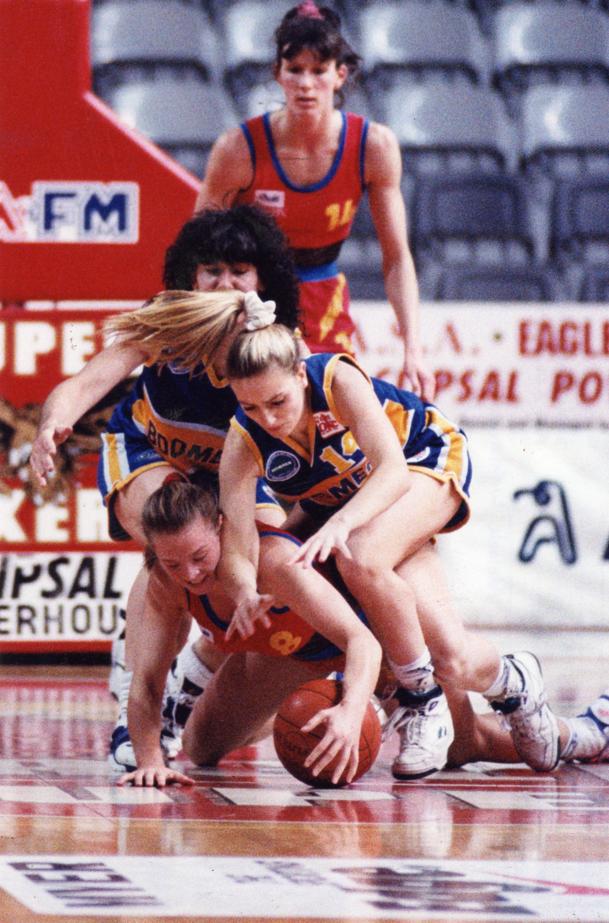 IT'S MINE: Michelle Brogan battles for the ball on the Clipsal Powerhouse floor.
Stirling's assistant coach and also her assistant with the Opals at the 2004 Athens Olympics, Chris Lucas, succeeded her, enjoying three more years of finals participation.
But times had changed. The State Government's axe had fallen on the financially bereft BASA and it took the late Vince Marino to step in and buy Lightning to preserve the club.
Into the second year of his ownership run, Marino cut loose Lucas who, at that point, had a 44-26 record (62.9% win rate) across his tenure.
It was a knee-jerk decision over Lucas' supposed intention to reduce the role of Marino's daughter Angela, no back-up plan in place when his coaching assistants Scott Ninnis and Marcus Wong both walked out with him.
Adelaide luckily landed on its feet when inaugural player Vicki Valk (nee Daldy) accepted the coaching role and steered Lucas' lineup to the club's fifth WNBL championship.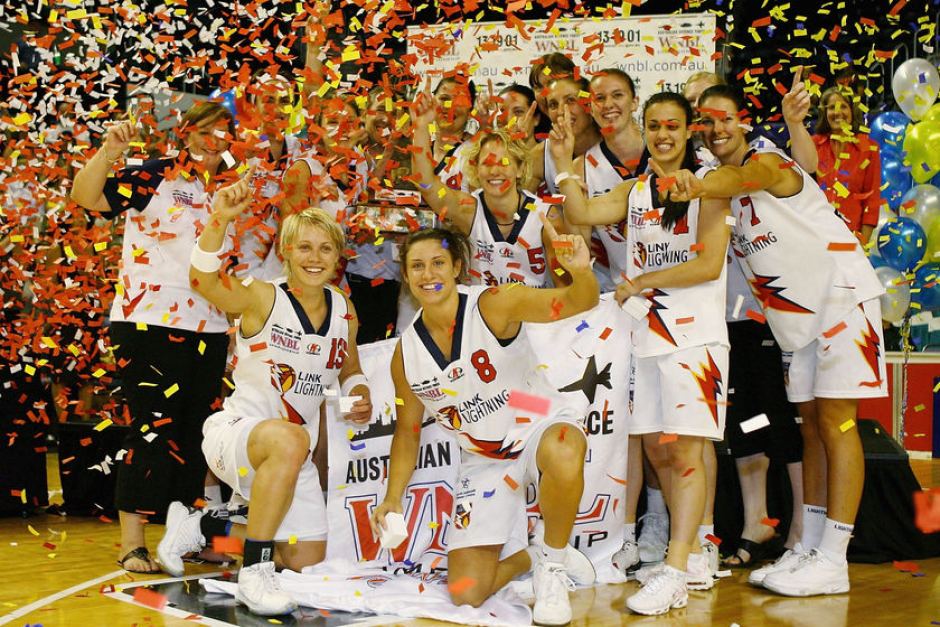 FIFTH TITLE: Adelaide wins it all again in 2008, Renae Camino and Sam Woosnam its key players.
Valk engineered Adelaide back to the playoffs again in 2009 but when they slipped to sixth in 2010 to miss the finals for the first time in the club's rich history, she was sacrificed. Her record (50-20, 71.4%) was lost in that fateful 13-9 season.
Marino hired Steve Breheny, a multiple NBL championship-winning assistant with the 36ers and North Melbourne Giants who had enjoyed great success in the WNBL's earliest days.
Breheny's laid-back approach - well-suited to self-motivated achievers such as Karin Maar who he'd coached in the 80s - was a total disaster with a new young team and the Lightning plummetted to ninth with an all-time club low 3-19 (13.6%) record.
If Marino had known the club's record would be 10 losses worse off, he may never have made the change. But he was keen to have a male voice at the helm, even offering a bucket of cash to arguably our greatest coach, Tom Maher. He wisely stayed with Bulleen.
Lucas' sad prophecy when he was ousted in 2007, that within a few years the club would fall on hard times and only big dollars would bring anyone to the program, was coming true.
Peter Buckle's appointment was seen as a positive, Marino also bringing players such as Suzy Batkovic to Adelaide and Abby Bishop home. However after a straight sets playoff elimination, Bishop bailing and rumours Buckle's style was grating on the players, the end was inevitable.
A trip back to the finals in 2013 and an immediate elimination made Buckle's position tenuous and eight games into the 2013-14 season, he was sacked.
Buckle was 4-4 at the time - his successor Rich Dickel going 8-8 the rest of the way - his overall mark in Adelaide 40-17 (70.2%).
Having artificially inflated the player-payment market to keep the Lightning on the floor, Marino now was feeling the pinch himself and was looking to sell the license when he appointed Jeremi Moule for 2014-15.
Moule struggled to assert his authority over a mostly disinterested group largely playing for the pay packet, many of his team minus any genuine heart, intensity or love for the club. The 7-15 record was no huge surprise, and neither was the plight the club found itself in when Marino formalised his decision to walk.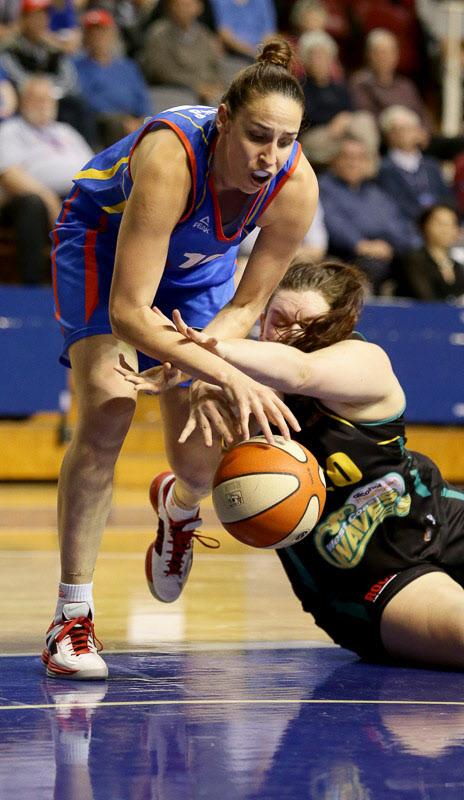 A CONSTANT: Laura Hodges followed her idol Rachael Sporn into Lightning history.
Basketball SA reluctantly came to the rescue - its initial indolence costing it Lightning stalwart and marquee forward Laura Hodges who went back to Europe - but it took a newspaper campaign and much external assistance for the club to be saved from the scrapheap.
The Motor Accident Commission stepped into the breach with a naming rights sponsorship which guaranteed the 2015-16 season, Valk and former Lightning assistant Tracy York the only candidates for the job after Simon Pritchard opted for the Bendigo Spirit gig.
Valk then left York as the only available choice when she felt her doubts about how professionally the team would be supported were founded and withdrew from contention.
Charged with keeping the Lightning alive as the pathway for South Australian players, York's first three contracts went to two local juniors - Morgan Yaeger and Taylor Ortlepp - and a former development player, Jess Good.
They were interesting choices as both Yaeger and Ortlepp already were committed to playing college basketball in the US in the 2016-17 season and, presumably beyond.
Seven contracts then went out to Kelly Bowen, Mikaela Ruef, Jess Bygate, Mikayla Pirini, Leilani Mitchell, Mikaela Dombkins and Kayla Standish - all either foreign or interstate players.
There were South Australians to fill some of those roles - and Alex Ciabattoni made enough of her erratic minutes to win the league's Rookie of the Year honours - but winning 10 games became the bigger priority.
At season's end, the magnificent seven left town. Yaeger and Ortlepp headed to college and Good entertained an enticing offer from Bendigo Spirit before Lucas' appointment was announced.
Ciabattoni, who moved to Albury to play SEABL, also about-faced her decision not to return when Lucas' appointment was formalised.
With Tara Robinson deciding to retire from WNBL play, 11 of the first 12 from 2015-16 would not have been back for 2016-17, only Bowen with an offer.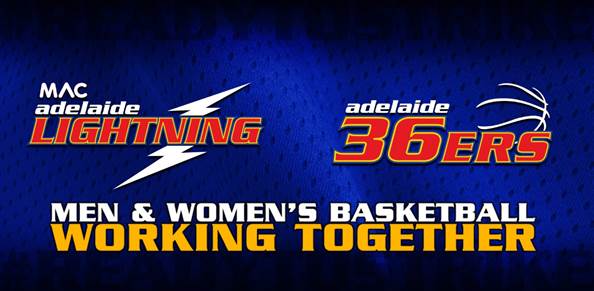 BACK TOGETHER AGAIN: Not, not Hall & Oates but Lightning and 36ers
Bowen though did not suit Lucas' stated desire to return the Lightning to South Australians, the new coach confident players such as Ciabattoni and Good would thrive in the minutes she would have been allotted.
It's a big gamble and Lucas knows this will be a very difficult year where wins won't be as much the priority as providing genuine opportunities for local players.
"I've only tried to recruit players for where we currently have deficiencies in SA," he said.
"And getting that culture back to players who want to play for the (Lightning) uniform first and foremost is absolutely essential."
The exodus from SA over the past decade has been extraordinary and, even excluding former Lightning captain Mia Murray (nee Newley) who now is settled in Townsville, or retirees such as Rachael McCully, Kristen Veal and Sam Woosnam, the list makes for sad reading.
Right now Abby Bishop (Seattle Storm), Cayla George (Europe), Tess Madgen (Europe), Lauren Mansfield (Canberra), Nicole Romeo (Warrandyte), Nicole Seekamp (AZS Gorzow, Poland), Ashleigh Spencer (Bendigo), Stephanie Talbot (AZS Gorzow, Poland), Olivia Thompson (Melbourne) and Alex Wilson (Sydney) are plying their trade elsewhere.
All are in the prime of their careers, five of them never having worn Lightning colours. A club which started on a foundation of discipline and desire to play for Adelaide has devolved through a horrendous run of directionless leadership, internal abuse, bullying, favouritism and a reliance on "guns for hire".
The process has shot a massive hole in Adelaide's credibility nationwide (the reason the club had to keep paying more and more to attract players).
"It's more important for the team to be competitive, made up of South Australians and for more South Australians to come home in Year Two and beyond than for it to win a lot of games next season," 36ers and Lightning chief executive Guy Hedderwick said.
Restoring a culture steadily degraded and devalued over time, cannot happen overnight.
But with the 36ers and Lightning back together again, it can happen.