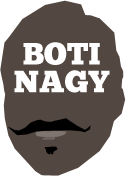 ---
Advertising opportunities available.
Please contact me.
---
'Melee in Manila' a challenge for FIBA
Tweet
FIBA figuratively should "throw the book" at the Philippines Basketball Association for its heinous role in last night's violent abomination that destroyed all semblance of sportsmanship and international camaraderie in horrific scenes in Manila.
Yes, the role Boomers forward Daniel Kickert played in the furious eruption which led to chaotic and terrifyingly real life-threatening moments should not be underplayed.
But let's not overplay it either.
Those in the public – and a less-informed media anxious to pounce on anything potentially sensational – throwing stones at Kickert first should find the context for what occurred, instead of jumping to conclusions in the same manner he did.
What happened with 4.01:8 minutes left in the third quarter of what ultimately would be an 89-53 Australian win in their final first phase game of FIBA qualifiers for the 2019 World Cup, didn't spark off such an isolated incident.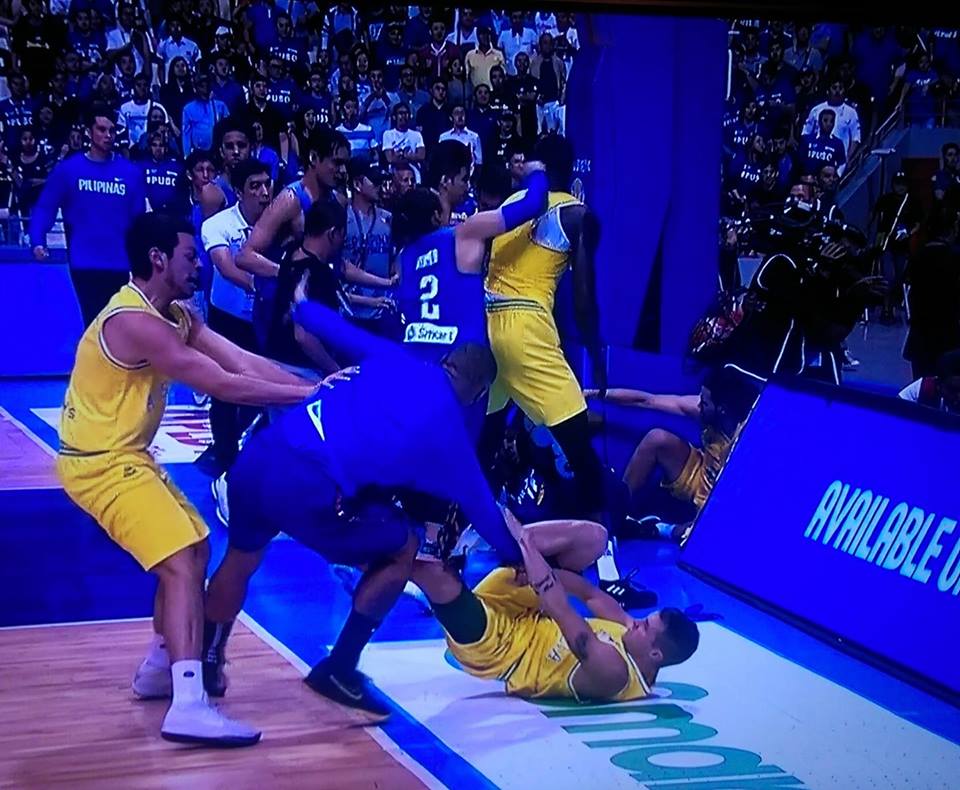 Reactions as intense and relentless in their maliciousness rarely are the result of an isolated incident.
So please, let's cool the heels on the Kickert kicking.
Since the entire debacle, we've heard many and varied claims of what led to this night of infamy which long will live on in the hearts and minds of those who watched in horror as it unfolded, and even more in the souls of those involved.
Variously, we've heard the following stories/excuses/explanations/justifications already:
1 The irreverent Aussie players tore the decals from the floor of the 55,000-seat venue in Manila during their shootaround.
That's partly true because support staff for the team did rip up the sticky decals.
Their justification was the decals were slippery and players at risk of injury.
Did they go about it the right way?
Well, as Basketball Australia CEO Anthony Moore explained in his press conference today, that's an issue for the two federations – BA and the PBA – to discuss and resolve. (It's not actually a justification for violence. An apology, explanation – yes.)
But if Thon Maker or Matthew Dellavedova, our two NBA players in this Boomers group and guys on multi-million dollar contracts, in particular had been hurt or injured, this nation's basketball lovers would have been fuming, at the very least. Not to mention the Milwaukee Bucks.
Again, not justification. Explanation.
2 Philippines coach Chot Reyes pointed the finger at Daniel Kickert – NOT for precipitating the in-game incident – but for allegedly roughing up four of his players during the warmup.
A self-serving version of events. Subsequent accounts and vision show Filipino players during the warmup encroaching into Australia's half and, when asked not to do so, further breaking such a basic basketball protocol by even tripping Kickert.
His response was to shove some of the players and there was a minor kerfuffle.
At this point already, the three match officials should have realised they had to call a very tight game all night.
They failed.
3 Technical fouls and unsportsmanlike fouls against players of both team should have made match officials even more vigilant.
It didn't.
4 Australia pulls away, the game is out of reach and Coach Reyes exhorts his charges to get more physical.
"Hit somebody! Put somebody on their ass," Reyes barks as the embarrassment of the scoreline sinks in.
OK. Let's be frank. Very few players at any elite level have not heard a coach say something like that. Perhaps not in the same words but: "We've got to get more physical to match their physicality," is not a new catchcry.
Hell, you'll hear an opposition coach say that at Perth Arena at least once a season.
But do you say something like that and in such an emotive and forceful way when players are representing their countries – the highest possible honour - and the situation is super-volatile?
The Filipinos were not coming back from 30 down and fair enough, he didn't want them to go down without a whimper. But his comments in this timeout – heard around the world – should haunt him forever.
5 Chris Goulding starts to carve up the host team and is subjected to some "roughing up."
Non-Melbourne United NBL fans will suggest Goulding has a justified reputation for flopping and believe me, I've been among those in the past pointing to that unfortunate trait in his game.
When he closely is defending Roger Pogoy on the penultimate play of the (real) game, the Filipino guard comes aggressively at him and Goulding throws his head back to avoid contact.
Sorry, but he might have lost some teeth had he not done that, but it is understood players throwing back their heads often are playing for a foul. Judge that play with whatever bias you have.
6 Pogoy hits Goulding.
Here's the thing. Pogoy now has PASSSED THE BALL to a teammate, then goes back to deliberately try to hit Goulding a second time.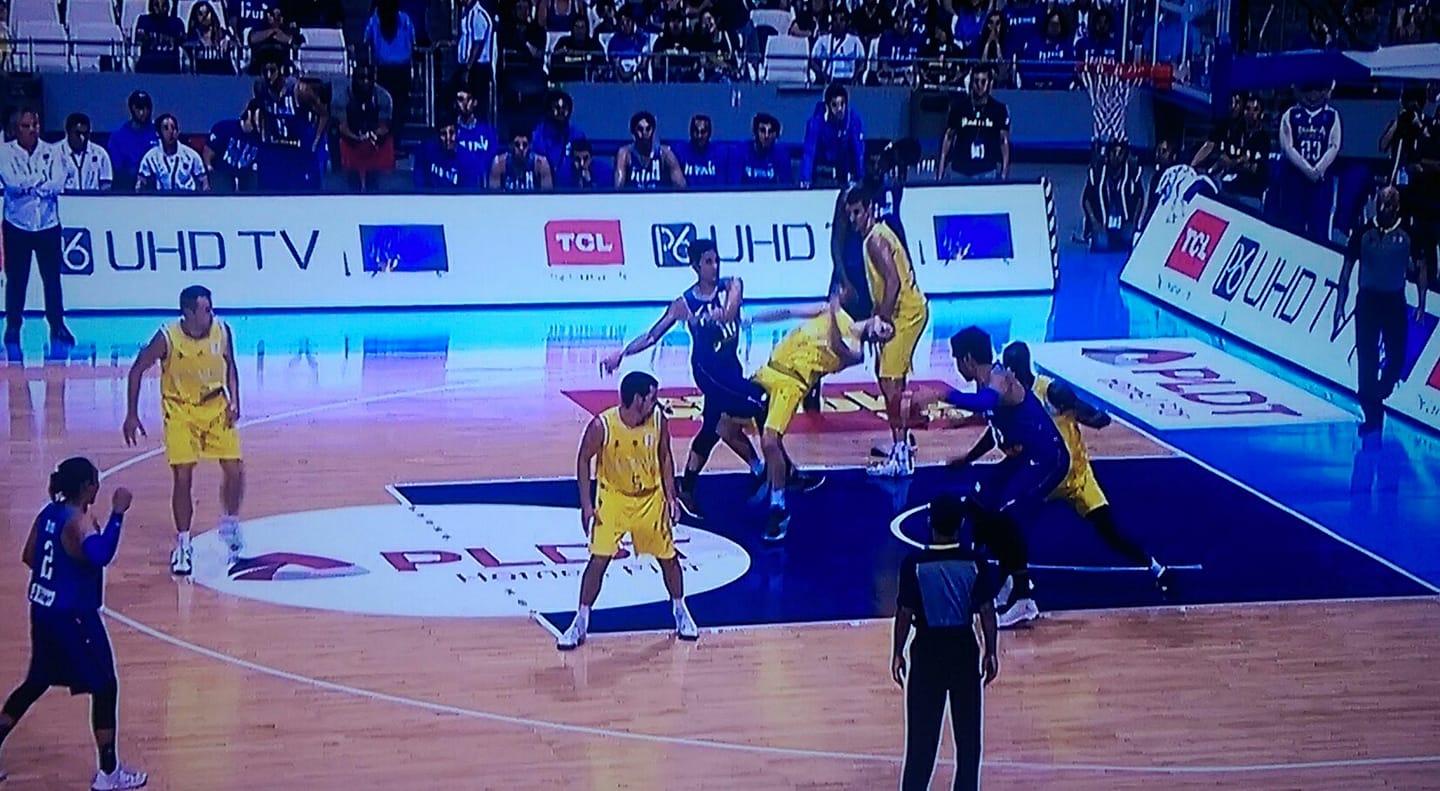 There's nothing subtle about what he does, despite Coach Reyes later calling this "a basketball play" for which he copped the deserved USF.
A basketball play?
7 Kickert hits Pogoy.
Kickert catches the previous play and gives Pogoy a hefty forearm/elbow jolt that allows all that has been festering finally to explode.
And explode it does, with cheap shots raining down off cowardly punches from behind, by an assortment of Philippines players, Thon Maker leaping into the escalating fray.
Kickert is pursued, Nathan Sobey is pummelled, Jason Cadee tries to restore calm, Maker is jumping about as adrenaline rules over anything resembling good sense.
But for the Philippines, this escalation suddenly appears to represent a chance to "put somebody on their ass" and the extent of the fury as the bench clears, Filipino officials and even fans join the fracas, is absolutely horrifying.
And amid it all, a defenceless Goulding is set up by a pack of rabid, out-of-control mob-driven cowards who assault him with intent to injure and maim.
Most Australian sports fans will recall cricket great David Hookes, someone I was lucky enough to call a friend.
His death was the result of one coward punch from behind. One.
Blows rained on Goulding who was being held down and also battered with a chair as one hero punched him repeatedly.
Even Kings Cross, King Street or Hindley Street in the early Sunday hours doesn't see this kind of unrepentant mob violence.
Boomers assistant coach Luc Longley and manager Junior Albert were first to the scene, local heroes quick to flee as the Aussies rescued Goulding from the battering.
Meanwhile Sobey, trying to help, is smacked with a chair and when he turns to see where that came from, is hit with a haymaker which could have broken his jaw.
Barbaric, inconsionable and indefensible behaviour.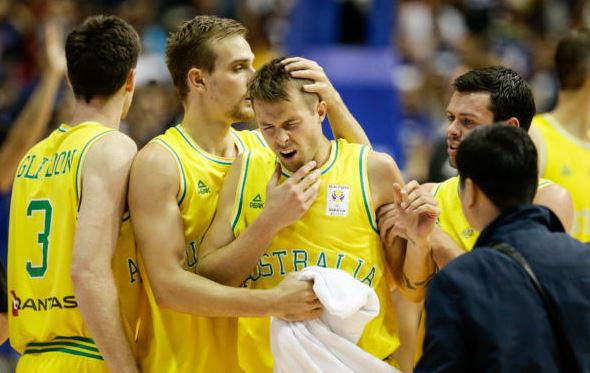 And the subsequent taking of "selfies" by the Philippines team, one idiot even initially standing with a tough-guy fists-clenched pose, revealing the extent to which these sportsmen misjudged what they had just perpetrated.
First, FIBA immediately should strip its 2023 World Cup from the Philippines. It is abundantly clear safety and security are woefully inadequate and it should not take an unprecedented incident such as this to prompt a "we will do better" response from the PBA.
Kickert should suffer suspension for his role in this but coming to the aid of a fallen comrade is as Australian as it gets so those sticking it to him now for his obvious over-reaction should bear two aspects in mind.
One, they weren't in that cauldron, and two – sadly - not everyone instantly can react like Gandhi when there is a physical challenge.
Yes, he was over-the-top. But in banning him, let's also look at who started the thing and it goes back further, with Coach Reyes and instigator Pogoy absolutely complicit in what took place.
No-one is giving Kickert a "pass" on this. But he also shouldn't be held responsible for its aftermath.
How FIBA cites, suspends, fines or reacts to anyone and everyone else involved remains to be seen and, for once, it would be wonderful if it showed a strong pair of Molten balls.
This wasn't basketball. This was thuggery with intent to do harm and FIBA needs to send the strongest possible message there's more than enough of that in our world today without it now infecting our great sport.