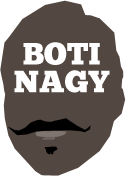 ---
Advertising opportunities available.
Please contact me.
---
News flash! Taipans are the real deal
Tweet
ILLAWARRA tonight closed 2019 casting further doubts over NBL leader Sydney, before Cairns left no-one in much doubt it is a bona fide playoff contender, if not a championship threat.
Celebrating Tim Coenraad's milestone 300th NBL game, the Hawks slipped behind early at a packed WIN Entertainment Centre, Dan Kickert (4-of-4) and Shaun Bruce (3-of-3) going a magnificent 7-of-7 in the first half from outside the 3-point arc.
Ahead 31-21 after the first quarter, Sydney pushed it further when Jae'Sean Tate (23 points) opened the second quarter scoring.
Dan Grida's dunk got the Hawkeyes roaring and Josh Boone (21 points on 10-of-13 shooting, nine rebounds) was active before Coenraad's free throws tied it at 33-33, a 12-0 Illawarra outburst.
Deshon Taylor, Bruce, Tate and Kickert then conspired for a 13-0 response which at 46-33, seemed to say Goliath had just slapped down the kid with the slingshot.
But the kid had more than one stone to throw, AJ Ogilvy completing a three-point play, Boone scoring again and Emmett Naar doing his thang, hurling in a 3-point heave to close the half, Illawarra trailing 41-46.
Todd Blanchfield's floater opened third quarter scoring, then Boone again brought the Hawks back to 45-46 in a second 12-0 reaction.
Having a poor game by his standards, Casper Ware pulled Sydney to 51 but the Hawks kept coming, Naar tying it with 7:00 minutes left in the third.
Derby games can be like this. A Xavier Cooks three and another spate of Tate allowed Sydney to draw 68-60 clear with a period to play.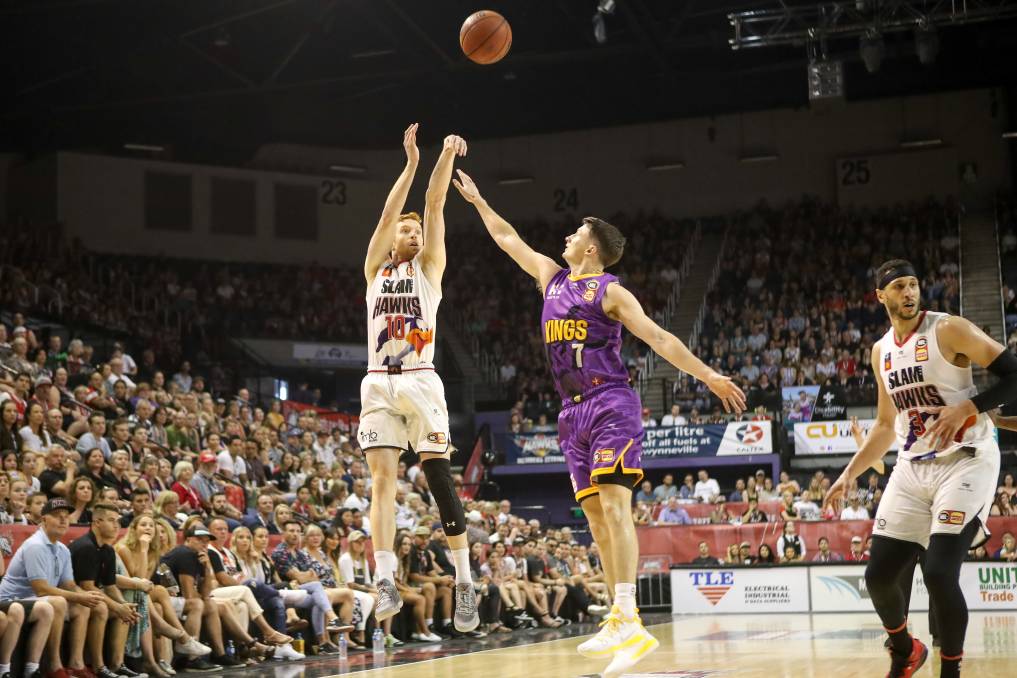 But Illawarra persisted. It's a great quality, persistence.
And then it happened. Trailing 66-71 with 7:28 to play and Tate on the break, Grida chased him down, flying from outer space to emphatically reject the Sydney import's shot attempt.
He had a few words to say as well and suddenly, the Sandpit was abuzz and alive.
Boone was scoring again, then Grida from the corner shot a 3-pointer and it was 71-71.
Naar gave Illawarra the lead at 75-73, Boone extending to 78-73 with a three-point play.
At 80-75, the Hawks had a stranglehold on the game, provided they could hold onto the ball. Turnovers by Grida and Darington Hobson, then a combination of the two, opened the door for Sydney which pulled back to 78-80 on Bruce's monster triple.
Sunday Dech got it to 81-78 before Cooks, the man who forsook Wollongong for a career in Sydney, turned the ball over and the Hawks did the rest from the stripe for their biggest win of the year, going 25-12 in the final quarter, Sydney offering bewilderment in response.
ILLAWARRA HAWKS 85 (Boone 21, Naar 16, Blanchfield 13, Coenraad 11; Boone 9 rebs; Naar 8 assts) d SYDNEY KINGS 80 (Tate 23, Bruce 14, Kickert 12; Cooks 9 rebs; Kickert 5 assts) at The Sandpit, WIN Entertainment Centre. Crowd: 5,064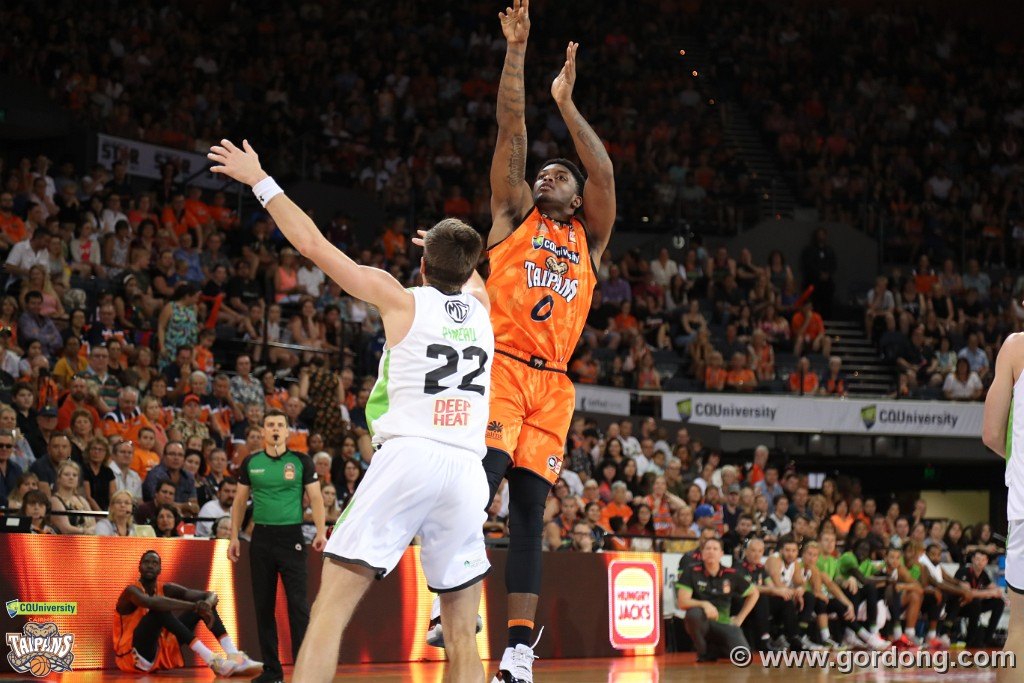 SCOTT Machado enjoyed an NBL career-high 29 points on 11-of-18 shooting, including a sizzling 5-of-7 threes, plus eight assists, two rebounds, a steal and a block as Cairns flexed its muscles to beat valiant South East Melbourne 92-84.
Machado enjoyed an electric 16-point first quarter before the Phoenix's unbelieveable boards domination turned the game in the second.
Working from the benefit of 16 offensive rebounds in the first half, TO NONE, South East enjoyed a 21-11 second quarter and it would have been far worse if DJ Newbill had not stroked a 3-pointer just on the halftime buzzer off a Cam Oliver feed.
Newbill had a more spectacular moment though, driving the baseline for a wicked throwdown slam.
John Roberson was looking the part for the Phoenix, Ben Madgen and Kyle Adnam also making the most of their time, Keith Benson efficient for eight points and six rebounds in 13 minutes.
The Taipans received the message loud and clear during the interval, holding Phoenix to just three O boards after the break while Oliver lifted noticeably, finishing with 10 rebounds alongside his 25 points at 75 percent, with 4-of-4 threes.
Add four assists, a steal and a block and it was a good night's work from the big-man, Mirko Djeric also splashing three 3-pointers in a torrid third period.
Cairns' 32-19 third quarter turned the game around completely. Down 37-43 at halftime, Oliver and Djeric erased that immediately with two 3-pointers.
Then Roberson stroked one for South East, Djeric another to tie it again at 46-46, Madgen then hitting one for 49-46. Oliver then nailed another to tie it again before Madgen swished a second for 52-49, the first seven made baskets of the quarter all triples.
Djeric's three for 58-56 put the Orange in the lead for good, their 10-9 record now matching Melbourne's in third place. And that's a United team Cairns has already beaten three times.
CAIRNS TAIPANS 92 (Machado 29, Oliver 25, Newbill 11; Oliver 10 rebs; Machado 8 assts) d SOUTH EAST MELBOURNE PHOENIX 84 (Roberson 19, Madgen, Creek 16, Pineau 10; Pineau 9 rebs; Roberson, Creek 5 assts) at The Snakepit, Cairns Convention Centre. Crowd: 5,135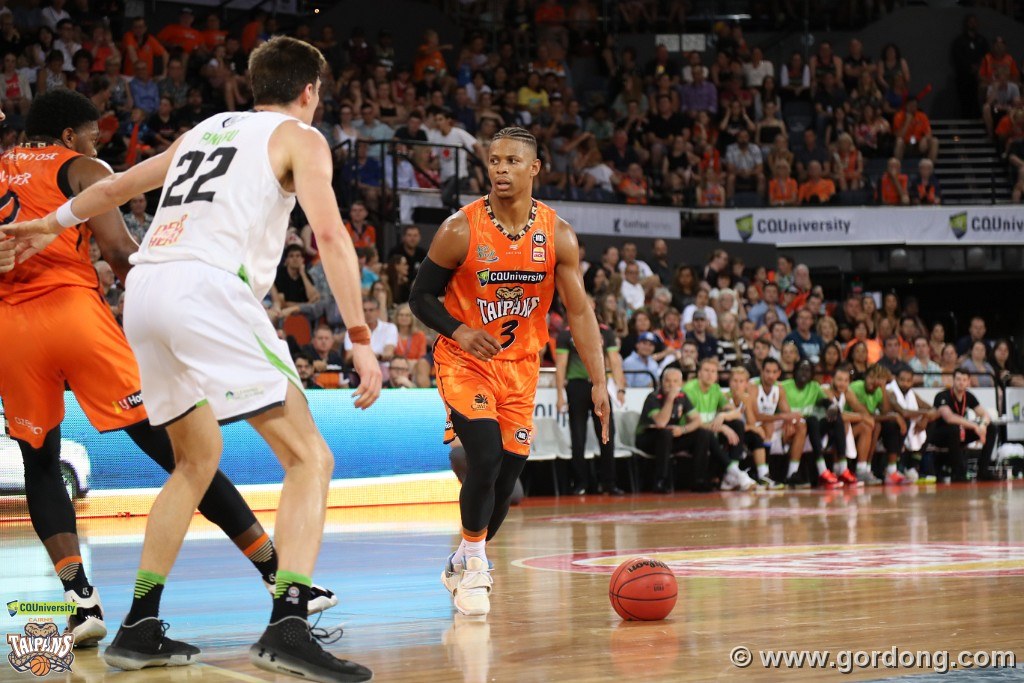 ADELAIDE tomorrow starts the New Year hosting Perth, the Wildcats with a chance to take over top spot from Sydney, the 36ers needing to bounce back to 9-10 and stay in the Final Four equation.
Perth captain Damian Martin will miss the game with a foot injury.