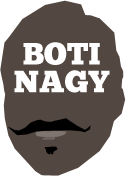 ---
Advertising opportunities available.
Please contact me.
---
One to go as Opals prune Tall Ferns
Tweet
AUSTRALIA's Opals continued their undefeated march into tomorrow's Commonwealth Games' Gold Medal match with a fourth straight "ton" in a 109-50 semi final rout of cross-Tasman rival New Zealand tonight at the Gold Coast.
After a plucky opening three minutes by the Tall Ferns, they never again were any match for the Opals' incredible depth, teamwork - best illustrated by a further sizzling 30 assists - and focus.
Surprisingly, England, with a stunning 19-5 second period, upset Canada 65-53 in the earlier semi final to book an unexpected appointment against the Aussies in the Gold Medal match.
In intrapool play in Pool A, Canada had whipped England 80-54 forcing them through a qualifying game against Jamaica just to reach the semi rematch.
But it was a different story tonight for England which still will have its work cut out in the Final after being thumped 118-55 by the Opals in their intrapool clash.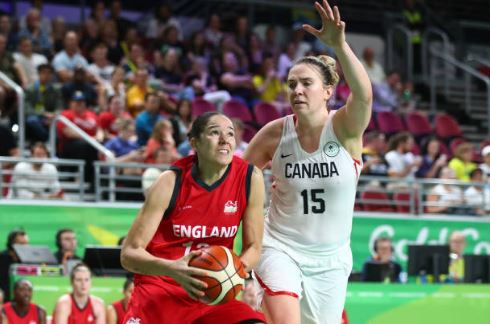 PIVOTAL: Ex-Adelaide Lightning WNBL centres Azania Stewart and Ruth Hamblin battle it out.
Australia opened with WNBL Melbourne Boomers frontcourt teammates Liz Cambage and Kalani Purcell opposed, Cambage winning the tap and putting the Opals into attack.
She started the scoring, Purcell stuck a 3-pointer for New Zealand in response, then gave up a three-point play fouling Cambage.
Threes by Jenna O'Hea (six assists) and Cayla George, split by an O'Hea layup, were instrumental in punching a 9-7 lead out to 17-7 before Micaela Cocks pulled a triple back for the Tall Ferns.
Cambage controlled the paint, Kelsey Griffin (11 points, seven rebounds, four steals) was an immediate factor and Belinda Snell (four assists) stuck a three for a 25-12 lead after one.
Katie-Rae Ebzery opened the second period with a triple, O'Hea fed Cambage again - their understanding was fun to watch - and already down 12-30, New Zealand was struggling to find any answers.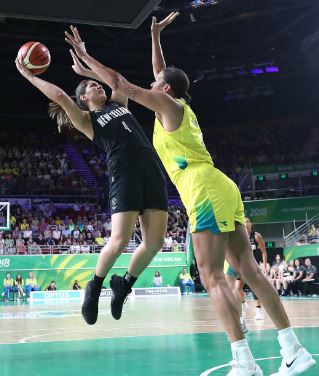 HELP! Kalani Purcell shows the enormity of NZ'schallenge, under pressure from Liz Cambage.
Reminiscent of Jenny Whittle - a former Opals "big" and Olympic teammate of current Aussie coach Sandy Brondello - George knocked down threes from the top of the key as the transition trailer, and the Tall Ferns were heading into halftime down 28-53.
Purcell scored at 5:44 in the third to trim Australia's lead to 68-34 but with wicked ball movement in which Steph Talbot (five assists), Griffin and Tessa Lavey all were prominent, the Opals scored the next 15 points to the last break.
When Alice Kunek opened the fourth with a bucket, the Opals had gone 17-0, Tall Ferns tyro Charlisse Leger-Walker finally ending the drought at 9:33.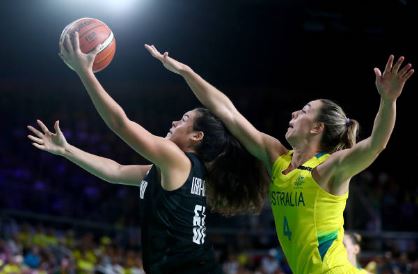 FUTURE SUPERSTAR: 16-year-old NZ tyro Charlisse Leger-Walker, evades Jenna O'Hea.
Cambage led all scorers with 21 points on 9-of-13 shooting in just 17:38 of action, George with 18 points at 75 per cent, including 4-of-4 threes in 16:20.
Once again not only did the Opals break the century but all 12 players scored, their 30-6 third period one of abject frustration for NZ, unable to break the shackles or slow Australia's scoring tempo.
The Opals shot at 56 per cent and hit 15-of-25 3-pointers (that's 60 per cent if you're playing along at home), their 12-of-15 free throws, 45 rebounds to 35 and nine turnovers to 21, all telling stats.
The Tall Ferns were contained to 29 per cent shooting and got to the free throw line for just a 3-of-4 return. Their 16-26 final period was their best quarter though and should hearten spirits somewhat for the Bronze Medal clash with Canada.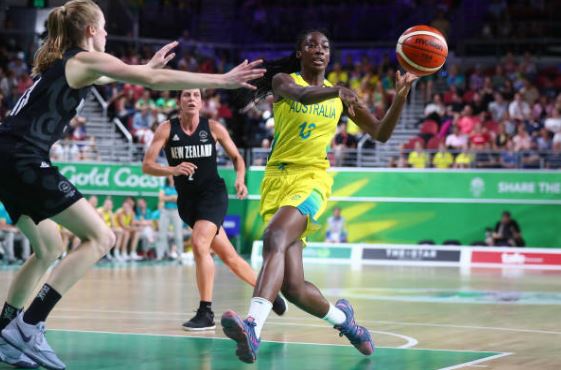 EASY AS 1, 2, 3: Ezi Magbegor on the break for the Opals.
WOMEN'S SEMI FINALS
ENGLAND 65 (Vanderwal 20, Pressley 11; Stewart 12 rebs; Vanderwal 6 assts) d CANADA 53 (Hamblin 21, Nofuente 14, Provo 12; Hamblin, Kiss-Rusk 10 rebs; Kiss-Rusk 3 assts) at Gold Coast Convention Centre.
AUSTRALIA 109 (Cambage 21, George 18, Griffin 11, Lavey 10; Kunek, Griffin 7 rebs; O'Hea 6 assts) d NEW ZEALAND 50 (Leger-Walker, Taylor, Cocks 9; Paalvast 5 rebs; Purcell, Cocks 3 assts) at Gold Coast Convention Centre.
Tomorrow
*6pm, Bronze Medal game, Canada v New Zealand
*8.30pm, Gold Medal game, Australia v England
(*AEST)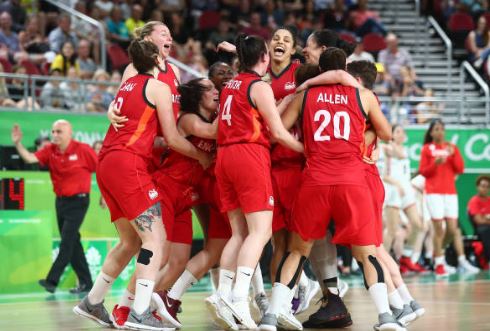 CELEBRATION TIME: England players rapt at reaching the Final. ALL pics courtesy GETTY IMAGES