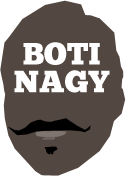 ---
Advertising opportunities available.
Please contact me.
---
Opals hit the Gold motherlode
Tweet
AUSTRALIA's Opals collected their Commonwealth Games Gold Medals tonight, smacking away "the mother country" England to the tune of 99-55 but not without some Liz Cambage controversy to mark the occasion.
Cambage, the most dominant player in the women's basketball, was ejected with Australia leading 30-17, 6:34 on the clock in the second period, for using profanity toward the officials.
At the time, she already had compiled 10 points on a perfect 5-of-5 shooting in just 8:55 of action, England producing a much more competitive second period, only outscored 23-21.
But after the Opals' 26-10 first quarter, it still didn't count for much, especially considering England led 8-7 on captain Azania Stewart's made free throws with 6:43 left.
Australia went on a 12-0 bender with Cambage prominent, and closed with Kelsey Griffin (16 points at 63 per cent, 8 rebounds, 3 assists, 2 steals, 1 block) sticking a 3-pointer to close the period.
"We had to face a bit of adversity today," jubilant Opals debutante coach Sandy Brondello said of Cambage's surprise expulsion (below).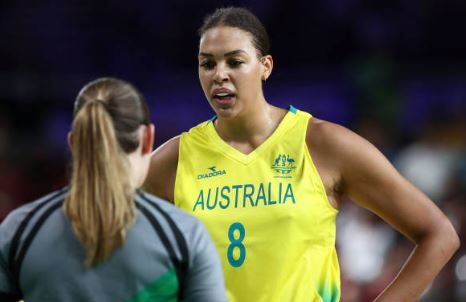 "But it showed the character of this team. We just maintained our composure. They have some great leaders in the team and that's what we needed.
"It's not every day you lose your best player so early in a game but maybe it's going to make us a better team in the long run."
Australia dominated the tournament as expected, sweeping through its five games undefeated and, in truth, unchallenged, every player scoring in every game, today's Final the only match in which it failed to reach the century mark.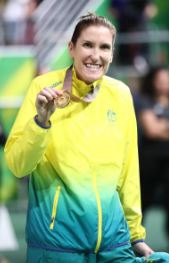 But it did score 99 as captain Belinda Snell (pictured), retiring from international basketball with this book-end Comm Games Gold Medal to go with her 2006 CG Gold, had an opportunity to launch a final shot but chose instead to have the ball in her hands as the siren sounded.
"I'm just so grateful for this opportunity to represent Australia on home soil, get another Gold Medal at the Comm Games," Snell said.
"It's just amazing. I'm so fortunate to play for the Opals for so many years. It's such a great team and there's no better way to finish.
"I'm just so fortunate to have played with some absolute legends throughout my career with Lauren Jackson, Penny Taylor, Kristi Harrower."
Snell, at 37, is a legend herself, winning Silver Medals with the Opals at the Athens and Beijing Olympic Games, a Bronze in London before her absurd omission from the ill-fated Rio Olympic Games team.
After her Commonwealth Games Gold in 2006, that same year she was part of Australia's most historic team, the Opals side which won Gold at the FIBA World Championship in Brazil. She was on Australia's Bronze Medal-winning FIBA World Championship team in 2014 and, restored last year to the Opals for their FIBA Asia Cup debut, collected Silver there as well.
As far as legends go, few Australian basketballers can boast a better resume or a better haul.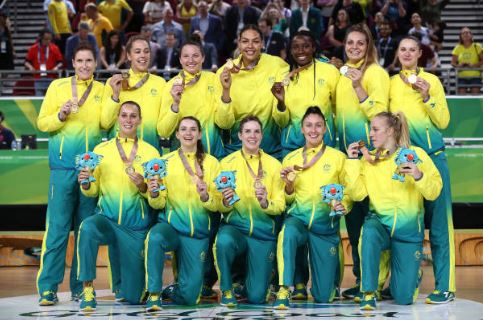 Griffin, who combined with Snell so brilliantly all tournament, drove to open Australia's second half scoring and when Steph Talbot followed with a 3-pointer, England was cooked.
Griffin blocked Chantelle Pressley at one end, then scored on her from the block. Snell blocked a shot – the Opals blocked 14 shots and again moved the ball brilliantly with 29 assists – then drilled a 3-pointer to make it 69-39.
A three-point play by Stewart with 65 seconds left in the third was erased by Ezi Magbegor and Griffin (below) closed the quarter with Australia out 78-47.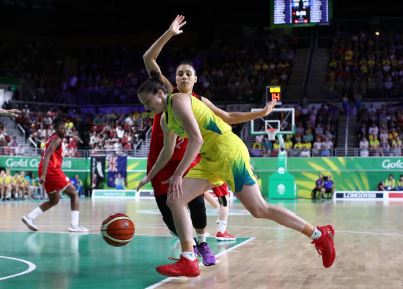 Magbegor, Katie-Rae Ebzery, Nicole Seekamp, Tessa Lavey and Alice Kunek conspired in a 14-0 run to start the fourth period (18-0 stretching back into the third) before an English interruption at 4:24.
Steph Blicavs then iced a three in response, England scoring four of its eight points for the quarter in the final 48 seconds.
Cayla George (celebrating below) was huge with a 16-point, 10-rebound double-double, especially when the game was more precariously poised.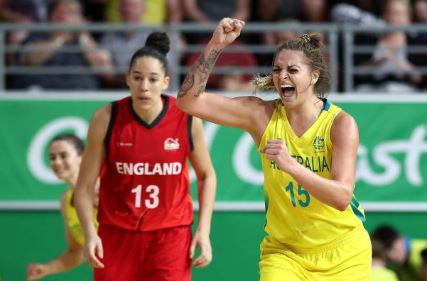 "We needed to use our 11 players and we came home," Brondello said.
"I thought we had to pick up our defensive intensity (with Cambage outed). We knew we needed everyone just to be aggressive and play their game.
"I thought Cayla George and Kelsey Griffin were fantastic inside."
Brondello also complimented Ebzery and Jenna O'Hea for their leadership and poise, Australia clearly with its sights set on this year's FIBA World Cup in Spain and building toward a return to the medal dais.
Earlier, New Zealand (below) completed its Comm Games campaign with a 5-1 win-loss record and the Bronze Medal after steadily building a 74-58 win over Canada.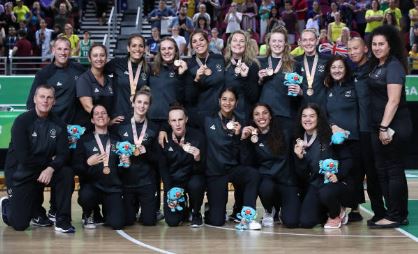 COMMONWEALTH GAMES 2018
WOMEN'S BASKETBALL
GOLD MEDAL: Australia
SILVER: England
BRONZE: New Zealand
GOLD MEDAL FINAL: AUSTRALIA 99 (Griffin, George 16, Magbegor 11, Cambage 10; George 10 rebs; Ebzery 7 assts) d ENGLAND 55 (Stewart 13, Vanderwal, Emanuel-Carr 7; Vanderwal, Emanuel-Carr 5 rebs; Vanderwal 4 assts) at Gold Coast Convention Centre
BRONZE MEDAL FINAL: NEW ZEALAND 74 (Leger-Walker, Taylor 18, Cocks 16; Purcell 7 rebs; Cocks 7 assts) d CANADA 58 (Nofuente 18, Provo 14; Hamblin, Kiss-Rusk, Provo 6 rebs; Traer, Masikewich 2 assts) at Gold Coast Convention Centre.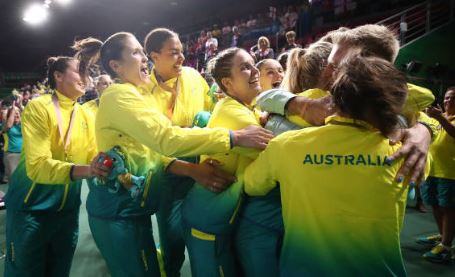 GOLDEN PROPOSAL: Teammates post-game mob Nicole Seekamp after she accepts a wedding proposal from her boyfriend Cody (below). All pictures courtesy of GETTY IMAGES.