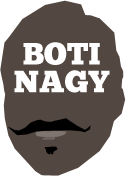 ---
Advertising opportunities available.
Please contact me.
---
Psst. Have you heard the news?
Tweet
THE AFL's storied Hawthorn Footy Club reputedly is circling the NBL and looking to snatch the Illawarra franchise out of Wollongong and re-locate it to Melbourne.
There's an obvious synergy between the Hawks and the Hawks and this rumour, which has been soaring since James Spencely packed up his tent as owner of the NBL club, seems to be gathering more and more momentum with each passing day.
There are reasons this would make sense, the two stand-outs being the NBL desperately needs a second team in basketball's heartland of Melbourne and the fact it is no secret the league isn't terribly keen on regional clubs.
Of course, there's also the contrary view, asking two questions. Why would an AFL club want to buy an NBL club and most likely lose money? And why not expand the league to 10 teams rather than re-locate one, keeping it at eight?
(I can see merit in one or two-team AFL cities such as say a West Coast aligning with the Wildcats, or Crows adopting the 36ers, Swans showing interest in Kings, or the Lions sharing a bed with the Bullets, for examples. But there's nine AFL clubs in Melbourne and one in Geelong so its commercial viability is less obvious.)
Of course these are just rhetorical questions posed here, because what better place considering the raft of rumours circling the Hawks?
Time will tell if they're true - or if a journalist paid by a reputable news-gathering organisation finally follows up this rampant rumour - but there definitely is some uncertainty about which direction the Wollongong-based club will go from here.
Remember, the Illawarra Hawks are the only remaining inaugural NBL club which has been in the league since Day One until now, and every day in between (sorry Brisbane). Let's hope its future is assured, in some direction, soon.
* * *
IF you read that here first, tell your friends. If you read that somewhere else beforehand, then at least the site still is collecting Silver. Or Bronze. (Can't always get the Gold.)
* * *
SPEAKING of the Hawks, congratulations to Illawarra's coach Robbie McBeveridge on his appointment as Scotland's men's coach for the Commonwealth Games.
Scotland currently has no FIBA world ranking as it is part of Great Britain at FIBA events. GB is ranked #40.
"Having Scottish blood in the veins, it is an absolute privilege and honour to be given the opportunity to lead Scotland at the Commonwealth Games," McBevo said on Basketball Scotland's website.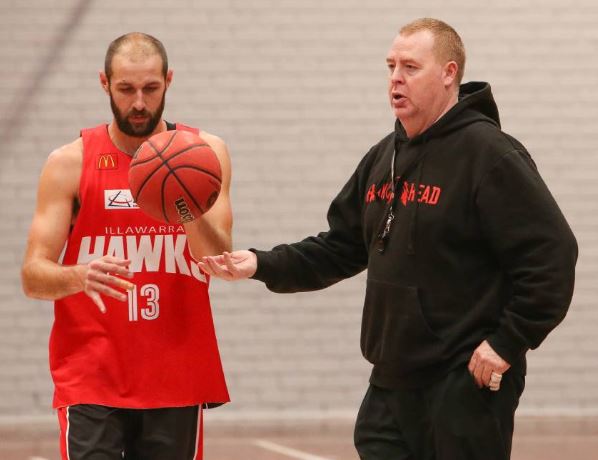 HEY RHYS: Any chance you've got dual citizenship?
"This is something that I do not take lightly and I will be working as hard as possible with the players and staff to do our best to bring back a medal from the Commonwealth Games.
"I am really looking forward to meeting the players and other support staff as we embark on this exciting journey together."
Sauces tell me part of his application for the role required he explain the following:
"You're a wee scunner!"
"She's up to high doh"
"A pritty face suits the dish-cloot"
And, of course: "Yer bum's oot the windae!"
* * *
IT hasn't been confirmed yet but expect to see Aussie Opals star Kelsey Griffin, MVP at the FIBA Asia Cup last year - heading to Canberra Capitals for 2018-19, severing her ties with Bendigo Spirit.
If you're a regular visitor here, you know we've said that before but now we can add a kicker.
Capitals' guard and Emerging Opals Gold Medal winner at last year's World University Games, Abbey Wehrung, will be heading in the opposite direction to Griffin, landing back at Bendigo Spirit.
* * *
PAT on the back time. Here's a few reminders of the B.O.T.I. website tips for this NBL season from October 8, 2017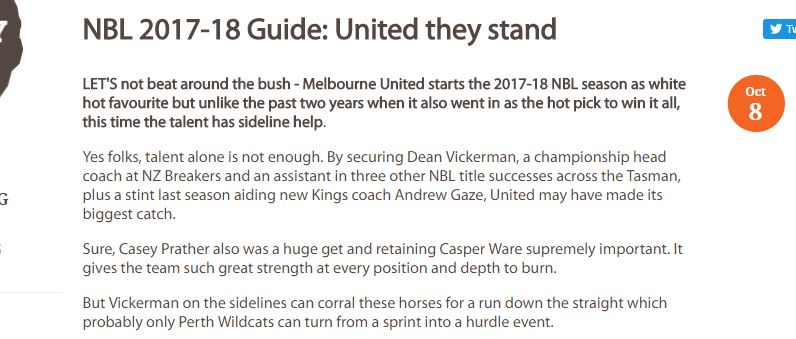 Figure that's going to look even better later tonight. And how about this little lot from the same blog?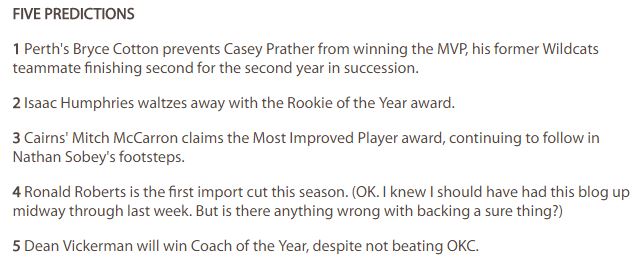 OK, couldn't know Casey P would dislocate his elbow but pretty happy with four out of five. And Mitch McCarron did make massive strides this season past.
(On the flipside picking the Breakers to miss the Final Four was a mistake, going instead with Melbourne, Perth, Adelaide and ... Illawarra. But in hindsight, it's now obvious Macca Beveridge was distracted all season by his commitment to Scotland!)
TONIGHT: United-Breakers, NBL Semi Final Game 2