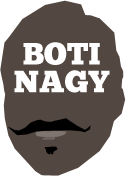 ---
Advertising opportunities available.
Please contact me.
---
Really? Random Dribbling, Awards, Stuff
Tweet
AT what point do the Perth Wildcats start thinking about the only NBL challenge the club hasn't yet met – the threepeat?
The Sydney Kings in 2003-04-05 and New Zealand Breakers in 2011-12-13 have claimed the Dr John Raschke Trophy three years in succession and while the Wildcats have twice gone back-to-back (1990-91, 2016-17) this is the club's best chance make it a triple in 2017-18.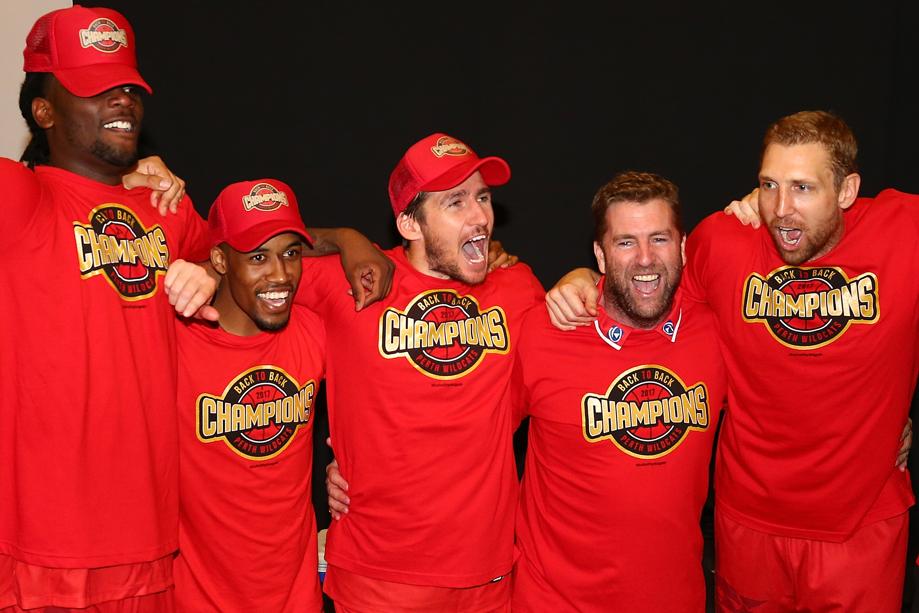 HAIR THEY ARE: Jameel McKay, Bryce Cotton, Damian Martin, Trevor Gleeson and Shawn Redhage
So will 'Cats coach Trevor Gleeson "do a Pat Riley" and make a public guarantee?
"I'm thinking about a shave," Gleeson said when tackled on the question.
All the Wildcats players and coaches agreed to grow facial hair during the playoff series, a tradition of unity often reflected by teams on a championship mission.
In 1998, all the Adelaide 36ers shaved their heads ahead of the Championship Series. Beards was the other direction.
"And there's some horrible attempts," Perth captain Damian Martin said.
"I know mine looks dreadful. But Jarrod Kenny? I don't know what's going on there. He has about four hairs that have popped up.
"There'll be a lot of happy wives and girlfriends when we shave these off.
"Everyone buys into it. It brings us closer together. We have a bit of a laugh about it.
"And in the next few days, we'll show up with some freshly-shaved guys."
There's plenty of time to relax, unwind and savour the club's record eighth championship, twice as many as Adelaide, Melbourne and New Zealand with four apiece. And then, just ahead of 2017-18, Perth can start its run at a hair-raising third straight title.
WAS the NBL serious when it sent out the following email (below) to media on Sunday?


THEY tried this at an NBA game at Madison Square Garden this week (below). Is it time the NBL and WNBL took note?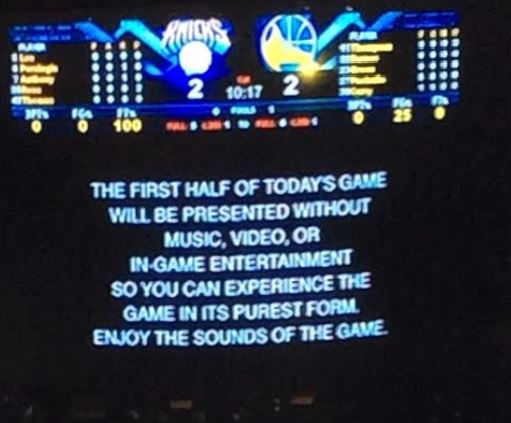 THE WNBL's decision to randomly hand out its annual gongs – not even a brunch gathering this season? – should go some distance toward explaining why other women's sports have gained so much ground of late.
The chance to properly promote our elite athletes and in a glamourous red carpet setting is an opportunity lost.
Maybe next season then?
And while I - like many others who watched Shannon Seebohm's Australian team storm to the Gold Medal last year at the FIBA World Under-17 Championship, could not have been more proud of their achievement - maybe the WNBL was a little too taken with it.
Melbourne Boomers guard Monique Conti was a star at the tournament, one of three Sapphires named in the All Star Five. Unprecedented stuff.
All three - Ezi Magbegor and Jasmine Simmons as well - are superstars of the future but the WNBL appears to have blurred its lines in naming Conti the Betty Watson Rookie of the Year award-winner.
She played 19 games, averaged 1.47ppg in seven minutes. Let's be honest, those aren't game-influencing numbers. And yes, we understand some years the Rookie category is highly competitive and some years it's not – witness 2015-16.
"This is great recognition for Monique who joins esteemed company including past winners Lauren Jackson, Laura Hodges and Trish Fallon who all went on to amazing Opals careers," Head of the WNBL, Sally Phillips, said.
"After standout performances in last year's World Championships with the Sapphires, Monique is a star guard in the making."
So what did you notice there? If you said: "Bugger all about her WNBL season" then you get what I mean here.

Conti is bound for superstardom. But Rookie of the Year, playing seven minutes off the bench? Come on now.
HERE are the latest lists of award winners so far, WNBL, NBL club and WNBL club:
AWARDS
WNBL

Coach of the Year: Cheryl Chambers (Sydney Uni Flames)
Betty Watson Rookie of the Year: Monique Conti (Melbourne Boomers)
Robyn Maher Defensive Player: Marianna Tolo (Canberra Capitals)
All Star Five: Leilani Mitchell (Sydney Uni Flames), Sami Whitcomb (Perth Lynx), Asia Taylor (Sydney Uni Flames), Suzy Batkovic (Townsville Fire), Marianna Tolo (Canberra Capitals)
BRISBANE BULLETS:
Leroy Loggins MVP: Torrey Craig
Ladbroke Members' MVP: Torrey Craig
Players' Player: Adam Gibson
Young Player of the Year: Tom Fullarton
CAIRNS TAIPANS:
MVP: Travis Trice
Members Choice: Mark Worthington
Best Defensive Player: Mitch McCarron
Commitment to Community Award: Mitch McCarron
Coaches' Award: Nnanna Egwu
Players' Player: Damon Heuir
MELBOURNE UNITED:
AHG MVP: Casper Ware
Best Defensive Player: Todd Blanchfield
Coaches' Award: Kyle Adnam
Best Club Person: Chris Goulding

NEW ZEALAND BREAKERS:
MVP: Kirk Penney
MVP's MVP (Fan vote): Kirk Penney
Defensive Player: Thomas Abercrombie
Paul Henare Cup (Young Player of the Year): Sam Waardenburg
Brian Pankhurst Club Person of the Year: Fiona Marmont

SYDNEY KINGS:
MVP: Brad Newley
Members Player of the Year: Brad Newley
Defensive Player: Kevin Lisch
Mike Wrublewski Most Inspirational Player: Aleks Maric
Laurie Watterson Clubman of the Year: John Davidson
BENDIGO SPIRIT:
MVP: Kelsey Griffin
Coaches Award: Nadeen Payne
Players' Player: Ashleigh Spencer

CANBERRA CAPITALS:
MVP: Marianna Tolo
Defensive Player: Marianna Tolo
Fan Favourite: Kate Gaze
Players' Player: Carly Wilson
Capital on the Rise: Abbey Wehrung

MELBOURNE BOOMERS:
Michele Timms MVP: Brittany Smart
Members Player Award & High Performance Award: Maddie Garrick
Most Improved: Bec Ott
Coach's Award: Tegan Cunningham
Linda Perry Boomers Spirit Award: Justin Nelson
AVJennings Volunteer of the Year: David Roberts and Kristy Moore

(*More award winners, as they are named)