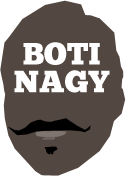 ---
Advertising opportunities available.
Please contact me.
---
Sixers play hard in The Sandpit
Tweet
ADELAIDE tonight seized control of its NBL road clash with Illawarra at The Sandpit from the outset, weathered every Hawks' storm - and superstar Aaron Brooks - to win more comfortably than the 98-92 scoreline suggested.
In his milestone 250th game as a 36er, Daniel Johnson led the way with a 21-point, 10-rebound double-double but the Sixers' supporting cast had plenty to say in the final outcome.
It started when Eric Griffin stole a pass and went all the way for 2-0, then blocked a shot by Josh Boone, and Johnson's finish made it 4-0.
Adelaide was pushing the ball upcourt in a hurry, Anthony Drmic grabbing an offensive board and feeding Jerome Randle for 6-0, and Ramone Moore to Johnson made it 8-2.
LaMelo Ball threw a slick behind-the-back pass for Boone to dunk but Adelaide quickly responded with Johnson again on the break.
Griffin was active everywhere, this time swatting a shot by Ball, who caused grief going to the hoop but was left wide open to jack as many threes as he desired, returning figures of 1-of-7 from long range.
It was Brooks who kept the Hawks in the contest, repeatedly getting to the hoop, free throws by Tim Coenraad dragging Illawarra within a point at 13-14.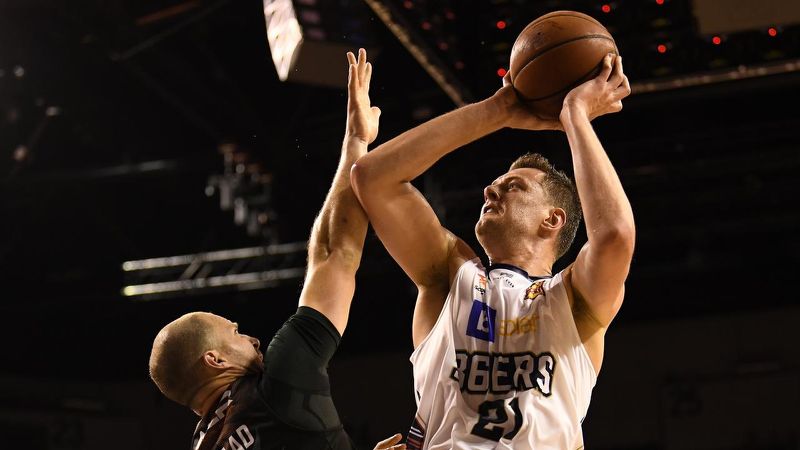 But it never came any closer, Moore with a 3-pointer and Johnson two free throws to bump it quickly back out to 19-13. A Johnson cut pushed the lead to eight and it was 27-17 before Illawarra rallied sufficiently to claw it back to 26-31 at the first break.
Brooks again was sizzling, closing the gap to 40-43 before triples by Jack McVeigh and Harry Froling made it 49-40 and forced a Matt Flinn timeout. Hawks rookie Sam Froling, with 12 points and five rebounds, also asserted himself in his first clash against his brother.
A McVeigh finish to his spin move had the 36ers' lead bulge to 11 at 51-40, Illawarra again working hard to get it back to 49-56 by halftime, at which point Brooks had 19 points on 8-of-11 shooting.
Brooks had 24 points early in the third period before Joey Wright sent "Mr White-Out", Kevin White in to erase the American's influence.
White got under Brooks' skin sufficiently to ensure Adelaide maintained control of the game, answering every Hawks' assault.
Illawarra still clawed it back to 91-93 as the game entered its final half-minute but Coenraad missed a triple for the lead and 17.8 seconds left, AJ Ogilvy had a brain fade. giving up an ill-conceived unsportsmanlike foul by grabbing Randle.
Having made no play on the ball, love it or hate it - and most of us fall in the latter category - the USF was inevitable and Randle, who heard the boos all night, calmly slotted both for a 95-91 lead, plus possession.
Fouled on that possession, Drmic converted a free throw and all that was left was a Coenraad free throw make to complete the final score, Adelaide never headed.
Brooks finished with 31 points at 65 percent, with 4-of-8 threes as the Hawks slumped to 1-4 and the 36ers moved on to 2-1.
ADELAIDE 36ERS 98 (Johnson 21, Moore 16, Froling, Randle 15, McVeigh 14; Johnson 10 rebs; Drmic, Moore 4 assts) d ILLAWARRA HAWKS 94 (Brooks 31, Ball 15, Froling 12; Froling, Ball, Ogilvy 5 rebs; Ball 7 assts) at The Sandpit, WIN Entertainment Centre.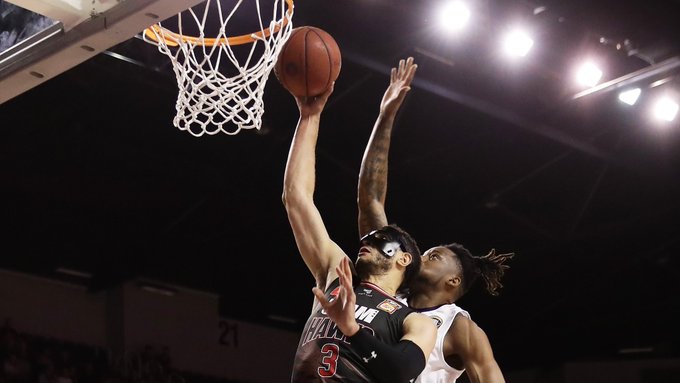 BOONE OR BANE? Josh Boone, masked to protect a broken nose about to be rejected by Eric Griffin.