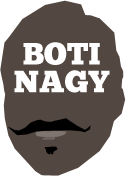 ---
Advertising opportunities available.
Please contact me.
---
Sources tell me... 6
Tweet
SOURCES TELL ME … 6 : You understand by now that it's actually "sauces" I'm hearing from, but they insist they are reliable and also can make your poached eggs taste so much better.
Off we venture...
LET'S start in China where the NBL ALL-Australians-Except-Two did themselves and the league untold good with the manner in which they handled themselves and adversity on this second tour.
Their 89-75 rout in Game 3 was a tribute to Jeremy Kendle, Jerome Randle, Daniel Kickert, Mitch McCarron - the list goes deep - and also to the coaching of Rob Beveridge who wouldn't allow his men's focus to get shanghaied.
Kendle didn't do his chances of a second season as an NBL import any harm, although Brisbane is now stacked at guard, including two Americans in Travis Trice and Stephen Holt.
Cairns Taipans are looking for an import PG and New Zealand probably also could use a player such as Kendle, who had a strong NZ-NBL season too.
No-one is quite sure what Taipans coach Aaron Fearne is thinking - including Aaron Fearne - but Mr Bernaise insists Kendle will have other opportunities in Europe and China.
* * *
THE tragic ankle injury to returning Opals star Abby Bishop (pictured) and knee injury to Alex Bunton has seen the duo replaced in the Opals team for the Asia Cup by Alice Kunek and Alanna Smith.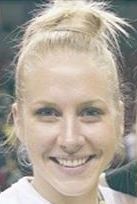 If Bishop has surgery, which should be known tomorrow, she could be out six-to-eight weeks, a blow for her and also her new club, MAC Adelaide Lightning.
The Opals depart for India on Monday which means Smith, a stand-out talent attending storied Stanford University - Andrew Vlahov was captain of the men's team there long ago - will not be heading to the World University Games for Australia.
She would have been a starter on that team, which assuredly will have its work cut out for it (unlike our teams currently competing in the FIBA Oceania Under-17 fiasco).
Smith won bronze with the Under-19 Gems in 2015 and is earmarked for greatness in the green-and-gold. What better place for a tune up than at the Asia Cup?
Meanwhile, any other Opals prospects with initials "AB" are asked to take particular care when training.
* * *
MR Hollandaise insists Jerome Randle did his chances of a CBA contract in China considerable good with his Game 3 exploits in the recent series.
With Adelaide 36ers moving on from the reigning MVP, his best chance for an NBL gig still appears to be Melbourne United, which retains Casper Ware as its first priority. Stay tuned.
* * *
FINALLY on the NBL-China series, great work on the FOX SPORTS and NBL.TV coverage by Matt McQuade and Steve Carfino, particularly on Game 3 where their comfort in working together was evident in the call.
They also didn't avoid the "elephant in the room" - the appalling hometown biased officiating - and their candour also made the broadcast genuine.
Nice prediction by Brendan Joyce too, late in the third quarter of Game 2 that he was confident the Aussies "would blow this out". They went down by 14.
For more great tips from BJ, or incisive gems such as "the fans are going nuts in this stadium" wait for the NBL season proper where Dr Worchestershire informs me he could be a Fox regular.
* * *
LOVING the work of NBL duo Tommy Greer and Liam Santamaria at the league website and on social media, living the dream and reporting from the NBA Summer League in Las Vegas.
There's been much to report too with so much NBL flavour competing.
Utah Jazz - home of Aussies Joe Ingles and Dante Exum - has an Adelaide 36ers feel, with coach Joey Wright on the coaching panel, and Mitch Creek and Nathan Sobey doing their best on the hardwood.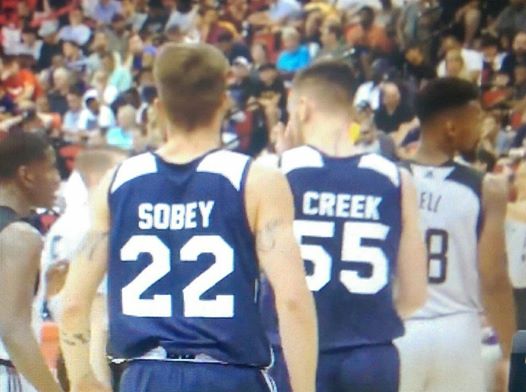 Travis Trice has been looking good, Casey Prather doing so well Perth appears unlikely to see him back for a third season, while Corey Webster was released by the Wildcats today, such is the burgeoning interest in the 3-time NBL champ.
Webster has done well with the Dallas Mavericks but also is getting some love from Europe.
Keep up with the latest at the NBL website. If you haven't seen any of Tommy or Liam's work, it definitely is worth checking out.
* * *
JONAH Bolden is making it increasingly difficult for the Philadelphia 76ers to stick with their original plan to send him back to Serbia for a further season of, um, seasoning, with the strong performances he has been recording at Summer League.
Sixers coach Brett Brown conceded Bolden was a far better prospect and considerably more NBA-ready than the franchise believed when it took him at No.36 in the draft. How this plays out should be interesting and full credit to Bolden for seizing the day.
* * *
BENDIGO Spirit have banked on Heather Oliver (pictured), coming off two of her best WNBL seasons yet, by signing her for 2017-18 and her seventh year with the club.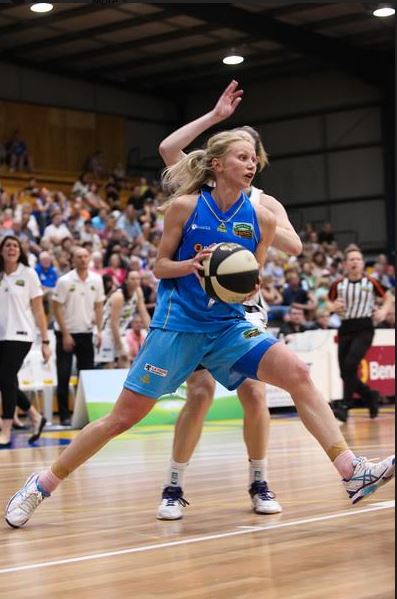 "Heather's work both on and off the court is outstanding," Spirit coach Simon Pritchard said.

"You don't have to remind her to dig deep and fight hard. That's in Heather's DNA.

"Between her work ethic and passion, and the flexibility she gives our team, she is a great asset."
Oliver, 29, said: "I love The Spirit, the fans, the club and the city, so to be asked to play again is a real honour.
"We were unbeatable at times last year and supporters will like what they see this season."
* * *
SYDNEY is hoping to lure star Aussie junior centre Isaac Humphries home for an NBL season with the Kings if his NBA and Euro ambitions fall short.
The club is looking for a "modern day centre" such as Humphries, having let Aleks Maric and Julian Khazzouh go.
(Maybe they should have persevered with Angus Brandt?)
Humphries, 19 and 213cm, spent two years at University of Kentucky before nominating for the draft this year but went undrafted.
* * *
POPULAR Perth media magnate Lachy Reid either is on to a bona fide "scoop" or simply teasing Wildcats fans by suggesting Bryce Cotton will return.
Given Cotton gave no indication in an interview with Tommy Greer, beyond saying he loved the Red Army fanbase - hell, who doesn't? - an NBA gig is by far the star guard's top priority.
But The Reidster is adamant the Wildcats will have Bryce wrapped in (red) cotton when NBL 2017-18 tips off, unless he does secure that elusive NBA contract.
If Lachy is right, B.O.T.I. will be approaching him to join our esteemed sauces, possibly replacing Ms Bechamel.
* * *
MORE Summer league news and it's clear Brisbane Bullets star import and former Cairns Taipan small forward Torrey Craig is making a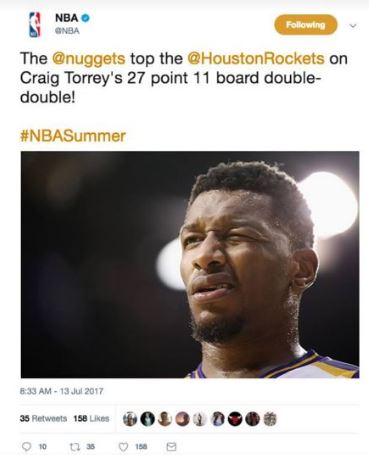 name for himself with his performances in Las Vegas.
Just not sure it's the right one if the NBA's Twitter account is anything to go by, as you can check out yourself.

So who's better? The Torrey Craig who scored 34 points with 11 rebounds for Brisbane Bullets in a 2016-17 NBL rout of Adelaide 36ers, or the Craig Torrey who had a 27-point, 11-rebound double-double for Denver Nuggets against Houston Rockets at Summer League in Las Vegas?
Judging by the picture @NBA decided to use, even Torrey isn't sure of the answer.
* * *
FIBA has to be kidding itself with the Under-17 Oceania Championship currently underway in Guam.
One of the competing nations, the Marshall Islands, has a population of 52,993, although that's currently closer to 52,963 with its teams competing in Guam. Put it this way. That's less than the population say, of Wagga Wagga.
How would Wagga's Under-17s fare against the Australian teams?

In the girls, our Sapphires beat Marshall Islands 166-3. I mean seriously, what is the point of this?

They whipped Tahiti 163-13 and were taken to the wire by Samoa, winning 111-27.
Our Under-17 boys thrashed New Caledonia 155-32 and Palau 168-32. If you thought Marshall Islands didn't have that many kids to select from, Palau's population comes in a shade under 22,000.

Samoa gave our guys a fright, Australia winning 142-34. Could this tournament be any more a waste of money and effort than it already is?

Surely play Oceania as a two-tier competition, with Australia and New Zealand already seeded into semi finals. I understand and fully support developing the region, but it has to be in stages and clearly so many of these little nations are no-where near ready enough yet.
* * *
COMING up next month, a big social event for Melbournites and any and all past Tigers: