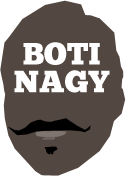 ---
Advertising opportunities available.
Please contact me.
---
Sources tell me... 8
Tweet
SOURCES TELL ME … 8 : Time for some light Saturday reading, when brunch and sauces of many varieties can be relied upon for their hot, hot goss. Or, you know, not.
LET'S tip off the weekend with the NBL's hands-on boss:
NBL CEO Jeremy Loeliger today told ABC News four additional NBA franchises are interested in matches against NBL clubs.
Loeliger was speaking about reactions to the NBL's Sydney Kings, Melbourne United and Brisbane Bullets in October travelling to the US for NBA preseason games against Utah Jazz, Oklahoma City Thunder and Phoenix Suns respectively.
"I can tell you since the announcement, I've had interest from at least four other NBA clubs who have said, we'd love to play an NBL team next year," Loeliger said.
"Of course those decisions are made by the NBA and not the clubs, but there is a huge amount of interest.
"I can tell you that plenty of them have an interest in playing a match here in Australia.
"That is a conversation to be had with the NBA. If it were to be organised exclusively with the teams, it would have happened by now."
Loeliger also predicted an NBA game in Australia could happen as soon as next year.
* * *
MOST national league teams hit official preseason on Monday, so just to bring you up to speed, these have been the more recent player signings and developments.
Champion Perth has added imports Derek Cooke Jr and Devondrick Walker for its title defence, the latter NOT Lucas Walker's brother, with superstar Bryce Cotton also returning but, obviously, Casey Prather and Jameel McKay now on to greener pastures.
In Adelaide, the 36ers have brought in Shannon Shorter and Ronald Roberts and should make a formal announcement about Ramone Moore within 48 hours. (But if you're a regular visitor here, you've known the former United off-guard has been Sixers-bound since April 4.)
Brisbane has reacted to losing Torrey Craig to an NBA/G-League two-way contract with Denver Nuggets by securing a similar style player, Perrin Buford, 198cm and 23.
He should fit nicely with Stephen Holt and Travis Trice.
Not to be outdone, Cairns has secured another potential star point guard with Dayshon "Scoochie" Smith, 187cm and 22.
Will he be another Trice, Scottie Wilbekin, Markel Starks or Jamar Wilson? Only time – or the NBL destination he plays at in the 2018-19 season – will tell.
* * *
IT scares me sometimes when I open a newspaper and turn to the sports pages.
Did it today only to find the following: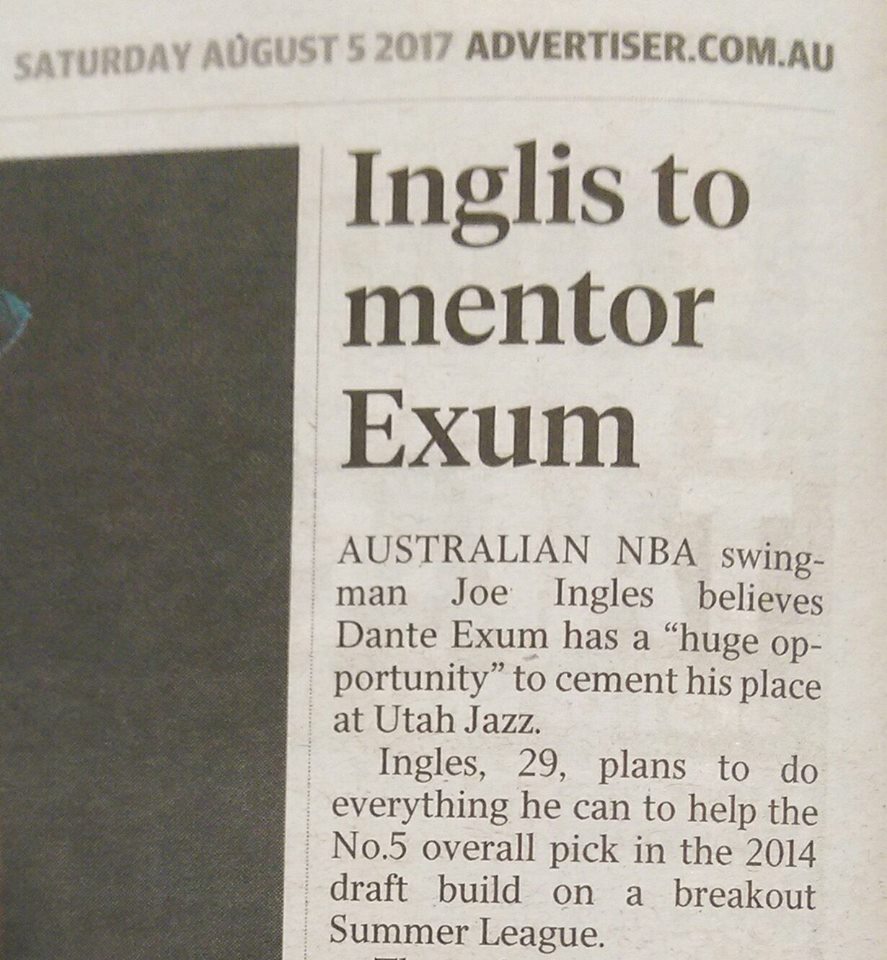 What makes this headline so especially foolish is the feature below in which Joe Ingles told the story in September last year of one of the reasons he never signed with his Adelaide home-based 36ers...

Basically, it tells the story of how the club misspelt his name on their proposed NBL contract.
In Joe's words after seeing today's headline: "Unreal. Must be an Adelaide thing."
Sigh...
* * *
SOME good news re Ingles, and fellow NBA Aussies Matthew Dellavedova (pictured) and Andrew Bogut.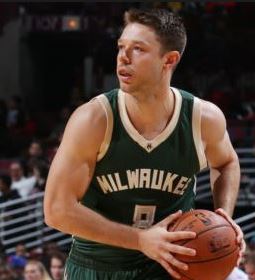 All three have said in the recent past they would love to end their careers in the NBL. (Ingles started his elite career in the NBL with South Dragons and, of course, Patty Mills already has played NBL with Melbourne Tigers.)
It's a decent endorsement of our league and I'm sure we'd all love to see it happen.
But a word of caution.
Chicago Bulls' triple-NBA championship starting centre Luc Longley also sincerely wanted to end his career with his beloved Perth Widlcats in the NBL but an ankle injury which eventually had to be fused put paid to that.
Those 82-game regular seasons - plus playoffs - and Boomers duties, do take their toll on the body. Still, it is positive news their intentions are to finish here.
* * *
RELIABLE sauce Ms Bechamel is gloating after nailing another WNBL prediction: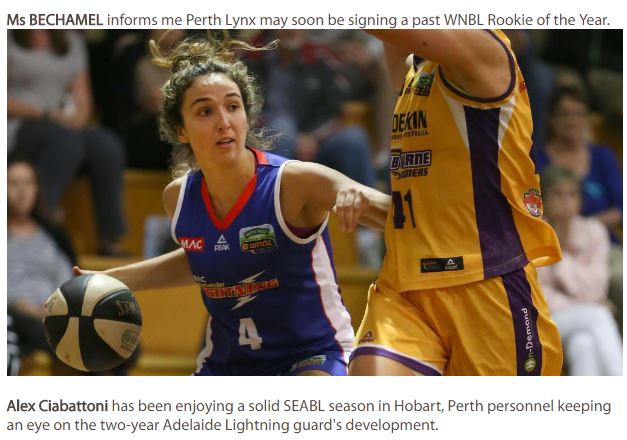 That was right here on July 26, and voila, this week?

Not content with that, Ms B also is taking credit for revealing on July 6 import Mistie Bass would soon be suiting with Canberra Capitals.
I think the evidence suggests otherwise!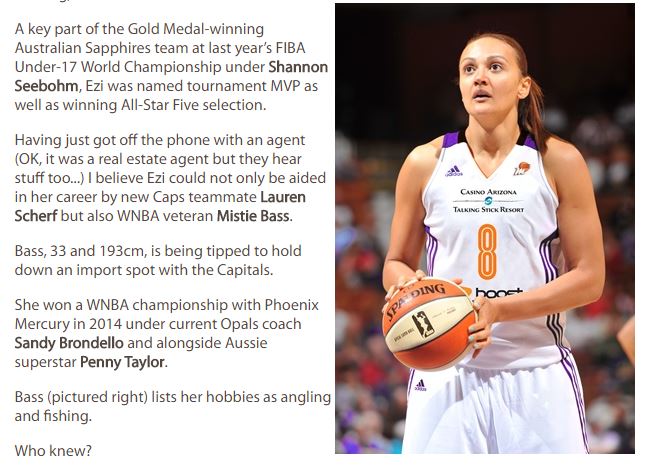 Well, apparently Ms Bechamel knew!
* * *
BACK to some other NBL moves and New Zealand Breakers have added import Edgar Sosa, 29 and 188cm to their 2017-18 roster.
Melbourne has added Adelaide junior Peter Hooley to its roster but the big signing was Sydney Kings securing Isaac Humphries.
Sydney-born Humphries pursued his college career at Kentucky after sending notice he was a star in waiting for Australia at the 2014 FIBA Under-17 World Championship in Dubai.
The 213cm, 19-year-old averaged 18.9ppg, 11.6rpg and 3.3bpg, steering Australia to the Gold Medal game.
Barring the unforeseen, Humphries is our early tip for 2017-18 NBL Rookie of the Year.
* * *
GOOD to see NBL stars Casper Ware (United) and Marvelle Harris (Hawks) in action for Challenge ALS at The Basketball Tournament on TV this week.
Would be great to see them back in the NBL in 2017-18.
* * *
DON'T forget, the Boomers' matches at the FIBA Asia Cup in Beirut from Tuesday will be live on FOX SPORTS.