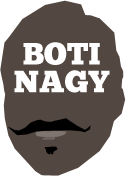 ---
Advertising opportunities available.
Please contact me.
---
Kings-Wildcats-Referees to decide NBL championship
Tweet
REGULAR season champion Sydney and defending champion Perth will fight out the NBL Championship as scripted, both winning Game 3 semi final deciders at home tonight against a mighty Melbourne and valiant Cairns respectively.
The top two teams throughout the 2019-20 season fittingly will determine its outcome and champion, with the best-of-five Grand Final Series tipping off on Sunday in Sydney.
But the best byproduct which may come out of the semi finals is league (and United) owner Larry Kestelman will have shared the frustrations of fans and foes alike at the officiating of the two matches which left so very much to be desired.
The perilous and parlous state of NBL umpiring was never more starkly exposed than in the manner our obviously best referees mishandled the two games, making them wars of attrition for both visiting teams.
Many suspected and predicted it would be like this, myself included, the officiating marring what otherwise were two of the most enthralling best-of-three semi final series in decades.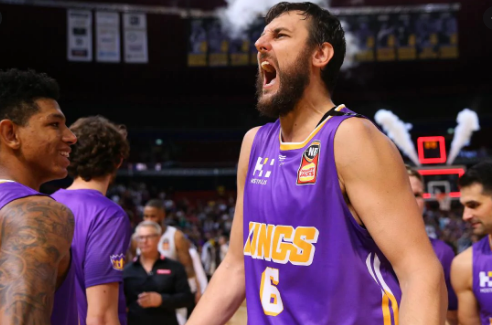 Only Kings and Wildcats fans will want that discussion cut short to focus on their clubs' achievements, and fair enough from their point of view.
But wow. After Chris Goulding opened up with two long bombs for United in Sydney, the manner in which Melbourne wracked up fouls had to be seen to be believed.
Yes, starting Brad Newley in place of Xavier Cooks - that was at Cooks' insistance, not a Will Weaver masterstroke - meant the Kings immediately would have a greater attack on the basket, exacerbated also by Newley's 3-point threat.
And when players are attacking the hoop, they will draw more fouls. It was Joey Wright's philosophy at Adelaide, Gold Coast and Brisbane for 500 NBL games and certainly paid dividends.
At 4:39 in the first, the foul count was six on United, one on Sydney and the quarter count had Melbourne with 11 fouls, Sydney gifted 15 free throws.
Please, let's not talk about "adjusting" etcetera. There was not a single game in the 2019-20 season where a team opened with 11 fouls in the first quarter. So let's not be ridiculous. The officiating was overly officious and appalling. And one-sided.
To ignore it is to ignore the biggest single influence in the contest's early going. Any player - try Stanton Kidd - who collects two early fouls is now playing differently to what he intended. And United had a swag of players on two fouls.
Yet Goulding's 14-point second period meant United still maintained the upper hand, ahead 50-45 at halftime. And that was despite Jo Lual Acuil blazing away an ill-conceived shot with nine seconds left on the clock and Sydney managing to score off that rookie rush of blood.
It was also despite Mitch McCarron receiving a foul for which Andrew Bogut already was taking ownership and the Kings shooting 21 first-half free throws. Goulding's 19 points were big and included five 3-pointers.
Melbourne also was assisted by Weaver's policy of subbing off players who did consecutive good things, as the NBL's 1990 Most Valuable Player, Derek Rucker, noted with a pointed in-game tweet:

By the way, when Rucker won his MVP, the man who presented him with it was the Prime Minister, Bob Hawke. Yes, the NBL has been huge before!
Anyway, what the first half wrought was United coach Dean Vickerman having to revise some of his planning to accommodate this turn of events.
It didn't get better, Shawn Long collecting his third foul on the second half's first play, Kidd with his fourth at the 8:00-minute mark.
And then, at 7:04, Long was hit with his fourth foul on a straightforward rebounding contest.
Honestly, as an analyst with no stake in the game and not an especially huge fan of United, it was difficult to watch with anything but growing consternation.
Casper Ware started to get rolling so immediately went to the bench but Sydney on a 10-0 run had the lead at 68-65.
Mitch McCarron struck a triple to tie it up, then blocked a Ware shot and probably was extremely fortunate not to receive a taunting technical. Guess the refs had to draw the line somewhere.
Shea Ili, continuing his grand form of this series, pulled Melbourne back into the lead but Cooks' tip tied it at 70-70.
Ili drove for 72-70 but Bogut, who had an eight-point first period, moved into double figures tying it again.
Threes by Ware and Didi Louzada looked to be getting the Kings clear but McCarron fashioned an amazing drive and bonus free throw. Melo Trimble's drive was assessed as goal-tended by Cooks and with 2:16 left, United led 85-84.
Kevin Lisch then hit the game's biggest bucket, a step-away 3-pointer. The fact he got open by shoving Trimble away was left uncalled and when Trimble drove and was seriously rejected by Jae'Sean Tate, Sydney had the momentum back. Tate's bucket for 89-85 was enormous but from there, Melbourne could only find a consolation basket at the bell.
Cooks running down Goulding on the break and forcing the ball out off United's captain was huge too.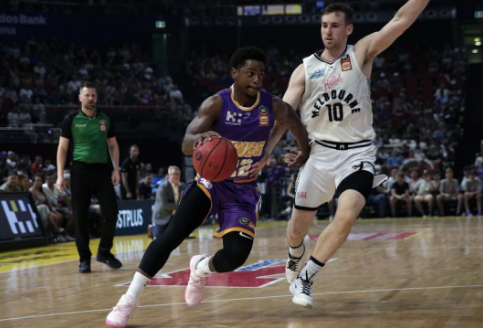 OUT west in Perth, Cairns started aggressively, racing 8-2 clear before Terrico White arrived for the playoffs with consecutive three balls.
White was on his way to a game-high 26 points and when he cooled off, Clint Steindl entered the fray and stroked 3-of-4 triples.
Cairns playmaker Scott Machado was in a different stratosphere in the first quarter, with 12 points and his assist to Fabijan Krslovic for a 3-pointer meant a late 24-22 lead. That was before Steindl beat the quarter-time clock with a triple for a Perth lead.
Disappearing after flubbing a spectacular open dunk attempt, Cam Oliver found his way back, but not until the second half, DJ Newbill also absent offensively but doing a superb defensive job on Bryce Cotton (five points on 2-of-16 shooting, nine assists).
Called for a phantom travelling violation, Mirko Djeric fired up, sticking four 3-pointers for the period before Nick Kay - who was a keyway colossus - enjoyed a three-point play for a 50-44 lead.
Majok Deng then aborted two free throws and Damian Martin ran in a floater to close the half with his Wildcats ahead by eight.
Scoreless to halftime, Oliver produced a 20-point second half but Cairns came no closer than five (47-52, 49-54, 81-86) and when Cotton fed Miles Plumlee for a slam, Perth was out 63-51.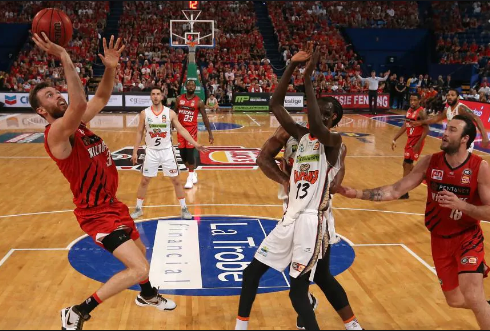 Kay (24 points at 64 per cent, 12 rebounds) dragged the lead to 69-54 with 5:11 left in the third. Jesse Wagstaff's triple blew it out further to 72-54 and the Taipans had to graft to claw it back to 66-76 with 10 minutes left.
Oliver and Machado helped drag the deficit back to 72-79 but a big blown Cairns fast break was vital. Kouat Noi on a two-on-one break, crazily tried to lob a ball for Newbill to dunk, only to see the pass picked off instead.
White pumped the buffer back to 10 at 84-74, Machado with his fourth foul and Perth soaring.
Oliver with a triple led another spirited rally which brought the Orange back to 81-86 before he was hit with his fourth foul.
White applied the last quarter white-out with 12 points and Perth was within three wins of going back-to-back.
NBL SEMI FINALS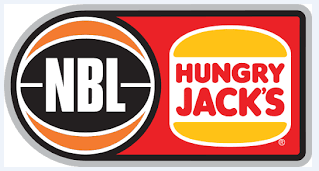 2 v 3:
PERTH WILDCATS v CAIRNS TAIPANS
Game 1: PERTH WILDCATS 108 (Cotton 42, Kay 23, Norton 12, Wagstaff 10; Kay 9 rebs; Kay, Cotton 6 assts) d CAIRNS TAIPANS 107 (Machado 31, Newbill 25, Oliver 19, Jawai 10; Oliver 18 rebs; Machado 9 assts) in overtime {93-93} at The Jungle, RAC Arena. Crowd: 10,858
Game 2: CAIRNS TAIPANS 85 (Oliver 22, Newbill 16, Machado 13, Jawai 12, Deng 11; Oliver 19 rebs; Machado 4 assts) d PERTH WILDCATS 74 (Steindl 18, White 13, Cotton 11, Kay 10; Kay 10 rebs; Kay 4 assts) at The Sssnakepit, Cairns Convention Centre. Crowd: 5,188
Game 3: PERTH WILDCATS 93 (White 26, Kay 24, Steindl 11, Norton 10; Kay 12 rebs; Cotton 8 assts) d CAIRNS TAIPANS 82 (Oliver 20, Machado 19, Djeric 12; Oliver 8 rebs; Machado 6 assts) at The Jungle, RAC Arena. Crowd: 10,215
Wildcats win series 2-1
1 v 4:
SYDNEY KINGS v MELBOURNE UNITED
Game 1: SYDNEY KINGS 86 (Tate 23, Newley 17, Cooks 13; Bogut 10 rebs; Ware 5 assts) d MELBOURNE UNITED 80 (Trimble 34, Long 23; Long 11 rebs; Trimble 5 assts) at The Kingdome, Qudos Bank Arena. Crowd: 13,103
Game 2: MELBOURNE UNITED 125 (Long 26, Trimble 21, Kidd 18, Acuil 17, Ili 14, Goulding 10; Long 11 rebs; McCarron 5 assts) d SYDNEY KINGS 80 (Tate 18, Walker, Ware, Louzada 10; Cooks 7 rebs; Louzada 2 assts) at The UN, Melbourne Arena. Crowd: 6,914
Game 3: SYDNEY KINGS 89 (Tate 20, Ware 15, Cooks 14, Bogut, Louzada 10; Cooks 9 rebs; Lisch 4 assts) d MELBOURNE UNITED 87 (Goulding 19, McCarron 18, Long, Trimble 17; Long 9 rebs; Ili 5 assts) at The Kingdome, Qudos Bank Arena. Crowd: 8,075
Kings win series 2-1
2019-20 GRAND FINAL SERIES (Best-of-5)
Game 1: Sunday, March 8 at Qudos Bank Arena, 5pm AEDT
Game 2: Friday, March 13 at RAC Arena, 6.30pm local/9:30pm AEDT
Game 3: Sunday, March 15 at Qudos Bank Arena, 5pm AEDT
Game 4 (If Req): Friday, March 20 at RAC Arena, 6.30pm local/9:30pm AEDT
Game 5 (If Req): Sunday, March 22 at Qudos Bank Arena, 5:00pm AEDT