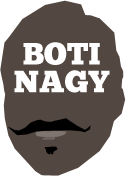 ---
Advertising opportunities available.
Please contact me.
---
United wraps it up in overtime
Tweet
NBL regular season champion Melbourne United tonight confirmed its place in the 2017-18 Grand Final Series when it delivered an 88-86 knock-out blow to New Zealand in overtime, sweeping their semi final.
A huge putback basket by the star of the match – Josh Boone – sealed the deal on the buzzer, ending a thrilling series which for much of the match, looked headed for a Game 3 decider in Melbourne.
But Boone, with 33 points on 14-of-19 shooting, 15 rebounds, two assists, two steals and two blocks, had other ideas, even after Thomas Abercrombie blocked his first attempt to pinch the match.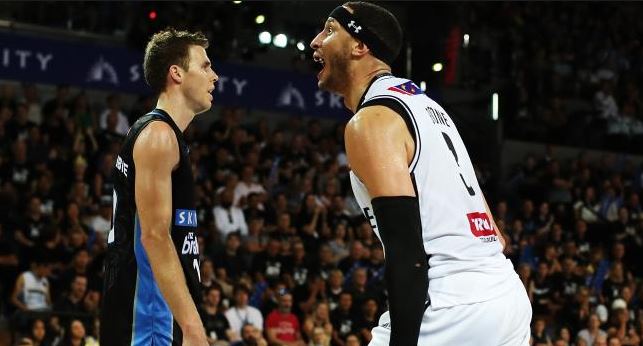 WE'VE WON IT! Josh Boone celebrates his game-winner. (Pic by Hannah Peters/Getty Images)
Where United's import playmaker Casper Ware did the damage in Game 1, this time it was Boone who was unstoppable at Auckland's Spark Arena.
"That's the beauty of our team," Boone said. "We have so many guys that can step up at any given time.
"You know, Chris (Goulding) was great coming out of turnouts for us, Casper did step up, even though he had a lot less points, he was still great.
"You know we had effort all over the place and we knew that was what this game was going to be about – was just stone cold effort."
That's exactly what it took after New Zealand quickly raced to an 8-0 lead before Boone broke the drought with an offensive rebound and bucket at 7:27.
Threes by DJ Newbill and Rob Loe blew the lead out to 16-4 as the Breakers pressed, harassed and defended doggedly, United unable to find a scoring avenue.
Melbourne made just four field goals in the first period, three by Boone and one – a layup – by Peter Hooley at 2:22. The rest of its 13-point first quarter was from the stripe as Edgar Sosa's 3-pointer gave the Breakers a 26-13 first break buffer.
But bouncing off the Breakers' biggest first quarter lead this season and Melbourne's greatest deficit, United got rolling, David Barlow sticking a triple and Chris Goulding drawing an offensive foul and technical out of Sosa.
Melbourne had it back to 24-28 before Alex Pledger produced two great minutes, with back-to-back dunks and a slow-motion spin move forcing a United time-out.
When Rakeem Christmas unwrapped a dunk of his own, the lead was back to 36-26, Boone again lifting to ensure Melbourne was down just 33-38 at halftime.
Mika Vukona showed he still had hops, blocking an early third quarter shot attempt by Boone, Abercrombie also rejecting the star Melbourne import.
Goulding's 3-pointer at 7:36 gave Melbourne its first lead at 42-41, though it quickly was erased by Newbill, who uncorked a 14-point personal period.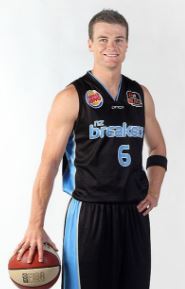 Playing in what would turn out to be his final NBL game, the legend that is Kirk Penney (left) iced a three for a late 63-55 lead before Ware beat the three quarter-time siren with a monster three, despite Christmas' hand in his face.
Casey Prather (12 points, 11 rebounds) stuck an early fourth quarter triple before Sosa was called for a foul for overly harassing Goulding, despite Goulding doing much the same at the other end to the ever-present-danger that is Penney.
Ware's drive pushed Melbourne in front 70-68 and it was up 72-69, Boone playing the pick-and-roll to perfection all evening.
Shea Ili made the most of a Ware ward off as the evergreen Penney put New Zealand up 73-72 at 1:44.
Boone's three-point play had Melbourne up again at 75-73, the drama intense as Penney, with 1:20 left, iced two free throws.
Ware was fouled as he restored Melbourne's lead 77-75, then he ran down the offensive rebound off his missed bonus free throw.
But with 47.5 left in regulation, New Zealand had the ball back and Penney was money as usual, sticking a lead-winning 3-point bomb with 32.9 left.
Fouled after Melbourne's timeout, Boone followed a free throw brick with a make and it was all locked at 78-78, and timeout Breakers.
Clearly, the plan should have been to go to Penney, but Sosa spent way too much time dribbling down the clock, Ware poked the ball away from him and when he retrieved it, New Zealand was forced into a rushed bit of flotsam as the game headed into overtime.
Goulding hit a jumper to start the scoring in the extra period, Boone blocking a shot attempt by Christmas, then scoring for 82-78.
Newbill missed a drive and Ware fed Boone for 84-78, and timeout Paul Henare.
Tai Wesley, who had not enjoyed the game, kept the lead at six after Rob Loe had thrown down a dunk.
Loe, the open beneficiary of the double-teaming United had to do on Penney, sank a 3-pointer in transition for 83-86, then a second triple to tie it at 86-86 with 22.2 seconds left.
With a foul to give, Newbill let Ware run the clock down, then tried to steal the ball, fouling in the process, 2.9 seconds left.
Now Melbourne was going to need something special and Boone delivered it, at first fumbling the pass receipt, recovering to see Abercrombie reject his shot, recovering again to pop in the match and series winner.
Post-game, Boone paid tribute to the Breakers.

"This is a great team, they're really well-coached and this is the way that we want it, we wanted it tough from here," he said.
He got it tough too, on a night Penney would bow out with 17 points at 67 per cent.
Playing without concussed tyro Finn Delany for this series, New Zealand departed with dignity, but Abercrombie's 0-of-9 from the floor left a key missing element from the Breakers offence.
New Zealand's haka send off for Penney – which coach Henare and Kiwi-born Melbourne forward Tohi Smith-Milner joined in (below) – was an emotional farewell to one of the NBL's and basketball's all-time great players and human beings.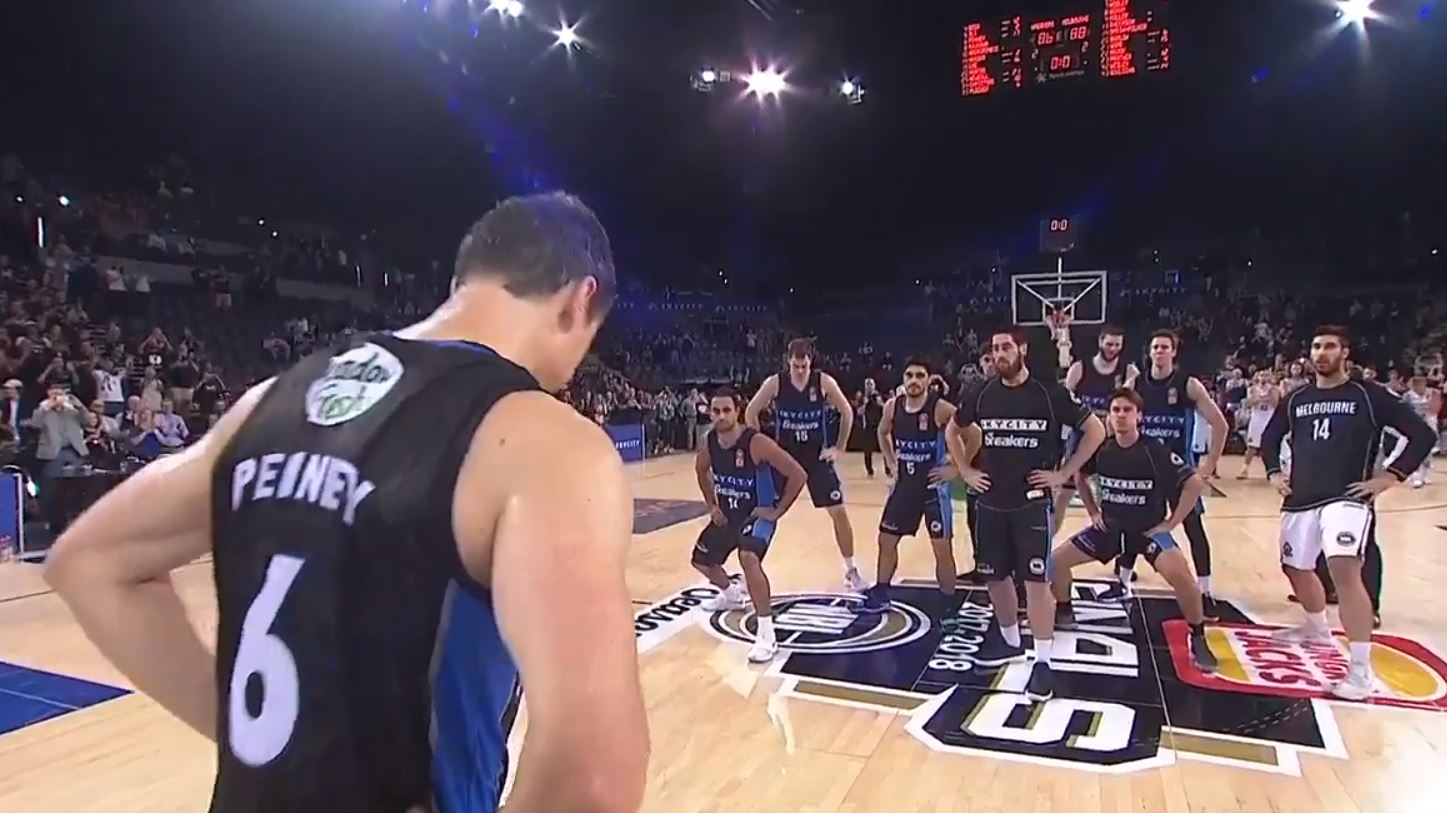 Melbourne stayed on court for it, Dean Vickerman's men showing class and appreciation for the service Penney gave the game.
But now it's time to wait for the Adelaide-Perth series winner ahead of the best-of-five NBL Grand Final Series.
MELBOURNE UNITED 88 (Boone 33, Ware 15, Goulding 14, Prather 12; Boone 15 rebs; Ware, Goulding 6 assts) d NEW ZEALAND BREAKERS 86 (Newbill 21, Penney 17, Loe 16, Sosa 12; Christmas 8 rebs; Abercrombie 5 assts) in overtime at Spark Arena. Melbourne wins best-of-3 semi final 2-0.