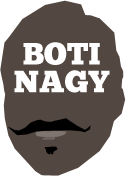 ---
Advertising opportunities available.
Please contact me.
---
V for Vendetta? Oh hell no...
Tweet
FOR every great thing the NBL does to progress its league, there's inevitably some idiocy not far behind, and sanctioning Adelaide 36ers coach Joey Wright for a "code of conduct" breach reeks of an orchestrated vendetta.
Now please, don't dismiss this as some hysterical Adelaide-driven over-reaction and conspiracy theory before reading the facts.
Then you can assess and dismiss it as some hysterical Adelaide over-reaction. Or consider the alternative.
Let's make no bones about it, Wright is a galvanising figure, passionate and forthright who has had his share of scrapes.
But to yesterday fine him $1,500 for a "code of conduct" breach and hover a one-game suspended sentence over his head for an email exchange initiated by NBL referees boss Scott Butler and which apparently occurred in June, again makes a mockery of any sense of fairness the league is trying to project.
For a start, read the wording of the sanction: "The NBL found Wright breached the league's Code of Conduct in an incident involving an official in June. The suspended sentence will remain in place until the end of the 2019/20 NBL Season.
"If Wright is found to breach the NBL Code of Conduct at any stage prior to the end of the 2019/20 NBL Season the one-game suspension will take immediate effect in addition to any new penalty imposed by the NBL."
When I read that yesterday – "an incident involving an official in June" – I immediately recalled former AFL coach Paul Roos getting into some hot water over something that occurred at a junior footy match.
"An incident" made me think maybe Joey had lost it at a junior game, or maybe at a Premier League match. Although, in all honesty, that wouldn't sound like the Joey Wright I know.
But that's not it at all folks.
It's an email exchange thang.
As far as I know, for at least the past season, Wright has made a point of having nothing to do with the referees or their boss, Butler. Wright didn't call him on Monday mornings after weekend games, or cut up tape to send him, or offer advice/bitch-and-moan, as coaches tend to do.
When early last season after a particularly heinous officiating performance, I asked if he would take it up with Butler, he told me then he was not communicating with the refs' boss about officials and did not intend to.
Fair enough.
So now we have this situation where I believe it was Butler who reached out to Wright, via email, for some feedback on the NBL officials.
As I said, Wright is passionate and forthright, but also articulate, so it is highly unlikely Butler appreciated his response.
And there you have it. An email exchange where someone seeks feedback, gets it, doesn't like it and Wright cops a "code of conduct" breach!
I'm sorry. Shouldn't a code of conduct breach be something that occurs in a public forum or in the public eye, not in a private email exchange?
And if it wasn't a private email exchange, then shouldn't the NBL allow us all to see exactly what was said?
In a league where we are all prepared to turn a blind eye to the conflicts of interest that are so incredibly blatant – and we all do that because we can also see all the good that is being done – this latest attack on Wright, in September, has a stench about it.
Is Wright still unhappy about how Game 3 of the Grand Finals unfolded? I don't know for sure but I'd suggest if you were coaching and at halftime you were told Nathan Sobey had been thrown out, you might have been a bit cranky.
Because not only was Sobey ejected, but the 36ers were not informed until Wright was issuing his final instructions to his team about a minute before they were returning to the court for the third quarter.
It's one thing to have a key player ejected, another to be left in the dark until the very last moment, throwing your plans into complete disarray as you're about to hit the hardwood.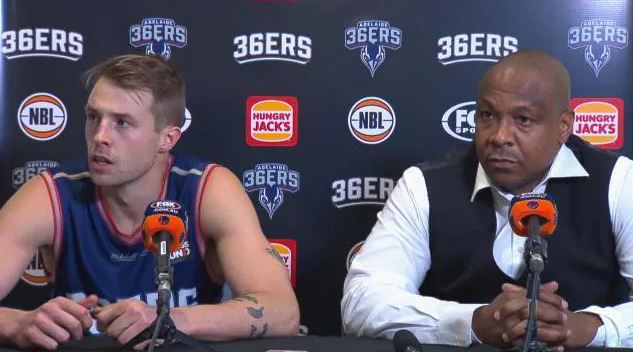 But yeah, just take that stuff on the chin and shut up. Which Wright did. And no-one liked that, either!
Sadly, a constant of the NBL's narrative is to portray Wright as an angry man who requires some form of administrative control.
No-one is going to talk about Wright post a home-game last season rushing to a bedside vigil next to legendary 36ers mentor Ken Cole after the Hall of Famer collapsed mid-match and had to be ambulanced to hospital.
No-one talks about the hours of his not-so-spare time spent coaching children or, for that matter, any player who approaches him.
That stuff doesn't play as well as dragging out five-year-old footage of his scrap in Perth to "promote" the 2017-18 semi final.
To fine and threaten Wright for an email exchange because he allegedly breached the "code of conduct" strongly suggests the league should give us ALL the details.
Otherwise it's just more evidence of another attempt to make Wright wrong, and keep him walkiing on ice for another two seasons. Who benefits from that?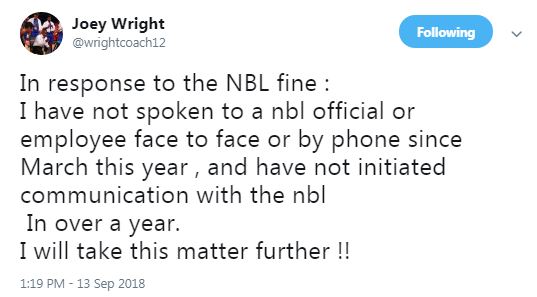 WRIGHT ON TWITTER TODAY: Hopefully he's taking up the fight legally.