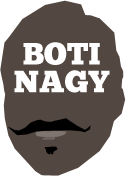 ---
Advertising opportunities available.
Please contact me.
---
WC: Hey FIBA. Remember Toronto?
Tweet
TIRING of reading "Australia has reached the FIBA World Cup quarter finals for the first time in almost 40 years" - as inaccurate a line as you can find in this year's coverage - investigations reveal it is a factual error being perpetrated by ... ? Yes. FIBA.
Having seen the inaccuracy repeatedly in News Corp coverage and now AAP coverage, referring to Australia's 1982 fifth placing in Bogota, Colombia, turns out it's not the reporters' faults at all.
FIBA's official guide is where they found that solid brown nugget. Yes, it's a forehead-smacking moment when the sport's official global governing body cannot get its facts right.
Australia's team at the 1994 FIBA World Championship in Toronto, Canada - home of the NBA champion Raptors - made it through to the quarter finals (or their tournament equivalent) and, again, finished fifth.
Here's a few quick notes for FIBA's benefit.
Some Boomers bloke named Andrew Gaze scored 191 points at that tournament to finish first in scoring. By averaging 23.9 points per game, he also led the tournament in scoring averages. Just for good measure, he had a 34-point game in the Boomers' 94-81 win over Puerto Rico, 31 in the 87-85 escape against Korea, and 30 in a key 93-87 intragroup win over Cuba.
Gaze's mates on that Australian team were Ray Borner, Mark Bradtke, Shane Heal, Greg Hubbard, Damian Keogh, Mike McKay, Paul Rees, Pat Reidy, Tony Ronaldson, Phil Smyth, Andrew Vlahov. It was coached by Barry Barnes who was assisted by Robbie Cadee and David Claxton. They may now be gone, but they're NOT forgotten.
(Just for further good measure, Bill Mildenhall was Australia's referee at the tournament.)
After beating Korea and Cuba, the Boomers suffered a 69-83 setback to eventual Bronze Medallist Croatia, then, after trailing 48-62 at halftime to the USA - "Dream Team II" and their only World Cup side with that title, following the Barcelona Olympics' originals - succumbed 74-130.
Silver Medallist Russia handed out a 103-76 beating before the Boomers regrouped to beat Puerto Rico, China 95-57, then Puerto Rico again 96-83 in the positional playoff for 5th and 6th.
Gaze had 26 in that one but it was Vlahov who stood tallest, his game-high 28 points at 58 percent, with nine rebounds, two assists and a steal.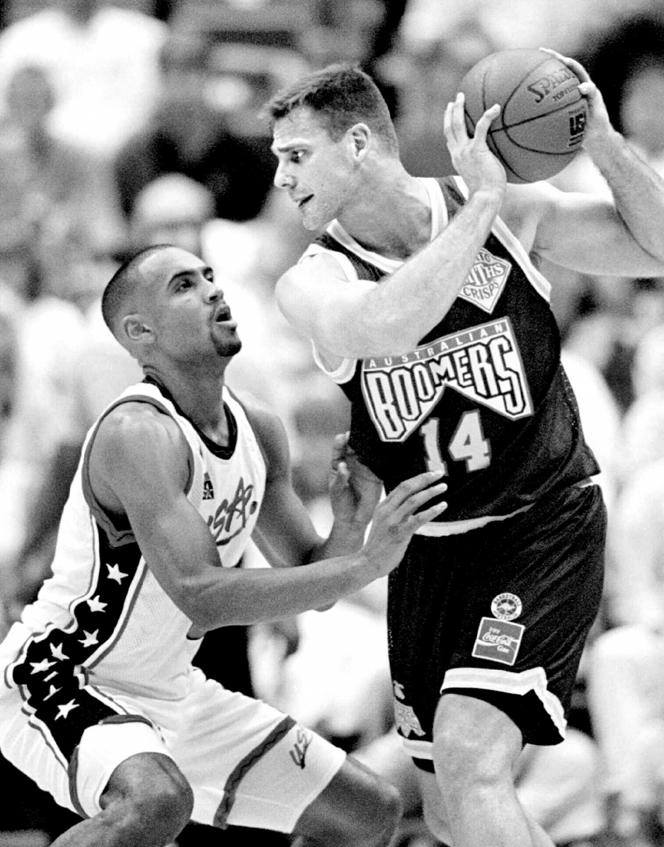 NO THRU ROAD: Dream Team II's Steve Smith, giving Andrew Vlahov no-where to go in 1994. (Then again, it also could be Grant Hill from the 1996 exhibition game ahead of the Atlanta Olympics.)
And Australia finished fifth for the second time in its World Championship/Cup history, following achieving that high watermark previously in 1982. Boomers forward, the late, great Ian Davies averaged 23.4 points at that 1982 tournament in Bogota, Colombia, apparently, the only time FIBA recalls Australia just missing the semi finals.
* * *
CREDIT where credit is due for the FIBA World Cup organisers in China.
After yesterday copping a justified spray at the post-game press conference from Lithuanian coach Dainius Adomaitis regarding the officiating in their huge 75-78 loss to France, FIBA came up with this: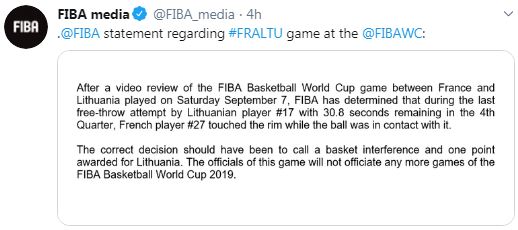 So there's some cold comfort for Lithuania as it now looks for the alternative ways to qualify for the Tokyo Olympic Games next year.
* * *
OUR NBL has a big presence in the Boomers team lining up tonight against France but it also played an important role in our preparation back in 1994 - a quarter of a century ago when Australia last made it through to those 5th-to-8th playoffs. (Not to labour the point...)
The Boomers played, and beat, the the NBL All Stars 133-101 in Sydney, with Ronaldson scoring a game-high 24 points, Reidy 16, Gaze with 14, Bradtke and Borner 12 apiece, Smyth 11 and Vlahov 10, McKay, Rees, Keogh and Hubbard all on eight points, Heal two.
The All stars were coached by none other than future Boomers coach and current Philadelphia 76ers mentor Brett Brown and started Butch Hays and Leroy Loggins at guard, with a frontcourt of Leon Trimmingham, Mark Davis, Scott Fisher.
Off the bench came Derek Rucker, Lanard Copeland, Mario Donaldson, Terry Dozier and Melvin Thomas. Copeland and Trimmingham scored 19 each, Loggins 11.
The biggest differences? The Boomers had 31 assists. The NBL All Stars had 11. The Aussies grabbed 61 rebounds, the Americans 35.
And SBS provided daily television coverage! So good to have the network back!