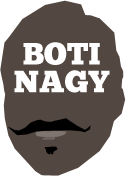 ---
Advertising opportunities available.
Please contact me.
---
Creek airborne to fulfil his destiny
Tweet
NBL clubs really can offer only two huge incentives for their players - the chance to be part of a championship or the opportunity to fulfill their dreams.
For some, that dream might be to reach NBL level. For others, to represent their country. And for some of them, that dream may be to one day wear an NBA jersey.
Mitch Creek, now a Boomers regular but once an angular, wide-eyed teenager from Horsham in country Victoria, arriving in Adelaide to take his first tentative NBL steps, literally is on that journey as you read.
He publicly has maintained his dignity in the face of the 36ers' unprecedented move to seek financial compensation from the Brooklyn Nets, Creek's NBA destination.
It came as such a shock, it rocked the 196cm swingman to his socks and his legion of Adelaide fans were justifiably furious at what appeared a sad and almost desperate money grab by the club he'd served so well over an eight-year span.
He took the 36ers twice to Grand Finals during his emergence from an 18-year-old kid to a 26-year-old Boomers' starter, captained his club to a regular season championship and closed the book on his career by winning Adelaide's Most Valuable Player award.
Sure, he had a few off-court missteps but nothing unforgivable, Sixers fans loving him as he has grown up in front of their eyes becoming unquestionably the face of the Adelaide 36ers.
It's a role previously filled by icons such as Mark Davis, Brett Maher and Adam Ballinger so it was no huge surprise season ticket sales dipped when he first revealed he would not don the 36ers' blue in 2018-19.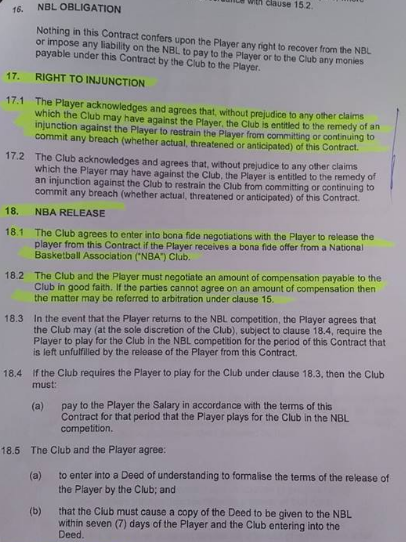 The 36ers' decision to seek compensation was, as can be seen by the NBL contract (right), perfectly within the club's rights to pursue.
It's just that to withdraw from discussions, invoke a court injunction – again, entirely legal, just unprecedented, somewhat like Trevor Chappell's underarm bowl in 1981, for those with long memories – was not how fans want their club to behave.
And the biggest mistake – by far the BIGGEST – a club can make is to ignore or disregard its fans.
The second big mistake clubs can make – which ties into the other one – is to believe whoever is bankrolling the organisation at any given point is "the owner".
"Owners" don't actually OWN the club. Fans do.
No fans = no club.
No owner = find a new one.
Don't misunderstand. Owners are essential, vital and the decision-makers at any given time. But they are the custodians of a club. The custodian.
Since Mal Hemmerling "owned" the 36ers, the SOS consortium has owned the 36ers, Daryl Simmons has owned the club, even Titanium Security Arena owned the club.
And through all those ownership changes, what remains the constant?
The fans.
That was the miscalculation 36ers management made by invoking a court injunction against a favourite son.
No fan would necessarily be against the 36ers leading the way in seeking compensation for losing their most key player.
But by not sitting down around a table and sorting it without having to resort to such an extreme, it left a bad taste in many fans' mouths.
Legal? Yes. To the letter.
The court of public opinion?
That jury was back in very quickly.
Revamping the 36ers' front office has been a positive step and coach Joey Wright again has presided over the assembly of a lineup fans no doubt will embrace and support.
The perception though that the Sixers were prepared – even if they weren't – to keep Creek from fulfilling his dream did not sit well with the club's true owners.
Time heals all wounds. They will forgive and support.
But to imagine this has not harmed the brand interstate and among free agents of the future, is to simply not get what it is that NBL clubs provide.
And that is dreams.