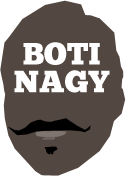 ---
Advertising opportunities available.
Please contact me.
---
Finals for Taipans? Try 'championship contenders'
Tweet
CAIRNS tonight not only weathered the best Adelaide had to offer but put on a fun show at the Adelaide Entertainment Centre, leaving no doubt it not only utterly deserves its spot in the playoffs, but it is a major NBL championship contender.
Undersized import centre Cam Oliver was unstoppable, finishing with a career-best 31 points on 13-of-21 shooting, adding 11 rebounds, three assists a steal and two blocks in a fine night's work.
DJ Newbill again played the all-round game, 17 points at 50 per cent, four assists, three steals and some stellar defensive work on Jerome Randle, the little 36ers wizard with nine points on 4-of-11 shooting and five turnovers, four in a wayward first half.
Daniel Johnson led the Sixers' scoring with a paltry 14 points, gathered at 33 per cent, Jack McVeigh and Harry Froling's late attempts at coming to the team's rescue not nearly enough against a crack Cairns outfit comfortable with its identity and selfless to a fault.
Some of the ball movement by the Orangemen was exemplary, not least of which when the ball sped to Mirko Djeric, on to Majok Deng and on to Oliver for a sizzling twisting dunk, the now patented "Oliver Twist."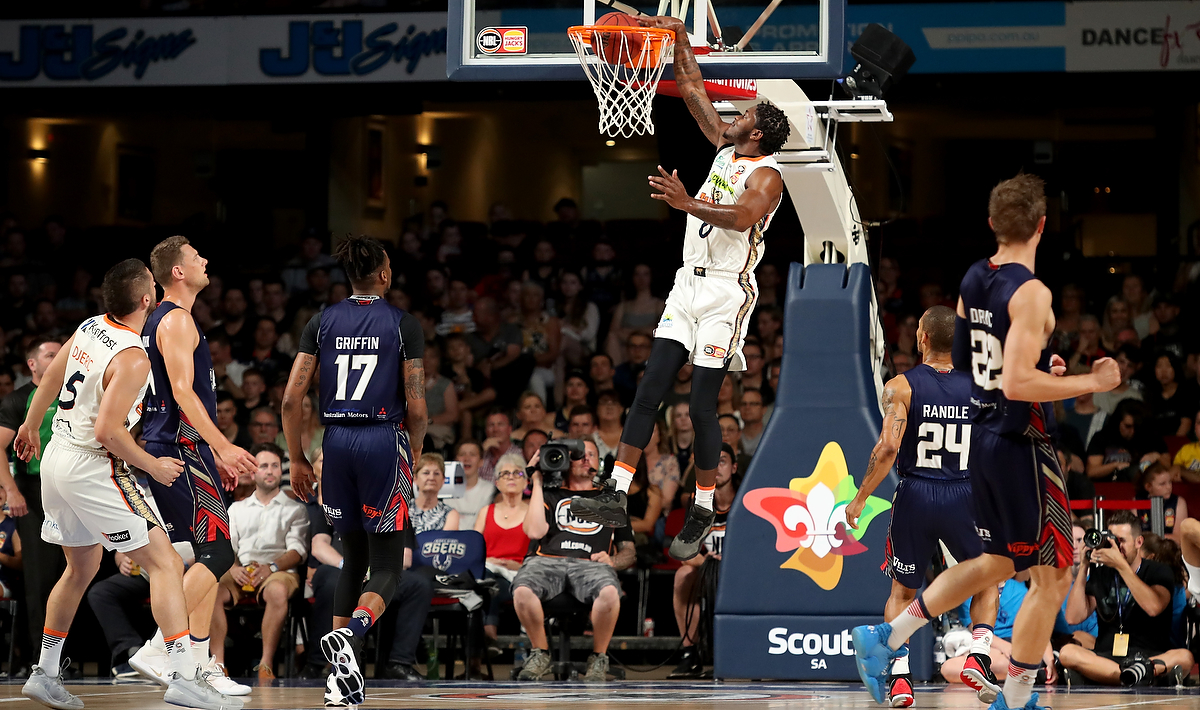 Please sir, can we have more of that!
Taipans coach Mike Kelly had the luxury of resting star playmaker Scott Machado (12 points, seven rebounds, six assists, two steals), role players such as Fabijan Krslovic chiming in with important numbers such as seven rebounds, an assist, four blocks and five points.
Adelaide was a team in pursuit from the start when first Newbill, then Deng, followed by Machado with a three-point play had Cairns leading 7-0 within the opening two minutes.
Eric Griffin's entry energised the Sixers' offence - he had seven of his 11 points in the first period - and dragged them back level at 10-10. Jarrod Kenny, Nate Jawai and Machado then conspired to rebuild the lead to 21-12 for the Taipans.
From 13-12 ahead, Cairns enjoyed a 12-1 burst for a 25-13 lead and only a couple of nifty late plays by gunslinger Dan Dillon allowed the 36ers to only trail 20-27 at the first break.
Kevin White's 3-pointer opened the second quarter scoring as Adelaide drew within four points, then to a basket on Johnson's runner at 32-34.
Oliver, Newbill, Oliver again quickly bumped the buffer back to 40-32 before McVeigh connected on the first of his three triples for the evening.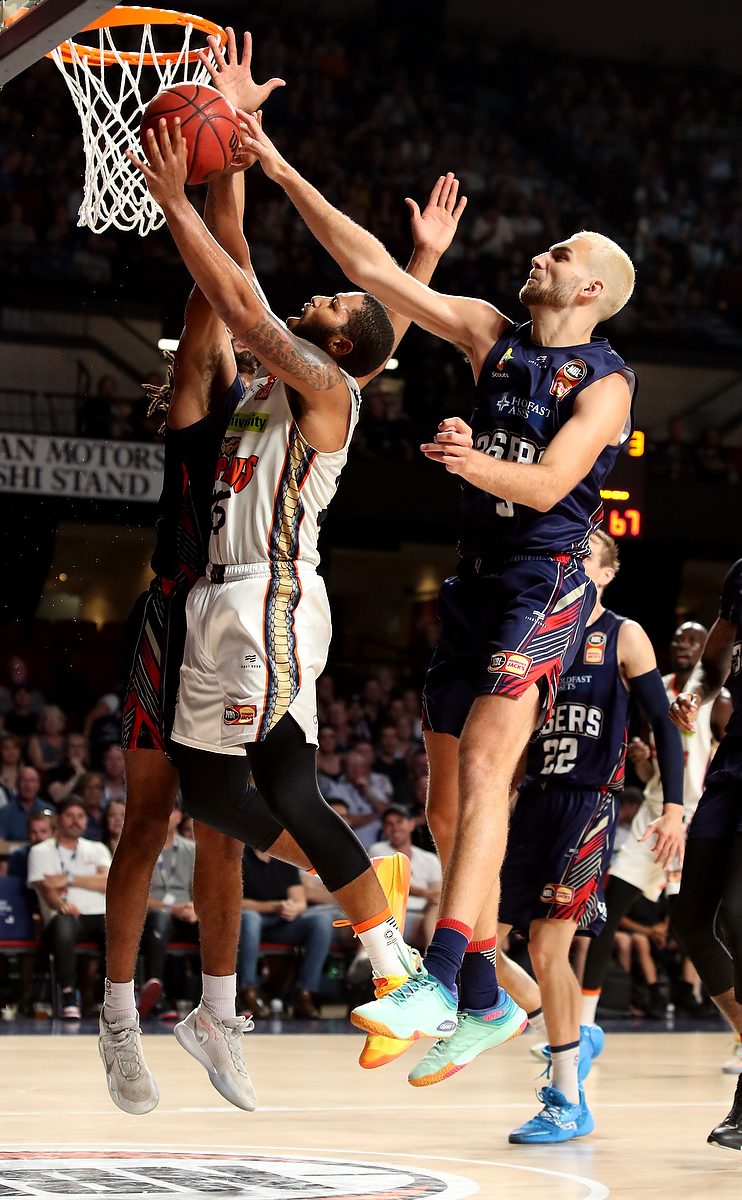 But Cairns just stepped up its pressure and with Newbill particularly active, pulled its lead out as far as 53-40 on his 3-point make.
Randle strung together five points but by the interval, Cairns had a 57-45 lead on top of a 30-point period.
When the Taipans scored the first six points of the third, including Oliver's wicked spinning dunk, the lead was 18 and there was little in the 36ers' energy or effort levels to suggest any imminent fightback.
The Orange were just having too much fun, ahead 74-55 before the Sixers cobbled together the last six points of the third.
Consecutive threes by McVeigh first cut the 61-74 deficit to 10, then nine at 67-76.
Oliver's three-point play flicked Cairns back to 79-67 before Froling stuck a threeball for 70-79.
But any hint of a sniff was snuffed by Djeric's corner three off a slick Machado pass, Adelaide's last hurrah at 72-82 before Krslovic's 3-pointer triggered an 11-0 Taipans flight plan, Adelaide grounded from there to the merciful siren.
CAIRNS TAIPANS 99 (Oliver 31, Newbill 17, Deng, Machado 12; Oliver 11 rebs; Machado 6 assts) d ADELAIDE 36ERS 80 (Johnson 14, McVeigh 13, Griffin 11; Griffin 9 rebs; Johnson, Randle 5 assts) at Adelaide Entertainment Centre. Crowd: 7,933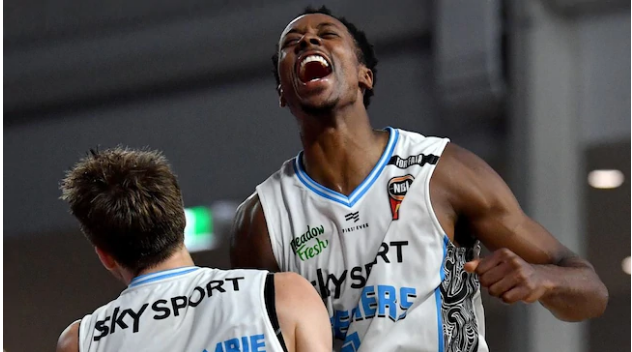 IN Brisbane, the match that could have ended the season for New Zealand instead turned into another triumph as the Breakers moved their win-loss record to 14-13 with a thrilling 91-87 win.
Scott Hopson was exceptional, leading NZ to victory with an NBL career-high 31 points at 50 per cent, plus seven rebounds, four assists and two steals.
He had the better of Bullets' All Star Lamar Patterson and with Matt Hodgson fouling out with seven points, Cam Gliddon pointless and Will Magnay scoring three, Brisbane needed someone to step up. Fortunately, Nathan Sobey obliged with 30 points.
Trailing 81-85, the Breakers peeled off an 8-0 run which included consecutive tap-ins by Brandon Ashley before Brisbane scored for 87-89.
On the game's biggest play, Finn Delany (15-point, 11-rebound double-double) was under the hoop to deliver the match-winner, Brisbane likely now needing to beat both Perth tomorrow and Cairns in the last round to get to the post-season.
NEW ZEALAND BREAKERS 91 (Hopson 31, Delany, Henry 15, Abercrombie 11, Ashley 10; Delany 11 rebs; Henry 5 assts) d BRISBANE BULLETS 87 (Sobey 30, Patterson 18, Cadee 14; Magnay 11 rebs; Sobey 3 assts) at The Armoury, Nissan Arena. Crowd: 3,948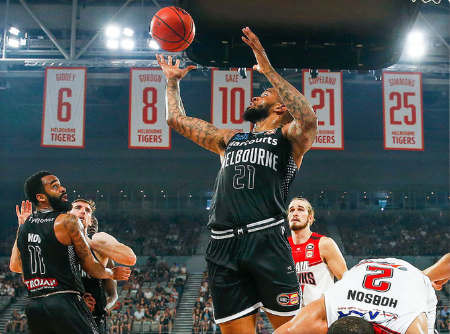 IN Melbourne, a full house watched as United buried Illawarra 95-72 to give their percentage a much-needed boost.
It brought Melbourne's record up to 13-13 so it still has the faint sniff of the finals, Cairns and South East Melbourne last on its schedule.
United won every quarter as Illawarra's shot selection and body language faltered the longer the match progressed until whatever the Hawks were trying to run was lost in a flail of wasted easy baskets and ill-conceived jacks.
Melbourne could have put its foot on the Hawks' throat far more aggressively, especially after Chris Goulding nailed consecutive last quarter 3-pointers over AJ Ogilvy to bump the buffer to 26.
But it was not to be as Illawarra limped to its 22nd loss of a very dismal season.
MELBOURNE UNITED 95 (Goulding 20, Trimble, Long 13, McCarron, Barlow 11, Smith-Milner 10; Kidd 10 rebs; Goulding 4 assts) d ILLAWARRA HAWKS 72 (Ogilvy 15, Blanchfield 12, Boone 10; Hobson 7 rebs; Ogilvy 7 assts) at The UN, Hisense Arena. Crowd: 10,300