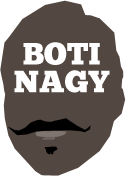 ---
Advertising opportunities available.
Please contact me.
---
Wright on for a best-of-five
Tweet
ADELAIDE 36ers coach Joey Wright goes into the NBL's best-of-five Grand Final Series against Melbourne United with the slightest of edges, having already won a championship under this gruelling playoff system.
The first club to win any sort of "best-of" series for the championship was the 36ers of 1986 when the league introduced its best-of-three format.
In 1985 when Brisbane won its first championship, it still was with the one-and-done format inaugurated in 1979.
From 1986 to 2003, the NBL championship series remained a best-of-three Grand Final but in 2004, the NBL first explored going to a best-of-five format.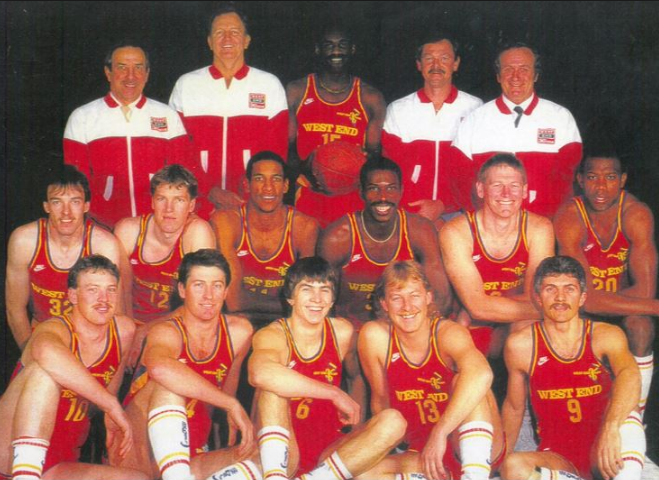 SIXERS' 86 CHAMPS: Adelaide was the first team to win a "best-of" Grand Final Series.
Sydney Kings beat crosstown rivals West Sydney Razorbacks 3-2 in 2004 in what still may be the greatest Grand Final Series of that format. Or of any.
The Kings swept the Hawks 3-0 in 2005 and Melbourne swept Sydney 3-0 in 2006, before Wright in 2007 coached Brisbane Bullets to the championship, beating Melbourne 3-1.
The Tigers beat the Kings 3-2 in another epic best-of-five Final in 2008 before it was South Dragons beating Melbourne 3-2 in a memorable Victorian derby showdown for the 2009 crown.
Under Basketball Australia's stewardship from 2009-10, the NBL reverted back to 40-minute games and to a best-of-three Grand Final Series, and it stayed that way for seven seasons.
Last year, in Larry Kestelman's second at the helm of the competition, the NBL switched back again to the best-of-five Grand Final Series, although it still only went three games, Perth sweeping Illawarra 3-0.
"I don't think it necessarily gives me an advantage," Wright said today about having already won a best-of-five championship series.
"But a five-game series is definitely different strategically to a three-game series."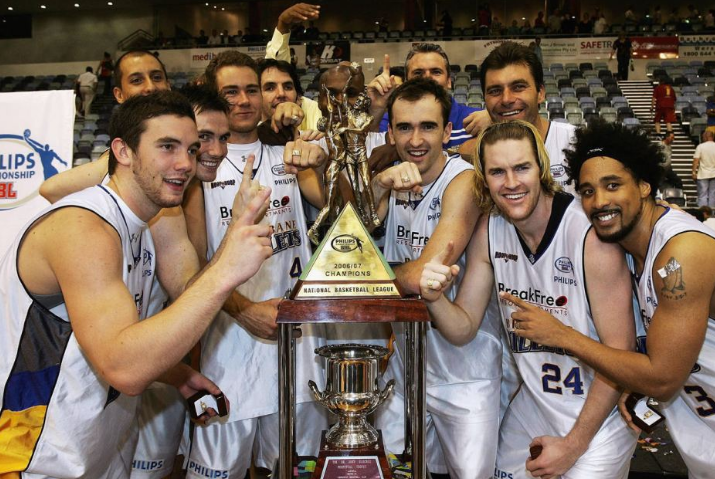 RIGHT ON: Joey Wright's winning Bullets in 2007, the coach somewhere behind the trophy.
The key, apparently, is to win Game 1.
Since 1986, Game 1 Grand Final winners have gone 28-4 in best-of series - an 88 percent success rate.
In best-of-three GFs, the Game 1 winner is 21-3, also 88 percent. In the seven best-of-five GFs from 2004-09 and again last year, Game 1 winners are 6-1, or 86 percent more likely to win that championship.
If you also want to factor in 1979-85 when it was one-and-done (so only one game, for those not paying close attention at home) the success rate swells to 35-4 from 39 seasons.
In the NBL's 40th season, Game 1s are obviously huge so Friday night at Hisense Arena deserves its packed house as United hosts the 36ers.
The biggest recruit of the year in the NBL was Dean Vickerman as coach of United. Having coached New Zealand Breakers to their last championship in 2015, the 2018 league Coach of the Year is no stranger to success and has instituted the culture which was missing from Melbourne's previous star-studded program.
"My thoughts on it?" Vickerman asked of his grand final week preparations.
"Do what you've done well throughout the year, make some little tweaks here and there, stay really consistent, enjoy it, get people as confident as you can rolling in to Game 1.
"And what will be, will be."
Que sera, sera.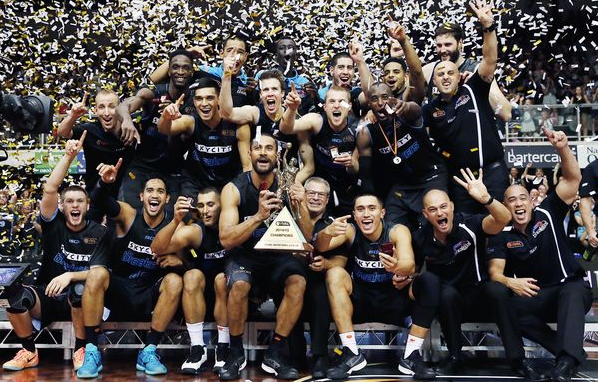 WON IT BEFORE: Dean Vickerman, with Mika Vukona on his knee, celebrates his 2015 title.
Having already enjoyed a packed attendance at yesterday's open training session, Melbourne will view Adelaide's attendance tomorrow - the 36ers' session is open from 10am to midday - with interest.
Asked if his team had the ingredients required for a championship, Wright was succinct.
"We've got everything covered," he said.
"We've got on-court stuff covered, we've got off-court stuff covered so we definitely have the ingredients to win.
"We can attack you inside and outside, we play good D. Yeah, we have all the qualities but Melbourne does too so, we'll see."
Game 1 cannot come soon enough, or be more pivotal.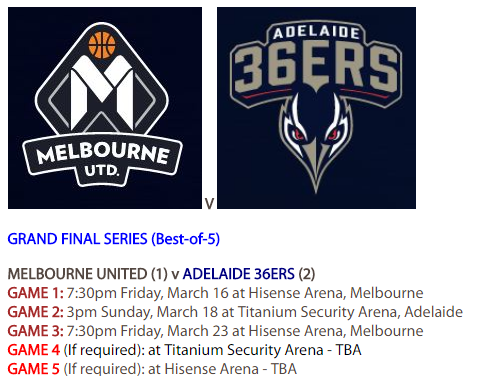 JUST FYI
The four teams to lose Game 1 of a Grand Final series but still win the championship are: South East Melbourne Magic in 1992, Perth Wildcats in 1995, South East Melbourne Magic again in 1996 - those were all in best-of-threes - and Melbourne Tigers in 2008 (below) in a best-of-five.