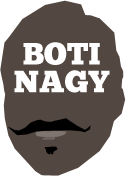 ---
Advertising opportunities available.
Please contact me.
---
Yeah, no kidding - Finale
Tweet
THE television coverage of the Swisse Finals on NBL-TV and therefore Fox Sports was some of their best work of the season, with the graphics, intros, insights, retrospectives and some honest commentary.
Of course, they also screwed up a bunch of times, but hey, that's to be expected.
Here's what they got right.
The intros, the graphics, the visits to changerooms at halftime to see coaches' addresses, the flashbacks and bringing in players such as Chris Goulding and Mark Worthington onto commentary teams as soon as it was possible.
Excellent.
But then, there's always Steve…
With Matt Russell, Cam Tragardh, Shane Heal and The Carf calling the Cairns-Perth semi opener, he regaled us with this gem: "Shane, I guess I'll use the pun as well, you hit the hammer on the head …"
Say what? That's a pun? WTF does it even mean? You usually use a hammer to "hit a nail" on the head, don't you? Baffling indeed Stefano, but what we've come to expect I guess.
Let's skip to Adelaide-Illawarra Game 2 in Wollongong where Heal calls a spade a spade with the controversial "missed" USF call as AJ Ogilvy grabs Eric Jacobsen by the leg.
Goulding asked great questions during the Perth-Cairns Game 2 clash at The Jungle and eased comfortably into the role behind the microphone. No BS either. Like Wortho, he has a post-playing career future in the media too, if he wants it.
Tommy Greer continued his growth during the year, steadily dropping some of his "big time" type calling affectations and focusing on what he does best – analysis, assessment, then a succinct explanation so even us drones out here can "get it".
Same for James Harvey who probably was the most improved caller on the year, from Day One through to Day Done. Although I confess I also enjoyed Cam Tragardh, who, emails tell me, isn't everyone's cup of tea. (But eh, I like a laugh now and then and both he and the inactive Casey Frank give me that.)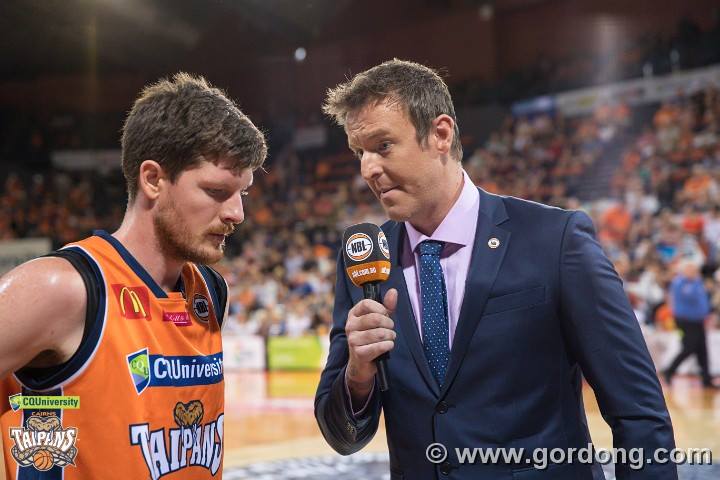 OK, THIS IS CAM-CAM OVERLOAD: Cam Tragardh interviews Cam Gliddon.
But seriously NBL-TV/Fox Sports. Wortho's Taipans have just been eliminated by Perth, meaning the end of his illustrious career. Virtually every one of the Wildcats' main men have hugged him and shown him the respect his career deserves.
In the post-game scenes, the fans in Perth have started the "Wortho, Wortho" chants – extraordinary for an opposition player those same fans loved to hate. So Worthington is given the mike to address the crowd and … cut to Abbey Gelmi interviewing Casey Prather!
Are you serious?
Even Casey is trying to hear what Wortho is saying, just metres away in the background – as are most of the telecast's viewers.
The director who cut to the interview should be sat down somewhere and told: "When you have the chance to catch a rare and classic, even historic moment – DO IT! Don't cut to a superfluous puff interview you can do in three minutes' time anyway! Oh. My. God."
So as Casey comments on Worthington's great career and rushes over to join the guard of honour both the Wildcats and Taipans personnel have formed to see Wortho off the floor for the final time, we get to cut back to see him finish his thank yous and hand back the microphone.
Top effort NBL-TV … NOT!!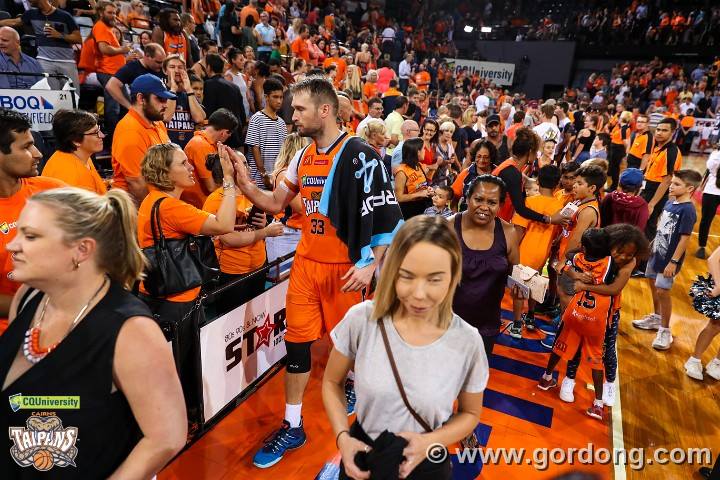 GOODBYE WORTHO: Mark Worthington's Cairns farewell. Pity NBL-TV/FOX blew it in Perth.
Game 3 of the Adelaide-Illawarra semi gives us live footage in the rooms as well as flashback material. Brilliant.
So too the team of John Casey, Tommy Greer and James Harvey, at this point my favourite finals combination.
Of course, with Worthington joining the team in Perth for the Grand Final, interest again is tweaked.
In Game 2 in Wollongong, as Heal predicts this one will be a much higher scoring affair than the opener in Perth, we instead get the identical 89-77 scoreline! Who knew, eh?
And finally, it's a wrap in Perth where the right people are interviewed and this extraordinary 2016-17 season draws to its inevitable conclusion.
Thankfully though, the finals series does not end without a Carfino standard. Yeah, no kidding.