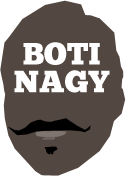 ---
Advertising opportunities available.
Please contact me.
---
36ers leave Perth seeing red
Tweet
IF any team is going to KO the two-time defending champion Perth Wildcats from achieving an NBL threepeat, who better than their arch rival Adelaide 36ers?
Sure, a 1-0 lead in a best-of-three semi final series is nothing to get too cocky about - witness what happened to the Sixers this time last year.
But handing a proud team such as the Wildcats a 109-74 thrashing in what, so far at least, was their most important match of the season, has to prey on Perth's psyche.
Wildcats' coach Trevor Gleeson said: "I'll tell you next week," when asked that very question because how his troops respond from last night's flogging is up for deep speculation.
Six Sixers – Josh Childress (22 points at 89 per cent), Mitch Creek (20 at 67 per cent), Shannon Shorter (18 at 70 per cent), Daniel Johnson (16 at 55 per cent), Nathan Sobey (15, with three straight 3-pointers in the last quarter) and Ramone Moore (10 points) – scored in double digits as Perth conceded more than 100 points for the first time this season.
It was their biggest finals loss in a 40-minute game, second biggest finals loss in their history and biggest loss since October in 1999.
"I thought the margin of victory was probably irrelevant because we just got on a roll there in the fourth quarter," Adelaide coach Joey Wright said. "It was great to see (and) great to be part of but it was a close game for most of the game and we just broke it open there with those threes in the fourth."
Childress had been aggressive and sublime at the same time, taking it at the Wildcats after Creek opened with a full-scale offensive assault as Adelaide raced 14-6 clear, Daniel Johnson also showing great strength of purpose.
Gleeson's timeout stalled the rot and Bryce Cotton, the only Wildcat to score in double figures with 22 points on 7-of-16 shooting, ignited his team. By the first break, the margin was only 19-18 in the 36ers' favour and after all the emotion in Titanium Security Arena, the Wildcats had to be feeling good about that.
Lucas Walker and Angus Brandt got it going a little in the second quarter, Damian Martin stroked a three, so just as Childress, Johnson, Creek and Ramone Moore threatened to pull Adelaide away, Perth stayed in the hunt.
Gleeson called timeout ahead of the half's last Perth attack, Wright subbed Sobey back in and after Cotton wound down the clock, it was Sobey who stole an intended pass, setting Moore loose on the break to pull up and swish a 3-pointer on the halftime buzzer.
Ahead 50-44, it was the momentum boost the Sixers needed and after leading 52-48 in the third, they peeled off a 13-0 run which had the fans in full voice.
"I think we were a bit stagnant in what we were doing and we just knew it was going to come – we just had to stick with it," Sobey said of the first 20 minutes.
The margin blew out to 18 in the third but Perth clamped it back to 12 before Childress popped in a bucket at the siren for a 76-62 lead going into the last.
Three straight 3-pointers from Sobey, two more from Shorter – who also had seven assists and apart from twice dribbling into double-teams and losing the ball, had a terrific game – and the match was blown wide apart.
The Wildcats' zone resembled Swiss cheese and Adelaide duly feasted on the holes it penetrated through.
"Disappointed, embarrassed," Wildcats skipper Martin (below) said when asked to sum up his feelings. "The reality is they had guys almost running into each other, that's how desperate they were to get out in the open court and run.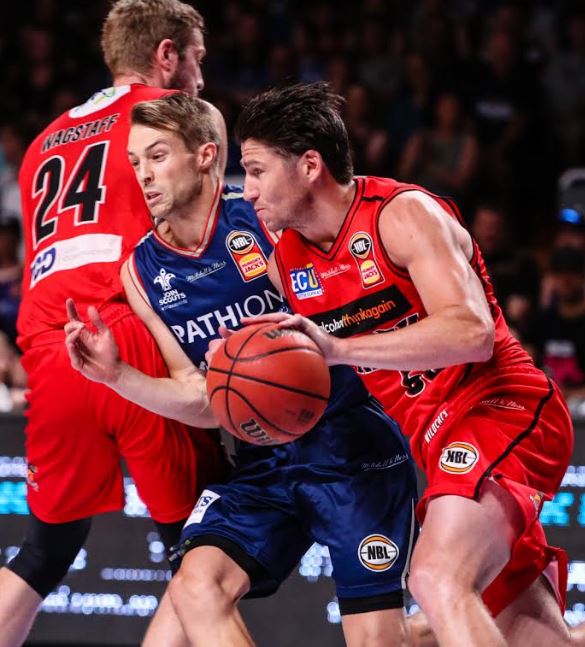 "Everything we watch on the scouting video, the scouting report, they did, whether it's personnel, their one-on-one strengths, whether it was as a team getting out in the open court.
"Every player's got to look at themselves and see what they can do better – and not just better but a lot better because the reality is they didn't do anything outside of their skillset. They were just hungrier and desperate, particularly in the second half, early in the third quarter.
"They're a team that when they make a run, if you're not scoring at the other end, their runs are 10-15 points in a few minutes and you can't allow that, especially in semi finals basketball.
"You've got to have the determination to get back every single time and match that intensity.
"Instead, like I said, they're almost running into each other, that's how much they wanted to get out and get layups.
"Childress killed us from tipoff to the end of the game, Creek was great and then later in the game, obviously Shorter and Sobey stepped up. But we've got to have more pride in our one-on-one defence, but also getting back and doing the hard yards.
"It's nothing that we didn't read. It's nothing that we didn't see on TV. They're capable of doing it. They did it. They embarrassed us. Now we've got six days to go back and say that's not going to happen again on our home court."
Clearly, Perth did not have sufficient intensity and Adelaide's defence was vociferous, containing the visitors to 74 points at 36 per cent, hammering it 50-34 on the boards.

"Definitely pleased to get the win," Wright said.
"It unfolded like I wanted it to because we won. How close we stayed to the game-plan, I don't think any coach is ever happy but we did a good job of holding them, they only had one player in double figures – I thought that was so good and Cotton he's just so tough, so hard to hold down.
"I thought we did a great job on everybody else and stayed as close to the game-plan as we could."
Johnson had arguably his best ever final, Creek and Childress (below) the 36ers' other barometers.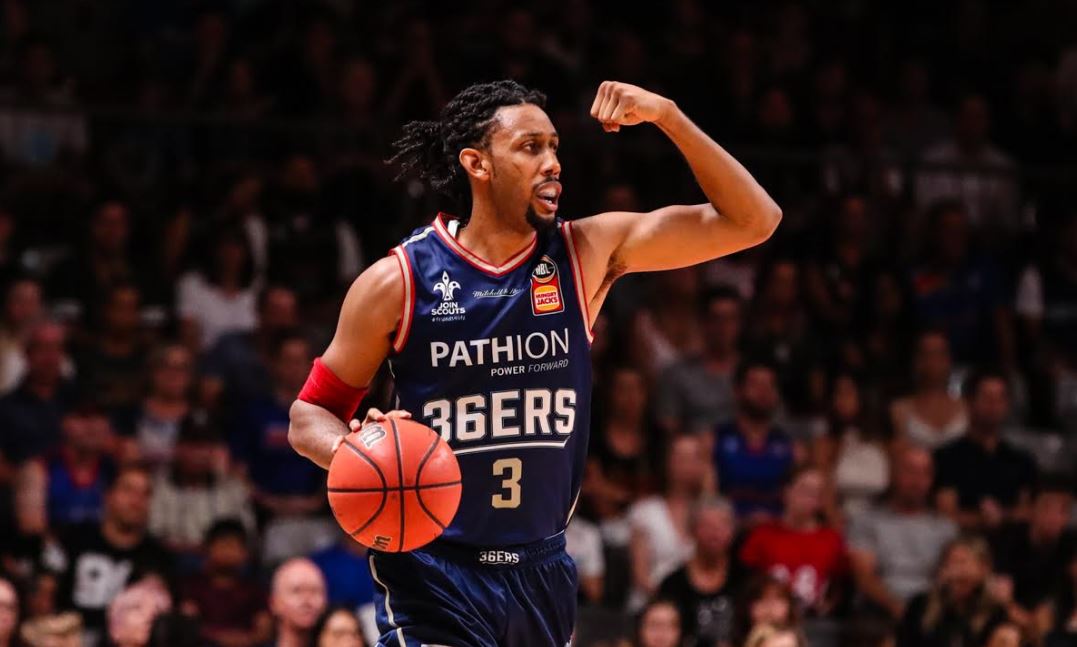 Matt Hodgson lost his cool and gave up a technical foul, throwing the ball into Jesse Wagstaff's back, and Creek clashed with Cotton after a particularly inspiring Creek basket-and-bonus free throw off a difficult catch.
The elated Boomers swingman was pumped, bumped Cotton who shoved him away (below) and it was much ado about very little.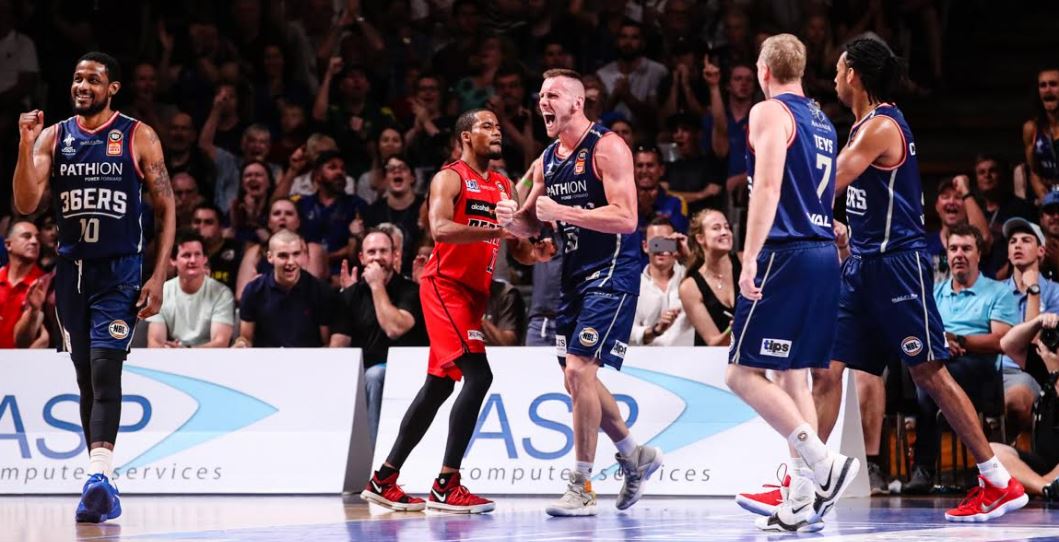 "I don't mind a little bit of emotion," Wright said. "I don't want those guys to go out and be robots at all.
"They showed a little bit of emotion and I thought we did what we needed to do physically and they did what they needed to do so I don't think there was anything dirty.
"I thought DJ was outstanding. I thought him defensively, switching out and having to guard Cotton a few times and just his ability to hold his position in the post – I thought he was outstanding.
"He's really matured from when we played these guys in the finals a couple of years ago when they moved him around quite a bit down in the block.
"He established his position on the block, he held his space, he rebounded the basketball. I thought he did an outstanding job defensively.
"Josh was extremely effective.
"I don't know if you saw that rebound that he got in the second quarter – it's one of the best rebounds I've ever seen. A guy had inside position and he just jumped completely over him and grabbed it.
"I mean, he did some amazing things out there on the court but a lot of things you don't see like he moves the ball in positions that we need him to, he attacks when he needs to. He only took nine shots so he's very efficient."
MOORE MERRIER: Ramone Moore had a super first half. All pics courtesy of ALLSTAR PHOTOS.
Perth goes back to the drawing-board now but in front of 13,000 rabid Red Army fans, should produce far more on Friday.
"It's disappointing that we dished that up for the finals," Gleeson said. "I thought the first half we had good tempo, right in there . We just crumbled in the second half.
"We've got a game next week but we got a good whipping tonight.
"We've got to walk off the court and be proud of our effort. I don't think we're proud of our effort tonight.
"It doesn't matter who you play, where you play, you be a man and play hard.
"I don't think we played hard for 40 minutes. We played hard for 20 minutes. The game was right there, they hit some big buckets and we didn't play at the level you need to play in playoffs."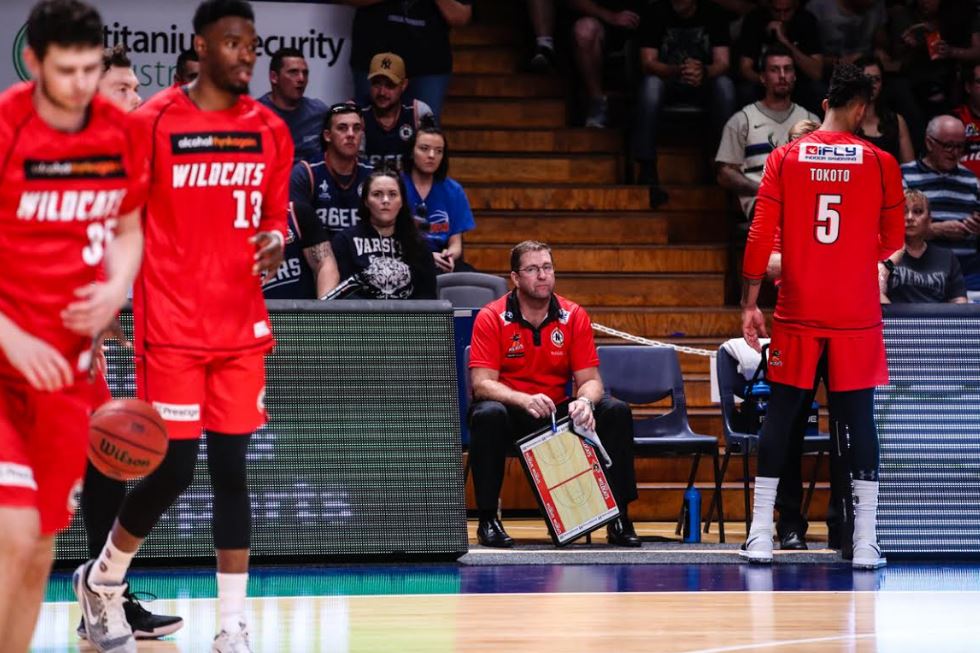 BACK TO THE DRAWING BOARD: Trevor Gleeson has some work to do ahead of Game 2.
WHAT the FOX is happening with finals coverage, here.
PERTH Arena is an 'NBA' venue, here.